No Cover Live Music in NYC This Week - June 17-June 24
June 17, 2018 - by CG Directory Editor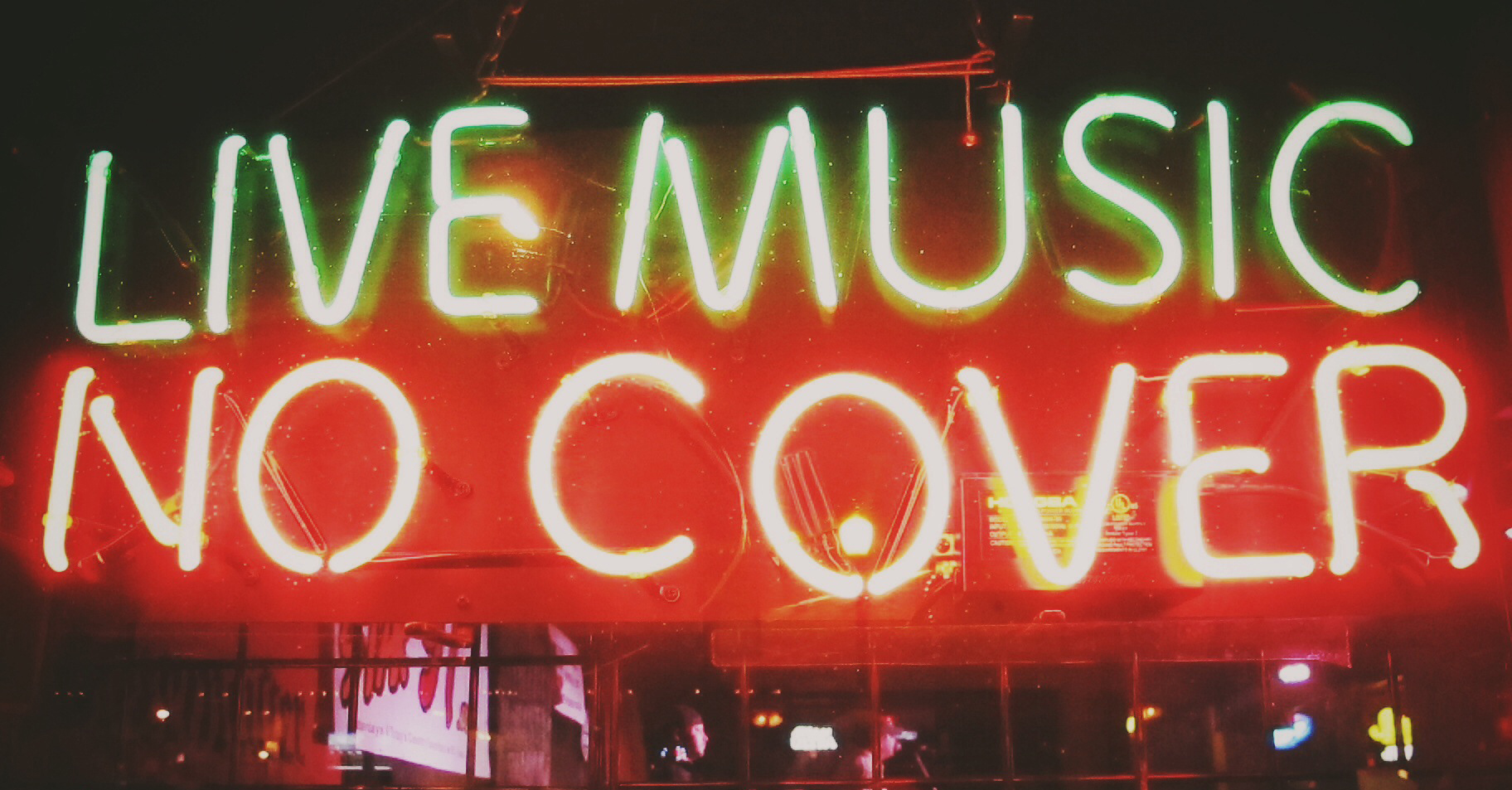 Photo: markheybo/Flickr

Say no to cover charges the next time you're in New York City and looking for live music. From bars to clubs to museum shows, you can catch all kinds of great music without having to pay for a ticket. City Guide's calendar has all the no cover live music in NYC this week rounded up below.


Everybody Loves The 90's Brunch & Day Party - Big Poppa Edition - MIST Harlem
June 17, 2018 - New York
The 70's were groovy, the 80's were totally awesome, but everybody knows that the 90's were downright dope! 90's fashion, flava, and especially the MUSIC were everything! Well, we at The Alumni Group are yearning for those times, and we especially miss the soundtrack that filled our days -- from gritty hip hop to sultry soul music to boy bands! So on Sunday, Janurary 14th, we're throwing back to the 90's at Everybody Loves The 90's Brunch & Day Party at Mist Harlem! For $35 get an appetizer, brunch entrée and 1.5 hours of bottomless brunch cocktails (Mimosa, Bellini,Sangria)! DJ E Class will be spinning classic 90's hip hop and R&B to keep you and your crew moving while you eat and drink. And to elevate the experience, we're bringing back boy bands! That's right, you will also enjoy LIVE music by the RNB Boys (Jerome Bell, Devin Snow, and Timorris Lane), who'll be belting out 90's ballads during brunch. "Ooooh yeah!" If you miss this, you're buggin 'cause this brunch will be phat, yo! Word up
Naamah's Ark - MasterVoices
June 17, 2018 - New York
This dramatic oratorio by composer Marisa Michelson and librettist Royce Vavrek tells the story of Noah's Ark, from the perspective of Noah's wife. Naamah is a strong woman who must guide all the diverse species of animals in coming together as the Ark reaches dry land. From the birds to the hippos, each group has its own concerns. Can they learn to live together after the crisis has passed? In a new version of the piece, community members from Lower Manhattan join MasterVoices in shared music-making to explore themes of diversity, the role of women in society, and the possible devastation of climate change.
Salsa Sunday - Industry City
June 17, 2018 - Brooklyn
Live music, dancing, family activities, and a local pop-up market every other Sunday.
Sunday Dayclub: Magic Carousel Sundays - Coney Art Walls
June 17, 2018 - New York
Thor Equities has announced its summer 2018 program for Coney Art Walls, the outdoor museum of street art curated by Joseph Sitt and Jeffrey Deitch. Located at 3050 Stillwell Avenue in Coney Island, the public art wall project will debut on Friday, May 25th, and remain open from 12pm to 8pm daily through September. Coney Art Walls features works from renowned artists including Crash, Daze, Lee Quinones, Ron English and Miss Van, as well as Aiko, Alexis Diaz, Buff Monster, Chris Stain, D*Face, Eine, eL Seed, Ganzeer, Haze, How & Nosm, Icy & Sot, IRAK, Jim Drain, John Ahearn, Kashink, Lady Pink, The London Police, Mark Bode, Mister Cartoon, Nina Chanel Abney, Nychos, Pose, RETNA, Shantell Martin, Sheryo & The Yok, Tats Cru, Skewville, and Tristan Eaton. Throughout the summer, Coney Art Walls will host Magic Carousel Sundays in collaboration with Live On Air Events. The space will be transformed each Sunday into a lush, open-air oasis, featuring renowned DJs from across the globe, a massive turf lawn, bars, tables and daybeds. Events include: – Renowned DJ/Producer Timmy Trumpet and Breathe Carolina perform on May 27th – Producer/DJ duo Vinai brings a... (read more)
School of Rock - DROM
Through June 17, 2018 - New York
Symphonie Fantastique - HERE
Through June 17, 2018 - New York
Twenty years ago in 1998, Basil Twist debuted his boundary-breaking response to Berlioz's 1830 "Symphonie Fantastique" to universal acclaim, inaugurating HERE's intimate Dorothy B. Williams Theatre. In the two decades since Symphonie Fantastique's premiere, Basil Twist has become an internationally recognized artist in opera, ballet, and on Broadway, and has won countless awards including the illustrious MacArthur Fellowship. Twist will revisit his legendary masterpiece as part of HERE's 25th Anniversary Season. In this revival, accompanied live by the virtuosic pianist Christopher O'Riley playing the exquisite Liszt transcription, Symphonie floats and swirls in a 1,000-gallon water tank neatly disguised as a puppet stage. For the many who never saw it, and for those who relish seeing it again and again, the return of this tour de force to HERE is the event of the season.
Ed Masuga- Singer-Songwriter - Silvana
June 18, 2018 - New York
Ed Masuga's performances feature striking acoustic fingerpicking and rich chord voicings, creating a rare and expressive blend. Sung in a warm clear voice, his unique melodies and captivating songs are the vessel for his emotional presence and profound artistry.
Washington Square's Music Festival's 60th Season - Washington Square Park
June 19, 2018 - New York
Music Director Lutz Rath has announced the 60th season of the Washington Square Music Festival, taking place Tuesdays in June on the Main Stage in the center of Washington Square Park. All four concerts are free. The Festival is under the auspices of the Washington Square Association, Inc. Seating is first come, first served. Rainspace: Judson Memorial Church, 55 Washington Square South
Big Daddy Kane: Long Live The Kane 30th Anniversary / Music By The Finisher Mister Cee, hosted by Doug E Fresh - Ford Amphitheater at Coney Island Boardwalk
June 20, 2018 - Brooklyn
In 1988, Big Daddy Kane, a young MC from Bed-Stuy, Brooklyn, stunned the public with his debut album, Long Live the Kane. The album, brimming with sharp lyrics and pop culture references, became a classic of the golden hip-hop era. He'll be celebrating its 30th anniversary along with some very special guests.
Extended-Jazz - Silvana
June 20, 2018 - New York
EXTENDED is a New Orleans based piano trio playing original compositions written by its three members. Brad Webb on drums, Matt Booth on bass, and Oscar Rossignoli on piano.
Live Piano Karaoke with Julian Velard - Sid Gold's Request Room
June 20, 2018 - New York
With a style The Sunday Times calls "catchy but complicated; a surprisingly rare combination," Julian Velard is piano-pop tunesmith recalling Stephen Sondheim or Randy Newman at the peak of their talents. With 4 albums of original material under his belt, he's toured internationally alongside the likes of Jamie Cullum, Paul Carrack, and Amy Macdonald. His quirky, native new york, piano-man sound has found its largest audience in Holland, where he headlined Amsterdam's legendary venue, Paradiso. His comedic timing and musical stylings have made him a regular on The Howard Stern Show and NPR's Ask Me Another.
Songs of David Del Tredici and Eric Moe - National Sawdust
June 20, 2018 - Brooklyn
Eric Moe, composer of what the NY Times has called "music of winning exuberance," has received numerous grants and awards for his work, including the Lakond Award from the American Academy of Arts and Letters and a Guggenheim Fellowship; commissions from the Fromm and Koussevitzky Foundations, the Barlow Endowment, Meet-the-Composer USA, and New Music USA; fellowships from the Wellesley Composer's Conference and the Pennsylvania Council on the Arts; and residencies at MacDowell, Yaddo, Bellagio, Camargo, VCCA, UCross, Aaron Copland House, Ragdale, Hambidge, Carson McCullers Center for Writers and Musicians, and the American Dance Festival, among others. As a pianist, Moe has premiered and performed works by a wide variety of composers. His solo recording The Waltz Project Revisited – New Waltzes for Piano, a CD of waltzes for piano by two generations of American composers, was released in 2004 on Albany. He founded and currently co-directs Pittsburgh's Music on the Edge new music concert series. Moe studied at Princeton University and U.C. Berkeley and is currently the Andrew W. Mellon Professor of Music at the University of Pittsburgh.
Dr. Dog - Brooklyn Steel
Through June 20, 2018 - Brooklyn
"I feel like I'm in a totally new band right now," says Dr. Dog guitarist/singer Scott McMicken. It's a bold declaration considering he's been co-fronting the beloved indie outfit for a decade-and-a-half, but it cuts straight to the heart of the intense and transformative experience behind the group's brilliant new album, 'Critical Equation.' The most infectious and adventurous collection Dr. Dog has laid to tape yet, the record was born from a journey of doubt and discovery, a heavy, sometimes painful reckoning that ultimately brought the band closer together with more strength and clarity than ever before. Call it an existential awakening, call it a dark night of the soul, whatever it was, it fueled one of the most fertile creative periods in the group's history and forced them to confront that timeless question: what do we really want?
Django Bates Trio - Jazz Standard
Through June 20, 2018 - New York
Django Bates - piano Petter Eldh - bass Peter Bruun - drums
Jazz at Pier 84 - Pier 84 at Hudson RIver Park
June 21, 2018 - New York
Back for our 20th Anniversary season, Jazz at Pier 84 brings our largest public pier to life with a fantastic lineup curated by the Jazz Foundation of America. For almost 30 years, JFA has provided help to jazz and blues musicians, with both direct assistance and opportunities to bring tremendous, inspiring performances to fantastic venues like our Pier 84!
Happy Hour Karaoke with Ben Easton! - Sid Gold's Request Room
June 21, 2018 - New York
Benjamin Easton is a pianist and arranger based in New York City. Easton is co-bandleader of The Academy Blues Project, a multi-genre group begun in 2012. ABP's newest record, Upwelling, was released in April of this year. When not tickling ivories — or hosting piano karaoke at YOUR next private soiree — you may find Ben crosswording, cycling through the boroughs, or listening to Odessey & Oracle on repeat.
Summer Solstice Music Festival - Along Park Avenue
June 21, 2018 - New York
Celebrate the summer solstice with live musical performances on the plazas along Park Avenue, stretching from 39th to 52nd Streets! Enjoy hearing everything from classical to jazz; hits of the 60's/70's/80's to funky Latin soul! The event is FREE and open to the public. Learn more about the acts below, and let us know you're coming on our event page. Location: 90 Park Avenue, between 39th and 40th Streets Artist/Genre: Duane Eubanks Quintet/Trumpet-led Contemporary Jazz +++ Location: 101 Park Avenue, between 40th and 41st Streets Artist/Genre: JJ's Funky Groove/60's, 70's & 80's hits +++ Location: Pershing Square Plaza East, Park Avenue at 42nd Street Artist/Genre: Morgan Treni & The Landscapes/Original soft rock & covers +++ Location: 230 Park Avenue, on 46th Street Artist/Genre: Zaccai Curtis Trio/Latin Jazz +++ Location: 245 Park Avenue, between 46th and 47th Streets Artist/Genre: Fulaso/Funky Latin Soul +++ Location: 280 Park Avenue, between 48th and 49th Streets Artist/Genre: Eric Person Trio/Saxophone-led Contemporary Jazz +++ Location: 299 Park Avenue, between 49th and 50th Streets Artist/Genre: A Latin Movem... (read more)
Jared Sims and the Inner Circle - Funk - Silvana
June 22, 2018 - New York
Jared Sims is a musician and recording artist specializing in saxophone, woodwinds, jazz and funk music. Sims brings an instrumental dance band that fuses funk beats, screaming guitar, and sax melodies.
Mar Sala - Flamenco / Latin / Pop - Silvana
June 22, 2018 - New York
Based in Brooklyn, Marta Hernández, (aka Mar Salá) is an international singer songwriter, a self taught musician from Seville, Spain. With the collaboration of many accomplished musicians from all over the world, she mixes Latin sounds such as Rumba Flamenca, Brazilian rhythms and Spanish pop, with swing and Rock. Marta's original compositions are a cross over between the Flamenco air of Seville and the eclectic sounds of New York City.
Happy Hour Piano Karaoke with Mark Piro - Sid Gold's Request Room
June 22, 2018 - New York
Sid Gold's Request Room now features Happy Hour Piano Karaoke on Fridays! Start your weekend off with a song! With Mark Piro at the keys! Check out Mark's song list!
Jazz on the Terrace - Parrish Art Museum
June 22, 2018 - Water Mill
Bring chairs and blankets to watch the sunset, enjoy café specials, and hear live jazz with top musicians hand-picked by the East End's legendary Richie Siegler–the perfect start to the weekend. The Golden Pear Cafe will be selling food and drink specials, so come socialize, soak in the scenery, and listen to the sounds of summer.
Live Piano Karaoke with Leslie Goshko! - Sid Gold's Request Room
June 23, 2018 - New York
Leslie Goshko (Huffington Post Comedy) is the host and creator of the monthly storytelling series, Sideshow Goshko, which has been hailed as a Time Out New York and New York Times "Critics' Pick", and also noted as "a well-programmed night" by the New York Times.Sideshow Goshko has been featured on TruTV'sImpractical Jokers, NPR'sSnap Judgment, and inThe New Yorker.Her cabaret show "An Old-Fashioned Piano Party with Leslie Goshko" is heralded as a Time Out New York "Critic's Pick" and she served as the musical director for NY1 anchors Pat Kiernan and Jamie Stelter's live show at 92Y, "Pat and Jamie's NY." And thanks to the support of many Internet voters, she performed with the cast of Hairspray on Broadway. https://www.lesliegoshko.com/
Piano Karaoke with Drew Rakoswki - Sid Gold's Request Room
June 24, 2018 - New York
Live Piano Karaoke with Drew Rakowski, hosted by Shannon Conley!
Opera Saratoga Announces Complete Casting and Programs for 2018 Summer Festival - The Spa Little Theater
Through July 15, 2018 - New York
OPERA SARATOGA ANNOUNCES COMPLETE CASTING AND PROGRAMS FOR 2018 SUMMER FESTIVAL   DAVID ALAN MILLER CONDUCTS A 'WINNING DOUBLE BILL' FEATURING THE AMERICAN PREMIERE OF ROCKING HORSE WINNER AND  THE WORLD PREMIERE OF A NEW EDITION OF  VINKENSPORT, OR THE FINCH OPERA   NEW PRODUCTIONS OF THE MERRY WIDOW AND THE CONSUL   CONCERTS AND SPECIAL EVENTS IN SARATOGA SPRINGS, DIAMOND POINT, BOLTON LANDING, AND ALBANY   FEATURED GUEST ARTISTS INCLUDE  CECILIA VIOLETTA LÓPEZ, MEGHAN KASANDERS, DEBORAH NANSTEEL, JENNIFER PANARA, ALEX LAWRENCE, SCOTT QUINN, TYLER NELSON, AND ANDY PAPAS Saratoga Springs, NY - Opera Saratoga's Artistic and General Director Lawrence Edelson today announced the complete casting and programming for the company's 2018 Summer Festival, which will feature new productions of four operas at The Spa Little Theater in Spa State Park, along with a wide variety of free and ticketed concert events from May 26th through July 15th at venues throughout the region. Single tickets, as well as subscription packages, are on sale now at www.operasaratoga.org.   One of the most popular operettas across the globe, THE MERRY WIDOW returns to Opera Saratoga for the first... (read more)
Looking for Free Group Planning Services?
Get free advice on planning your group's trip to New York.
MORE Activity Planner ARTICLES
RESTAURANTS

Multi-concept restaurant offering modern Japanese cuisine, a...

THEATER

Gaston Leroux's famous period thriller is now one of Broadwa...

SHOPPING

An array of quality branded merchandise showcasing HBO's® aw...

SIGHTSEEING

Enjoy the best prices for deluxe double decker, hop-on, hop-...