To see special spaces that make New York the fascinating place it is, join the 16th annual Open House New York (OHNY) Weekend. This year's celebration of architecture and urban design takes place Friday, Saturday, and Sunday, October 12-14, 2018. A partnership of more than 400 arts and cultural organizations, city agencies, architecture firms, and others opens more than 250 buildings across all five city boroughs and includes tours and talks by architects, urban planners, historians, preservationists, and civic leaders.
This year adds Factory Friday, with manufacturing spaces opened for rarely offered factory tours. Organized in partnership with Made in NYC, an initiative of the Pratt Center for Community Development, this series illustrates the ways today's manufacturing contributes to a vibrant and diverse economy. Among the sites are Breuckelen Distilling in South Slope, Brooklyn, producers of whiskey and gin; chocolate making at Roni-Sue's Chocolates on Manhattan's Lower East Side; and fabric flowers brought to life at M & S Schmalberg in midtown Manhattan.


New spaces to visit this year include Brooklyn Navy Yard's Building 77, where a major rehabilitation by Beyer Blinder Belle and Marvel Architects transformed a WWII-era U.S. Navy warehouse into a 21st-century commercial and light industrial hub; MTA New York City Transit's Mother Clara Hale Bus Depot in Harlem featuring a "green" roof and solar heating wall; Governors Island South Battery (Officers Club), built as a key fortification for the War of 1812 and vacant since the Coast Guard departed the island in 1996; and 150 Rivington, a new condominium development under construction on the former site of Streit's Matzo Factory in the heart of the Lower East Side.
Dime Savings Bank. Image courtest of Open House New York.
Two dozen of New York's leading architects and designers will open their studios giving visitors an inside look at how buildings are made and glimpses of projects in their early phases. Participating studios include LOT-EK and Fogarty Finger Architecture/Interiors in Tribeca; Skidmore Owings & Merrill and SPAN Architecture in Manhattan's Financial District; and Workshop/APD in midtown Manhattan.
In keeping with the current focus on women, this year's festival celebrates their contributions to shaping the contemporary city, highlighting projects in which a woman is one of the principal architects or landscape or urban designers. Among the Works by Women: the American Copper Building Plaza, SCAPE Studio, Midtown, Manhattan; the Brooklyn Army Terminal, WXY architecture + urban design, Sunset Park, Brooklyn; Domino Park, James Corner Field Operations, Williamsburg; and Hauser & Wirth Gallery West 22nd Street, Selldorf Architects, Chelsea, Manhattan.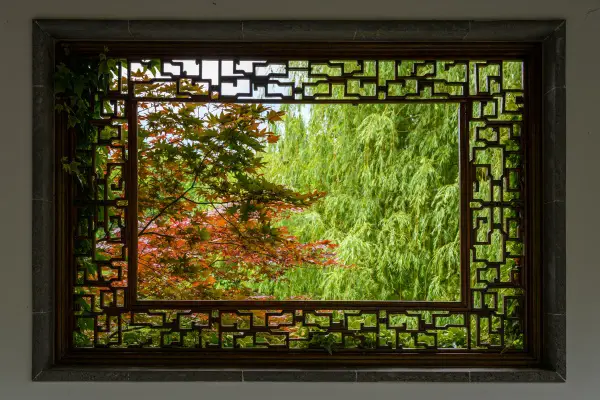 New York Chinese Scholar's Garden at Snug Harbor on Staten Island. Photo by Peter Miller/Flickr.

In honor of its 125th anniversary year, the Municipal Art Society (MAS) has curated tours of iconic sites where the organization's advocacy helped preserve, shape, or reimagine the city's built environment. Sites include Phase I of the long-awaited Moynihan Train Hall (the New West End Concourse at Penn Station); St. Bartholomew's Church in midtown Manhattan; and the Snug Harbor Cultural Center & Botanical Garden, Staten Island.
While the majority of sites can be visited free-of-charge during open hours, some sites and tours require advance reservations with a $5 per-person fee. These sell out fast. Open Access Sites that can be visited free during opening hours include the historic Actor's Temple (on the National Registry of Historic Places) at 339 W. 47th St.; Bohemian Social Hall on Manhattan's Upper East Side, built in 1896 and a center for Czech and Slovak culture; City College of New York | Solar Roofpod & Harlem Garden for Urban Food in upper Manhattan with a garden and apiary; The Edgar Allan Poe Cottage in Fordham, the Bronx, where the writer spent his last years; and GallopNYC Sunrise Stables, Ozone Park, Queens where visitors can meet horses, enjoy the large park, and learn about their therapeutic horseback riding program, which serves children, veterans, and adults with disabilities.
Bayside Historical Society will be hosting an Open Access Site from noon to 4pm on Sunday, October 14th. The Castle, pictured above, is considered is one of the finest surviving examples of Gothic Revival castellated architecture in NYC.
With more than 80,000 visitors and 1,400 registered volunteers, OHNY Weekend is one of the largest architecture festivals in the country. For more information and specific dates and times, visit www.ohny.org.