Throughout August, Enjoy the Sounds of Brazil at 54 Below
August 6, 2013 - by City Guide News Desk
Throughout the month of August, 54 Below celebrates the hot music of Brazil with some of its favorite Brazilian artists!
Step into South America at 54 Below for tastes of Brazilian jazz, cohro, samba, and swing with an all-star roster:
PAULO SZOT Aug. 5, 7 & 8 at 7PM, Aug. 9 & 10 at 8PM, Aug. 11 at 7PM
Audiences can prepare to swoon as the Tony-winning star of South Pacific headlines 54 Below for a week-long engagement. In this brand new show, the Brazilian opera star presents a program of cherished classics from the American Songbook, as well as Brazilian and jazz favorites. Paulo is one of the most versatile and extraordinary singers to be heard today.
CHICO PINHEIRO & THE BRAZILIAN DREAM BAND Featuring Luciana Alves & Cesar Camargo Mariano Aug. 4 at 7 & 9PM, Aug. 8 at 9:30PM, Aug. 9 & 10 at 11PM, Aug. 11 at 9:30PM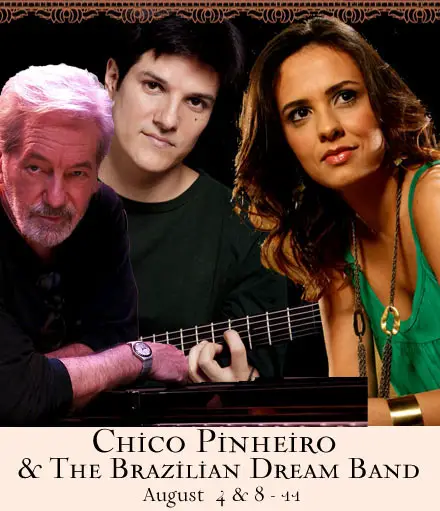 One of the major creative forces in modern Brazilian music, the brilliant guitarist/singer/composer/arranger Chico Pinheiro entrances audiences all over the world with his intensely lyrical and rhythmically exciting mixture of samba, swing, Carnaval and contemporary jazz. For his debut performances at 54 Below, Chico will be featuring the extraordinary young vocalist Luciana Alves.
MAUCHA ADNET & HELIO ALVES Featuring Cyro Baptista & Anat Cohen Aug. 6 at 7 & 9PM Maucha Adnet, who sang with grand maestro Antonio Carlos Jobim for the last ten years of his storied life, brings her radiant vocal style to the stage with her long-time musical partner Helio Alves, the little giant of Brazilan jazz piano. Joining them are master of tropical percussion Cyro Baptista and, for 2-3 songs per set, the great Israeli saxophonist and clarinetist Anat Cohen.
ANAT COHEN & CHORO AVENTUROSO Aug. 20, 21 & 22 at 7 & 9PM; Aug. 23 & 24 at 8 & 11PM; Aug. 25 at 7 & 9PM
The phenomenal young Israeli clarinetist and saxophonist, Anat Cohen, celebrated in Brazil as a virtuoso player of "choro" music, celebrates the New York Premiere of her "Choro Aventuroso" band at 54 Below from Tuesday-Sunday, August 20-25. "Choro" (pronounced SHOH-roh) is described as "the New Orleans jazz of Brazil," as it is folkloric, improvisational music dating from the early part of the 20th Century. Just like jazz, blues, and ragtime, "choro" melds formalized structures seamlessly with cultural elements from all over the world. In "Choro Aventuroso" Anat Cohen will be collaborating with contemporary Brazilian and American musicians to create a passionate, swinging, and always colorful and compelling blend of jazz, samba, classic chorinhos and constant surprise.
For more information, call 646-476-3551, or visit 54below.com
Looking for Free Group Planning Services?
Get free advice on planning your group's trip to New York.
RESTAURANTS

New York City's most famous landmark, the Empire State Build...

THEATER

Kander and Ebb's "musical vaudeville" in which Roxie Hart ga...

SHOPPING

Find the right gear for your workout. ...

SIGHTSEEING

Opened to the public in 1913 thanks to the ingenuity and amb...