In Midtown, there's no shortage of run-of-the mill watering holes. It's refreshing then, to welcome to the Garment District newcomer The Rag Trader and Bo Peep Cocktail & Highball Store, a handsome, three-story restaurant/speakeasy/piano bar in what was once a garment factory.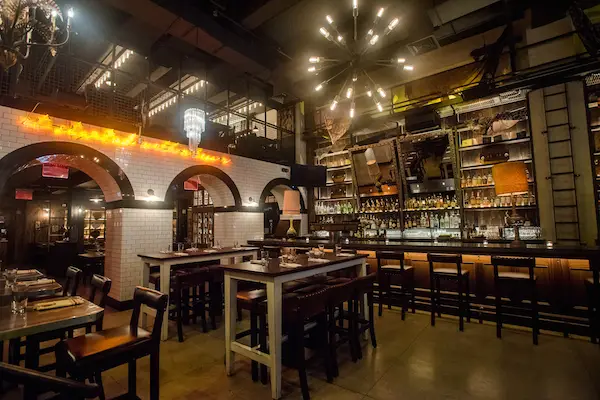 The main floor of The Rag Trader. Head upstairs for a second, more casual bar with table seating. Photos: Gabi Porter


The main floor, serves up nearly three dozen cocktail selections created by Beverage Director Evan Hawkins (in addition to craft beer and wine). 
Bustling main floor of the Rag Trader. Photo: Linda Sheridan
Step to the side for antique beauty bar, with vintage mannequins and issues of Vogue on display. The back dining room on the main floor is adorned with hat boxes.
Photo: Gabi Porter
The Rag Trader steps up the game for its menu, prepared by Executive Chef Justin Ottervanger. No hot wings and salsa chips here, but fried East Coast oysters, tuna tartare tacos, hangar steak and frites, sea scallop crudo, oven-ready pizza. They're serving brunch on weekends, too, from 11am to 3pm. Venture upstairs for a slightly more chill atmosphere, with a separate bar, casual tables for bites, and an Instagram-worthy Volkswagen with a table for two.
Downstairs at the Bo Peep Cocktail & Highball Store. Photo: Gabi Porter.
For a more intimate atmosphere, head downstairs to the charming Bo Peep Cocktail & Highball Store. Sit on crushed velvet stools at the bar, or in one of the banquettes, while the piano player tickles the ivories. Here, the drinks fall into categories such as Tiki, Stirred, and Boozy & Serious. Cocktail highlights include Stirred Pictford, Smugglers Run, Jalisco Switchblade, and Tunisian Toddy. Understand, this space is considerably smaller, so you may need to get on the wait list. Reservations can be made via OpenTable.
The establishment, brainchild of the Fox Hospitality Group, worked to preserve the architectural integrity of the building. "Underneath the layers of walls and flooring that had amassed over time, the building had a hidden story to reveal from when the neighborhood first flourished as a creative fashion haven," said Mark Fox in a press statement. "I imagined the seamstresses and tailors working on this very floor 70 years ago and wanted the decor to pay tribute to just that." 
The Rag Trader Bo Peep Cocktail & Highball Store is located at 70 West 36th Street. For more information, visit ragtradernyc.com.