Thirteen percent of New York traces its heritage to the Emerald Island, but on Thursday, March 17th, 2016 everyone in the city will be Irish for a day. NYC's main event is the St. Patrick's Day Parade, which marches up Fifth Avenue from 44th to 86th Street, covering midtown to the Upper East Side. Legendary peacemaker Senator George J. Mitchell will serve as Grand Marshal for the 255th version of the parade, which features bagpipes, bands, and dancers among its 150,000 marchers.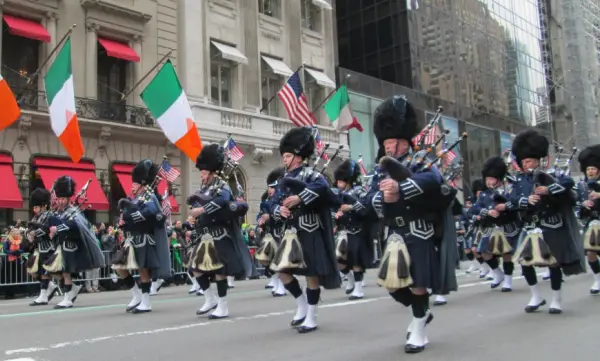 The parade is led by the historic Fighting 69th, a New York State militia regiment made up of 1,000 Irish-American volunteers, which first served in America's Civil War at the Battle of Bull Run. The Fighting 69th helped bridge the gap between Irish settlers and the rest of America through shared sacrifice. The regiment went on to serve the U.S. in later wars. Now veterans of the regiment and their descendants hold the honor of leading the St. Patrick's Day Parade.
As the procession moves up Fifth, thousands of well-wishers of all backgrounds cheer on the marchers. At selected spots along the route, 32 large banners add to the sea of green. These banners depict the emblems of the 32 Irish counties and are sponsored by various Emerald Societies and New York delegations of Irish descendants.
The 2016 version of the St. Patrick's Day Parade may see less controversy compared to recent marches, as the organizers have invited a second LGBT group to participate, adding to the groundbreaking invite of a first LGBT group in 2015. Mayor Bill de Blasio did not attend the 2014 and 2015 parades, but he will march in 2016 now that the parade has become more inclusive.

At Fifth Avenue and 86th Street, the procession turns right and marches east on 86th Street, where it ends at about 4:30-5pm. Many of the marchers and participants move on to various Irish pubs, taverns, and restaurants around Manhattan. Check our roundup for some great ways to celebrate St. Patrick's Day 2016 in New York City.