'The House That Wolf Built': 49-sq.-ft. Replica of Old Yankee Stadium on Display at Mickey Mantle's
January 18, 2007 - by City Guide
A magnificent scale model of Yankee Stadium, portrayed as it was in 1961, will be on display at
Mickey Mantle's Restaurant
from now through the end of April.
The one-of-a-kind hand crafted model is 18" high and covers 49 square feet. It features working light towers, the old scoreboard, and 64,000 molded pewter seats, in the original lime-green color of the time.
The project is the work of Steve Wolf, a Chicago-based artisan who put 3800 hours of research, planning, and artistic design work into the project. Wolf has previously done Fenway Park, Ebbets Field, and Wrigley Field, among others.
The model is for sale, and representatives of "Gotta Have It!" are available at the restaurant to discuss it with interested parties. It is valued at $150,000.
The replica is comprised of over 10,000 parts, and is constructed from a variety of woods, including hickory, bass and balsa, along with polycarbon plastic, aluminum and proprietary compounds developed specifically for this project. There are hand-painted aisle railings and fences, a granulated, airbrushed field surface, accurate eagle emblem graphics on the exterior walls, laser-cut, hand-painted exterior lettering, and such details as the stadium's monuments, advertising, pennants and flags, dugouts, and bullpens.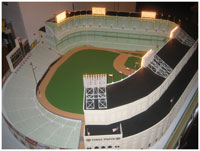 Steve Wolf, the designer of Major League Models (
www.majorleaguemodels.com
), is a Chicago native who has been building ballpark models for 20 years. He began with just the Wrigley Field bleachers, and went on to complete three full Wrigleys, one of which is on display at the famous Murphy's Bleachers sports bar across the street from the real thing. A number of his pieces -- Fenway Park, Ebbets Field, the 1888 Polo Grounds, and Boston's South End Grounds -- are on display at the Cypres Family Museum in downtown Los Angeles. The Fenway model was the subject of a
People
magazine feature in 2002. Steve is also a guitarist with the Ralph Wilder Orchestra in Chicago, and attended the University of Illinois.
Research for the project included interviews and published sources, as well as the original blueprints from Osborn Engineering of Cleveland, designers of Yankee Stadium. Tony Morante of the Yankees, who conducts Stadium tours, and Marty Appel, whose PR career began in the '60s in old Yankee Stadium, were among those interviewed for exacting detail.
Looking for Free Group Planning Services?
Get free advice on planning your group's trip to New York.
RESTAURANTS

Multi-concept restaurant offering modern Japanese cuisine, a...

THEATER

Gaston Leroux's famous period thriller is now one of Broadwa...

SHOPPING

An array of quality branded merchandise showcasing HBO's® aw...

SIGHTSEEING

Sweeping, unobstructed, open-air views of NYC from the top o...