Romance is in the New York City air, especially come Valentine's Day. We've got the best things to do for couples, from date nights at museums, cocktail lounges, and out on the water. We've also got breathtaking views from the air, and ideas for classes, massage getaways, and chocolates. Read on for our picks on the best things to do on Valentine's Day 2017 in New York City.
Valentine's in New York: Date Night
Get yourselves to Manhattan's Upper West Side for a visit to the Rose Center for Earth and Space (part of the American Museum of Natural History) that glows like a jewel at night and sits seemingly suspended overlooking Central Park by day. On Valentine's Day, festivities begin at cocktail hour with an open bar, champagne, chocolates, and hors d'oeuvres, accompanied by the Josh Rutner Quartet. Afterwards comes a talk in the main area with wonderful views of the night sky and out-of-this-world stories of romances of the past.
Valentine's in New York: Chocolates
If chocolate is your thing, indulge your sweet tooth at Li-Lac Chocolates, a company that has been churning out deliciousness since 1923. The flagship store in Greenwich Village showcases molds in shapes ranging from shoes to animals to hearts. Every item is made by hand at the company's factory in Sunset Park, Brooklyn, where you can visit weekdays from 10 am to 5 pm and then hit the factory store. Li-Lac turns out butter crunch, marzipan that makes adults weep, caramels, and fudge, plus many other candy favorites. There are luscious chocolate-dipped strawberries and heart-shaped collections to suit every pocketbook—even heart-shaped lollipops to bring out your inner kid. Besides the factory, there are stores at 162 Bleecker Street in the Village; at the Grand Central Market inside the station; and at Chelsea Market, 759 Ninth Avenue.
Valentine's in New York: Two for Tea

If you're an Anglophile (or even if you don't get all choked up at God Save the Queen), enjoy a quintessentially British tea at Tea & Sympathy in Greenwich Village. Afternoon tea, priced per person, brings assorted finger sandwiches (vegetarian if requested), scones with clotted cream and strawberry or raspberry jam, a selection of cakes, and, of course, a pot of hot tea. You can also enjoy of meal of Brit food like Welsh Rarebit, bangers and mash with onion gravy or steak, and Guinness pie. To finish, there's "pudding" (that's dessert to Yanks) like apple or rhubarb crumble, sticky toffee or treacle, both presented with classic Bird's custard. Tea & Sympathy serves breakfast, lunch, and dinner. While there, you can shop for classic Brit biscuits and breakfast cereals (anyone for Wheetabix?), as well as teapots, cups, saucers, strainers—and even a Union Jack doormat.
Valentine's in New York by Helicopter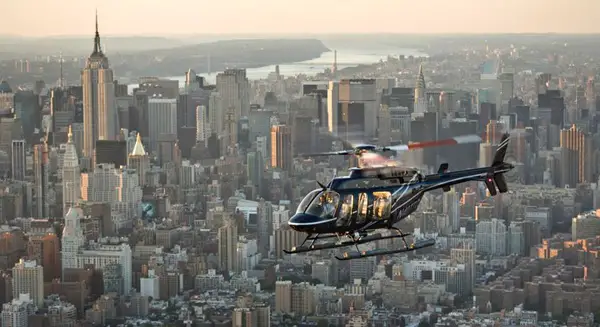 See the city from above on one of New York City's spectacular Helicopter Flight Services tours. Helicopter Flight Services offers tours that include views of the Statue of Liberty, New York Harbor, the Chrysler Building, Central Park, Columbia University, the George Washington Bridge, Yankee Stadium, and the Financial Center. They also offer customized tours of the city as well as night tours. Some popular Helicopter Flight Services tours include The New Yorker Tour (a fifteen minute tour around Manhattan), The Ultimate Tour (a twenty minute tour that includes an extended harbor excursion in addition to Manhattan), The Deluxe Tour (a thirty minute tour that goes around and above New York City landmarks), and The Air & Sea Tour (a two-part tour that includes a cruise and nighttime helicopter tour of the island). For an engagement splurge, arrange a private tour to pop the big question through earphones.
Valentine's in New York: Romantic Views
Take your relationship to new heights and get whisked to the Top of the Rock, where the all-glass elevator takes 43 seconds to go from Floor 2 to Floor 67 (skipping the non-existent 13th floor.) If you want to propose, the least crowded time of day is in the morning; the sunset view, though more highly trafficked, is also a wow. The Observation Deck was originally modeled after the lounge deck of a cruise ship (think Titanic), complete with wooden Adirondack chairs and waiters serving cocktails.
Valentine's in New York: By Water

To up the romance quota, take a Valentine's Day cruise with Spirit Cruises and enjoy New York from the vantage of the water. Choose from a Saturday or Tuesday dinner cruise on Spirit of New York or Sunday brunch. At dinner, the buffet meal is highlighted by slow-roasted prime rib. Hop aboard the all-glass Bateaux New York for a Hudson River circuit Saturday, Sunday, and Tuesday. Enjoy a champagne toast and a rose at dinner or bottomless mimosas at Sunday brunch, along with elegant plated meals and spectacular skylines.
New York. It truly is a lovers' paradise!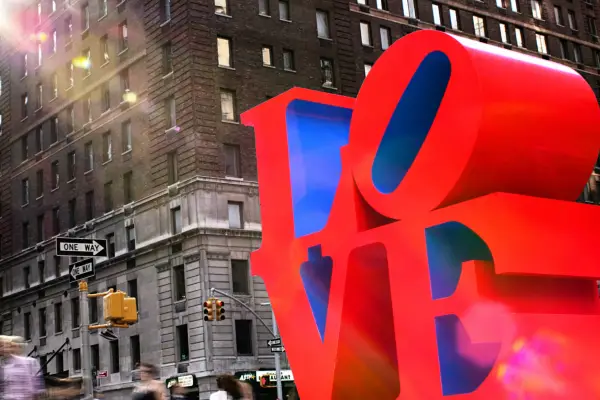 ---
Looking for more love in New York City on Valentine's Day? Check out a full day of wedding ceremonies and surprise proposals right in the heart of Times Square.