The Best Restaurants for Valentine's Day in NYC
January 25, 2017 - by Ethan Wolff
Dining in New York just lends itself to romance. Fine food, sharp service, and sophistication aplenty make it easy to have a special night out. Valentine's Day is no exception, with the city's best restaurants rolling out winter menus for February 2017 that make it hard to narrow down the choices. We've gathered up the best of the best—with surf 'n' turf, Champagne toasts, and chocolate mousse making their way into the mix—for our picks of the best Valentine's Day restaurants in NYC.
Valentine's Restaurants in NYC: Ben & Jack's
Ben & Jack's serves generous portions of steakhouse favorites to a very satisfied clientele. On Valentine's Day enjoy a prix fixe dinner that leads off with seafood or sizzling Canadian bacon, followed by a salad course, steaks (Porterhouse for two, rib-eye, filet mignon) or chicken or fish (sea bass, tuna, or wild salmon), plus sides and an array of desserts. The whole package is $95pp, plus tax and tip, and includes a complimentary glass of Champagne. 255 Fifth Ave., 212-532-7600, benandjackssteakhouse.com
Valentine's Restaurants in NYC: Benares
For a romantic Valentine's with something different on the menu, head to Benares in Midtown West. A warm, minimal space sets the scene for lush Indian spices. A moderately priced prix fixe for Valentine's ($45, served from 5-10pm) includes a rose for the ladies, a complimentary cocktail (or glass of wine or beer), and temptations like samosas, tandoori chicken, shrimp tikka masala, and lamb chops, all expertly prepared. 240 W. 56th St., 212-397-0707, benaresnyc.com
Valentine's Restaurants in NYC: Benjamin Prime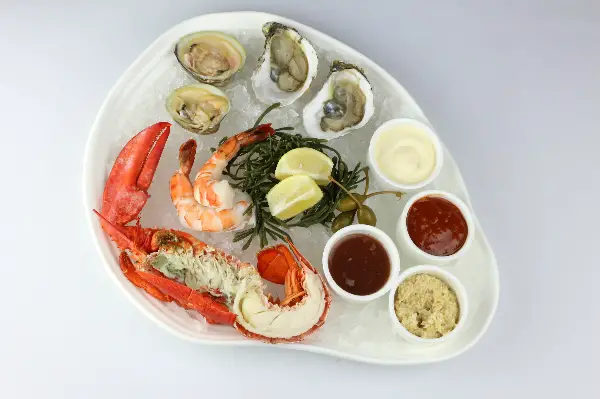 Benjamin Steakhouse (see below), the 2016 Concierge Choice Awards winner for steak, has spun off New York's newest steakhouse destination. Benjamin Prime combines modern elegance with traditional steakhouse classics. For Valentine's Day you'll have your pick of prix fixe faves like NY strip loin, bone-in rib-eye, grilled salmon, and, of course, a surf 'n' turf option. Cheesecake and flourless chocolate cake will tempt at dessert. 23 E. 40th St., 212-338-0818, benjaminsteakhouse.com
Valentine's Restaurants in NYC: Benjamin Steakhouse
From beautifully marbled cuts of dry-aged beef and succulent seafood to refined service and charm, Benjamin Steakhouse in midtown is perfect for an intimate dinner. This year's Valentine's Day menu tempts with a spectacular prix fixe. Benjamin dry-ages their meat in their own aging box and you can choose from porterhouse, rib-eye, or filet mignon (paired with a lobster tail) in the Valentine's prix fixe special. Oysters, crab cake, and shrimp cocktail are among the starter options, and there's a champagne toast included as well. Resistance is futile. $99pp, not including tax or gratuity. 52 E. 41st St., 212-297-9177, benjaminsteakhouse.com
Valentine's Restaurants in NYC: Buca di Beppo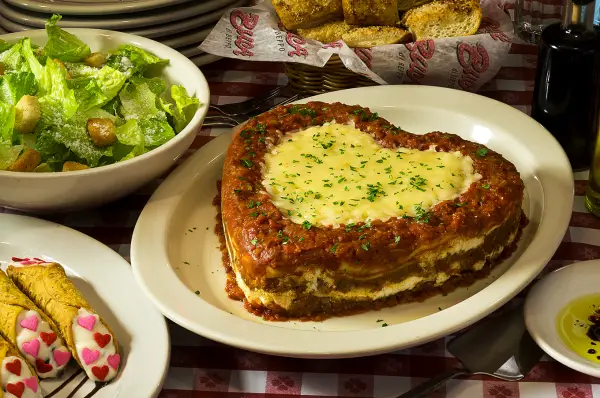 For a mix of fun and warmth (and a good deal), point yourself toward Buca di Beppo for Valentine's Day this year. For just $49.99 for two, enjoy Buca's famous heart-shaped lasagna, along with a mixed green or Caesar salad, garlic bread, and two mini cannoli for dessert. Eclectic décor, lively music, and engaging staff all add to the experience. Served Sunday the 12th through Tuesday the 14th. 1540 Broadway, 212-764-6527, bucadibeppo.com
Valentine's Restaurants in NYC: Buenos Aires

A New Yorker's favorite Argentinean restaurant, Buenos Aires Restaurant offers succulent grilled meats, to-die-for empanadas, fresh pastas, and more. Known for their uncompromising choice of the finest cuts of beef and freshest vegetables—quality food at reasonable prices. Valentine's is a perfect time to visit thank to their warm, charming, cozy atmosphere. A winter's night is just calling for meat hot off the grill, a side of chimichurri, and a fine glass of Malbec. 513 E. 6th St., 212-228-2775, buenosairesnyc.com
Valentine's Restaurants in NYC: David Burke Kitchen
Regionally sourced ingredients and imaginative reinterpretations of classic American cooking are on display at David Burke Kitchen in The James New York downtown. Valentine's Day will be no exception, as tasting menus will be served, loaded up with temptations like grilled razor clams, seared foie gras, grilled wahoo, and a 60-day sirloin for two with a caviar and lobster tater tot "poutine." (And those are just four of the seven courses!) It's $110pp, with an optional wine pairing for $75. 23 Grand St., 212-201-9119, davidburkekitchen.com
Valentine's Restaurants in NYC: Del Frisco's Double Eagle Steakhouse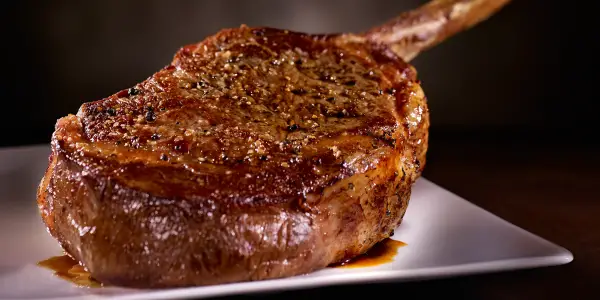 Del Frisco's Double Eagle Steakhouse boasts a sophisticated space that reflects the energy, vibrancy, and romance of the city. They'll be celebrating Valentine's all weekend long (February 10-14), with specials like Chateaubriand for Two with butter-poached lobster and an Oysters & Pearls for Two starter combining oysters on the half shell and a caviar mignonette, paired with two glasses of Veuve Clicquot Champagne or Grey Goose VX Vodka. An extended Del Frisco's menu, including their famed bone-in rib eye, will also be available. 1221 Avenue of the Americas (entrance on 49th St.), 212-575-5129, delfriscos.com
Valentine's Restaurants in NYC: Del Frisco's Grille New York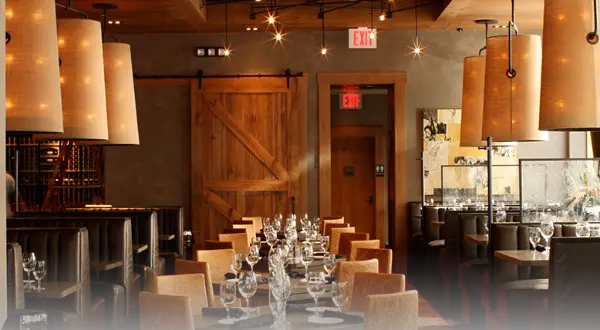 Del Frisco's Grille New York is located in the heart of midtown Manhattan near Radio City Music Hall, blocks from Times Square and Del Frisco's Double Eagle Steak House. The restaurant features a sweeping bar with a wood-burning oven and expansive walls showcasing over 500 bottles of wine. For Valentine's, enjoy some specials, served from Friday the 10th through the 14th. There's jumbo lump crab-stuffed Maine lobster tail, dry-aged bone-in rib eye, and a raspberry chocolate ganache tart for dessert. Also try the house's special V-Day cocktail: Flirting with Ginger. 50 Rockefeller Plaza, 212-767-0371, delfriscosgrille.com
Valentine's Restaurants in NYC: Dianne and Elisabeth
Wine and cocktail bar in Midtown West named after the mothers of the owners, so you know it's a labor of love. Fresh, farm-to-table approach at an affordable price. Three courses and a side are the Valentine's Day offering ($75 per person). Choosing will not be easy, as there's chimichurri-roasted local shrimp, duck meatballs à l'orange, seared bay scallop pasta with Maine lobster, slow-cooked pheasant, and Lemon Three Ways (lemon curd, candied lemon peel, honey lemon sorbet, plus honey butter shortbread) among the temptations. 644 10th Ave. (45th-46th Sts.), 917-472-7808, dianneandelisabeth.com
Valentine's Restaurants in NYC: Don't Tell Mama

Don't Tell Mama is made up of a piano bar, restaurant, and two separate cabaret shows, making for a fun-filled night that you'll never forget. You also never know who you might run into once you've walked through their doors, with icons such as Liza Minnelli, Bette Midler, and Kristin Chenoweth all having stopped by in the past. For Valentine's enjoy a special date night highlighted by a three-course prix fixe served with a flute of bubbly. Among your entree options: pan-roasted salmon, demi-glazed chicken breast, tilapia, and penna a la vodka. 343 W. 46th St., 212-757-0788, donttellmamanyc.com
Valentine's Restaurants in NYC: Ed's Chowder House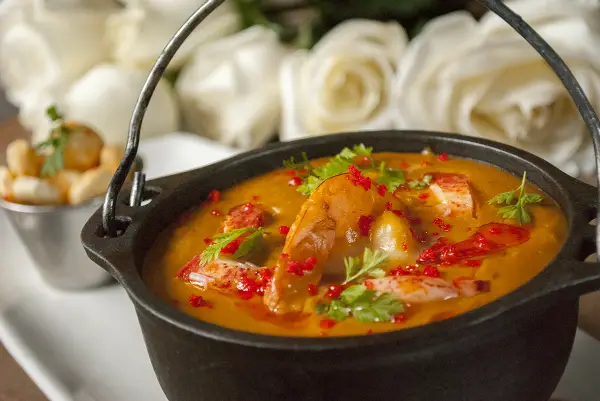 Photo by Jon Messano
The rustic pleasures of a seafood shack meet New York style at Ed's Chowder House. For Valentine's, look for hot and cold oyster specials and a three-course prix fixe that will let you choose from the likes of loaded lobster chowder (above), black cod with truffle mashed potatoes, surf 'n' turf, and a raspberry tart for dessert. Come after 8pm and you can take advantage of an ongoing special of half-off select bottles of wine! 44 W. 63rd St., 212-956-1288, edschowderhouse.nyc

Valentine's Restaurants in NYC: Fogo de Chão
In 1979, Fogo de Chão began sharing the gaucho way of preparing meat in Porto Alegre, Brazil. Today, its gaucho chefs still expertly grill each of its 16 cuts of meat and offer continuous tableside service. For Valentine's Day weekend you'll find traditional Brazilian sides (cheese bread!), a market table and feijoada (stew) bar, and, of course, a selection of fire-roasted meats. Couples dining on Valentine's Weekend (between Friday, February 10th and Tuesday, February 14th) will receive a Valentine's card for a complimentary lunch or dinner on their next visit, whether that's in New York or back home at one of their two dozen-plus other locations (good from February 15th through April 30th, 2017). 40 W. 53rd St., 212-969-9980, fogodechao.com
Valentine's Restaurants in NYC: The Marshal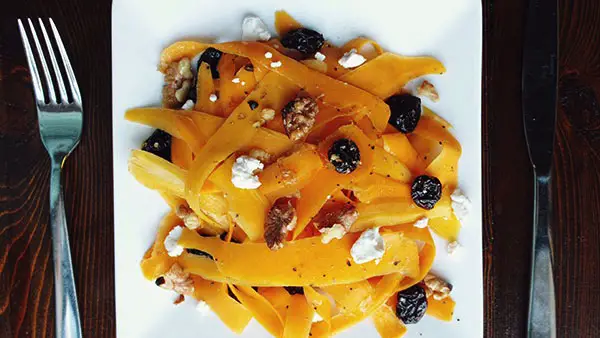 For something out of the ordinary for Valentine's Day, indulge in a farm-to-table experience in the heart of Manhattan's Theatre District. With ingredients that hail from local farms, The Marshal's menus are always fresh, always changing, and always full of seasonal flavors. Enjoy three courses that include duck confit or three kale salad, bourbon-planked monkfish or braised short ribs, and caramel apple cobbler or maple marshmallow s'mores among the options. It's $85pp and includes a Champagne toast. 628 Tenth Ave., 212-582-6300, the-marshal.com
Valentine's Restaurants in NYC: Michael Jordan's The Steak House N.Y.C.
Dine under the stars—well, under the Grand Central Terminal stars—at famous steak destination Michael Jordan's The Steak House N.Y.C. In addition to the steak and seafood classics of the regular menu, you'll find Valentine's Day specials like oysters on the half shell, a surf 'n' turf with strip steak and lobster tail, and a Chateaubriand for Two. Dessert is a very decadent 23-Layer Chocolate Cake Ala Mode. 23 Vanderbilt Ave., 212-655-2300, michaeljordansnyc.com
Valentine's Restaurants in NYC: Morton's The Steakhouse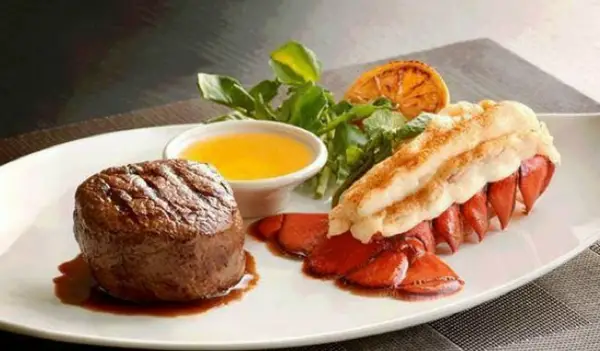 Famous for USDA prime-aged beef, fresh seafood, fine wine, and elegant desserts, Morton's The Steakhouse is the ideal place for a memorable dinner. Case in point? Valentine's Day dinner, with a combo steak and cold water lobster tail served with drawn butter for just $56. They'll be serving it Friday the 10th through Tuesday the 14th. 551 Fifth Ave. (on 45th, btw. Fifth & Madison Aves.), 212-972-3315, mortons.com/newyork; also visit their downtown location near the 9/11 Memorial at 136 Washington St., 212-608-0171, mortons.com
Valentine's Restaurants in NYC: Patsy's Italian Restaurant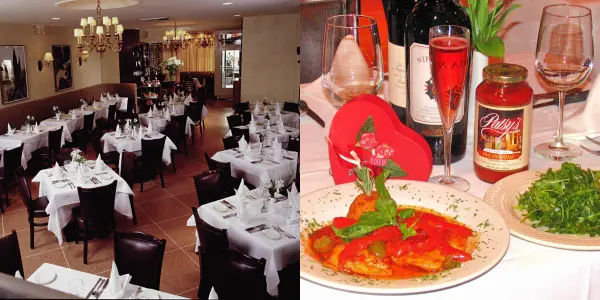 Theatre District landmark (it was Frank Sinatra's favorite!) Patsy's Italian Restaurant has been family-run since 1944. For a classic romantic night out in New York, Executive Chef and Co-Owner Sal Scognamillo will be serving some all-time Patsy's favorites. 236 W. 56th St., 212-247-3491, patsys.com
Valentine's Restaurants in NYC: Pera Mediterranean Brasserie
When you step into Pera Mediterranean Brasserie, you may be in midtown, but you feel like you're entering the kind of sophisticated restaurant you would find in Istanbul. An authentic open Turkish kitchen is like a stage in the back, with the feel, flavors, and sounds of the eastern Mediterranean. For Valentine's Day, find a relaxed scene without rules or requirements. The la carte menu is being served with additional Valentine's Day dinner and cocktail specials. The chef will provide sneak-peek amuse bouche for all guests. Live jazz with Padam Swing Featuring Chiara Izzi can be heard from 6:30pm onwards. 303 Madison Ave., 212-878-6301, peranyc.com
Valentine's Restaurants in NYC: Pera SoHo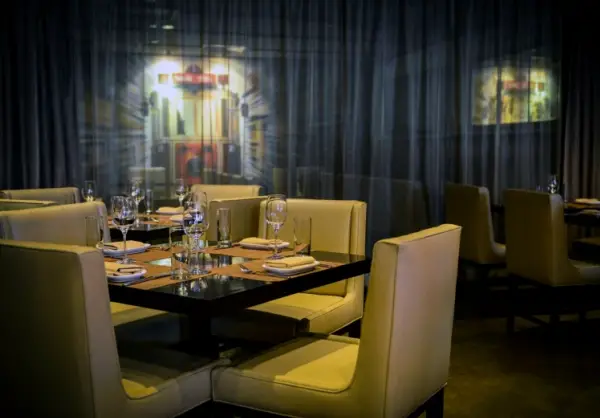 Pera SoHo is a transportative Mediterranean retreat in the heart of downtown. Inspired by a renowned Istanbul neighborhood where cuisine, art, culture, nightlife, and the cosmopolitan converge, Pera SoHo seduces with an environment that's both warm and vibrant. Dinnertime on Valentine's Day features a four-course gourmet menu (think crab cakes, lobster bisque, filet mignon, chicken Smyrna, and a molten chocolate cake to top things off), plus live jazz by Lapis Luna ($67pp). 54 Thompson St., 212-878-6305, pera-soho.com

Valentine's Restaurants in NYC: Royal 35 Steakhouse

Treat your loved one to a sumptuous meal at New York's newest spot for steak, Royal 35 Steakhouse. The menu at this sophisticated midtown destination is highlighted by USDA Prime beef, dry-aged for 35 days using their in-house aging box. For Valentine's Day, be tempted by a four-course prix fixe menu. It's got an entree choice of NY strip, petite filet, and grilled Norwegian salmon, and desserts of cheesecake or chocolate mousse cake. Mashed potatoes and creamed spinach are included on the side. $95pp. 1 E. 35th St., 212-804-7276, royal35steakhouse.com
Valentine's Restaurants in NYC: The Sea Fire Grill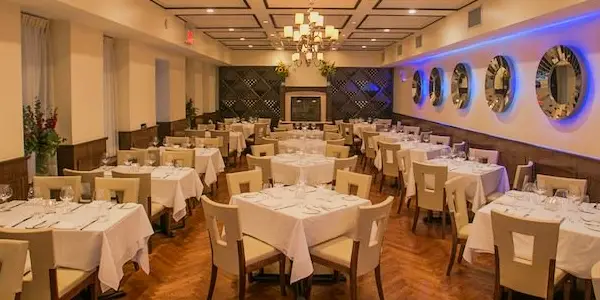 The Sea Fire Grill's superior service, delicious cuisine, and cosmopolitan vibe make it a great Valentine's destination. Spanish octopus, lobster bisque, and roasted branzino are just a few of the prix fixe options for the holiday. It's $99pp, plus tax and tip. 158 E. 48th St., 212-935-3785, theseafiregrill.com
Valentine's Restaurants in NYC: Spirit Cruises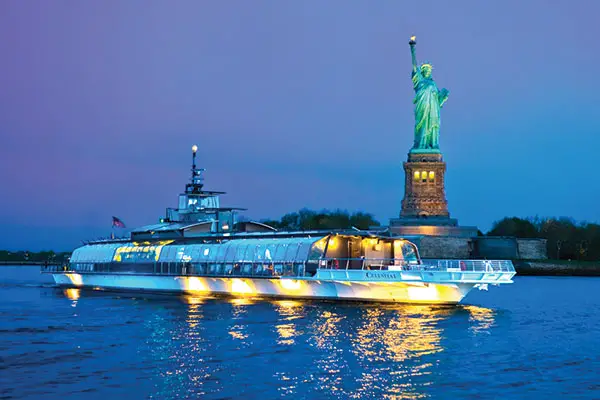 To up the romance quota even more, take a Valentine's cruise with Spirit Cruises and enjoy the spectacular sight of New York from the water. Choose from a Saturday or Tuesday dinner cruise on Spirit of New York or Sunday brunch. At dinner, the buffet meal is highlighted by slow-roasted prime rib. Hop aboard the all-glass Bateaux New York for a Hudson River circuit Saturday, Sunday, and Tuesday. Enjoy a champagne toast and a rose at dinner or bottomless mimosas at Sunday brunch, along with elegant plated meals and amazing skylines.
---
Looking for love in the city? Check out the romantic goings-on in Times Square on February 14th. We've got some great Valentine's ideas for couples in New York, too.
Looking for Free Group Planning Services?
Get free advice on planning your group's trip to New York.
RESTAURANTS

The newest member to the Heartland Brewery family, HB Burger...

THEATER

Kander and Ebb's "musical vaudeville" in which Roxie Hart ga...

SHOPPING

Specializing in the great vineyards of California, France, A...

SIGHTSEEING

Located in Times Square in the heart of New York City, Riple...