The Best Restaurants for Valentine's Day in NYC
January 23, 2018 - by Ethan Wolff
Dining in New York just lends itself to romance. Fine food, sharp service, and sophistication aplenty make it easy to have a special night out. Valentine's Day is no exception, with the city's best restaurants rolling out winter menus for February 2018 that make it hard to narrow down the choices. We've gathered up the best of the best—with surf 'n' turf, Champagne toasts, and chocolate mousse making their way into the mix—for our picks of the best Valentine's Day restaurants in NYC.
Valentine's Restaurants in NYC: Angus Club Steakhouse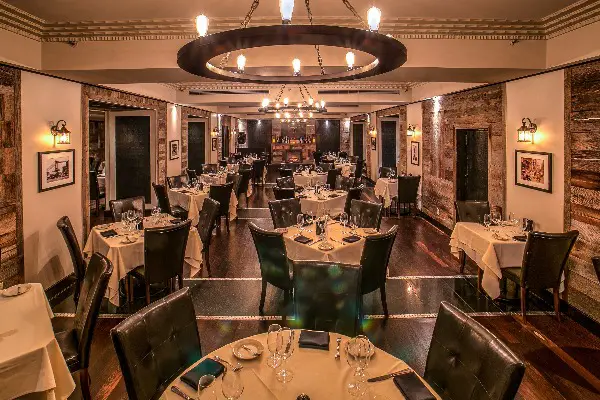 At Angus Club Steakhouse you'll find beautiful cuts of meat, whether you're craving rib-eye, Porterhouse, or even lamb chops. Beef is butchered on the premises and dry-aged for maximum flavor. (If red meat's not your thing, the menu expands to super-fresh seafood and entree salads.) Lush interiors feature art deco-inspired design; intimate evenings are easy to come by here. On Valentine's Day you'll find a prix fixe with entrees like a surf 'n' turf, Norwegian salmon, and Porterhouse for two. To finish, do as the locals: we recommend the cheesecake. 135 E. 55th St., 212-588-1585,
angusclubsteakhouse.com
Valentine's Restaurants in NYC: Ben & Jack's Steakhouse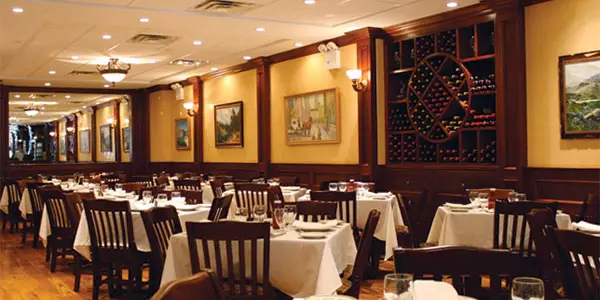 Students of the famed Brooklyn steakhouse Peter Luger, the eponymous talents behind Ben & Jack's Steakhouse opened their restaurant near Grand Central over a decade ago (there's also an even larger location near the Empire State Building). For Valentine's Day, enjoy a special prix fixe with entree options like rib-eye, filet mignon, sesame-crusted tuna, and Porterhouse for two. Keep your eyes open for a bride or two as well: on Valentine's, Ben & Jack's will be hosting vow renewals and weddings in a private room with retired NY State Supreme Court Judge Alan Marrus. 255 Fifth Ave., 212-532-7600, benandjackssteakhouse.com
Valentine's Restaurants in NYC: Benjamin Steakhouse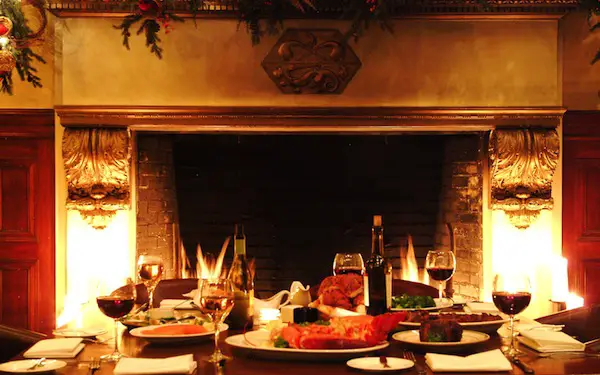 From beautifully marbled cuts of dry-aged beef and succulent seafood to refined service and charm, Benjamin Steakhouse in midtown is perfect for an intimate dinner. This year's Valentine's Day menu tempts with a spectacular prix fixe. Benjamin dry-ages their meat in their own aging box and you can choose from Porterhouse, bone-in rib-eye, or USDA Prime filet mignon (paired with a lobster tail) on the special Valentine's Day prix fixe. Oysters, crab cake, and shrimp cocktail are among the starter options, and there's a champagne toast included as well.52 E. 41st St., 212-297-9177, benjaminsteakhouse.com
Valentine's Restaurants in NYC: Benjamin Steakhouse Prime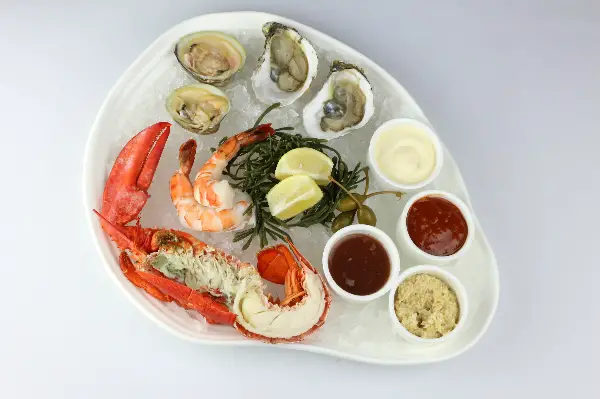 Benjamin Steakhouse's nearby sister spot Benjamin Steakhouse Prime, the 2017 Concierge Choice Awards winner for Best New Restaurant, also has a romantic Valentine's prix fixe dinner. Highlights include options like Blue Point oysters, sizzling Canadian bacon, New York strip loin, and a "love & passion heart cake" for dessert. The elegant space is conveniently close to Grand Central. 23 E. 40th St., 212-338-0818, benjaminsteakhouse.com
Valentine's Restaurants in NYC: Bobby Van's Grill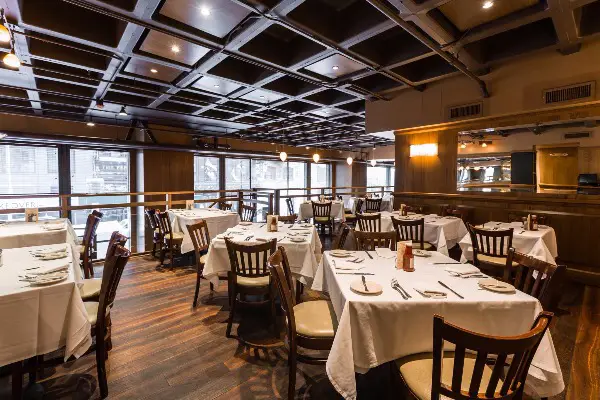 When it comes to the right digs for serious meat, the traditional men's club vibe is a great way to go. Bobby Van's Grill on 45th Street in Times Square boasts a handsome Belle Époque-like setting, with chandeliers casting a warm glow over dark wood paneling (there are five other Bobby Van's in NYC). The NY sirloin, steak a la stone, and bone-in rib-eye are top choices, but you really can't go wrong with any of the entrees here. 120 W. 45th St. (btw. Sixth & Seventh Aves.), 212-575-5623, bobbyvans.com
Valentine's Restaurants in NYC: Buca di Beppo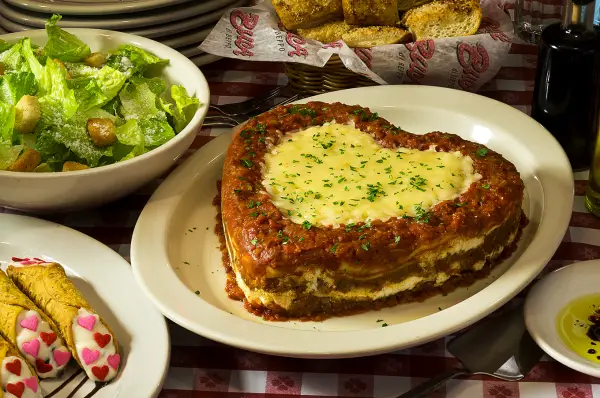 For a mix of fun and warmth (and a good deal), point yourself toward Buca di Beppo for Valentine's Day this year. For just $49.99 for two, enjoy Buca's "Classic Love" package, which comes with the house's famous heart-shaped lasagna, a mixed green or Caesar salad, garlic bread, and three mini cannoli for dessert. Eclectic décor, lively music, and engaging staff all add to the experience. 1540 Broadway, 212-764-6527, bucadibeppo.com
Valentine's Restaurants in NYC:
Chazz Palminteri Italian Restaurant
Actor Chazz Palminteri has partnered up with Empire Steak House to bring the best of homestyle Italian cooking to Midtown Manhattan. Valentine's Day sees a special prix fixe menu at Chazz Palminteri Italian Restaurant that includes a complimentary glass of Champagne and three classic courses. For your primi piatti, look for options like Blue Point oysters, fried calamari, and prosciutto with melon. Second course standouts include seafood fettuccini, ravioli with a black truffle cream sauce, USDA prime filet mignon, and a veal chop rack topped with herbs and sauteed onions. Dessert? That's a pick of cheesecake, tiramisu, chocolate souffle, or chocolate strawberries. 30 W. 46th St., 212-355-5540, chazzpalminterinyc.com
Valentine's Restaurants in NYC: Darbar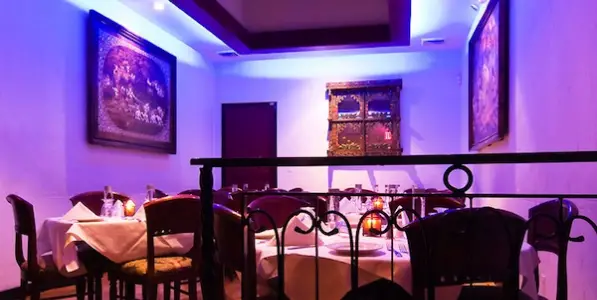 Darbar boasts some of New York City's most authentic Indian food at more than reasonable prices. Look for classic masalas, vindaloos, tandoori, and korma dishes, alongside specialties like Maine crab cakes and potato croquettes stuffed with goat cheese. For Valentine's, a $42 four-course romantic prix fixe awaits—it includes a free glass of wine for your sweetie. 152 E. 46th St. (btw. Third and Lexington Aves.), 212-681-4500, darbarny.com
Valentine's Restaurants in NYC: Darbar Grill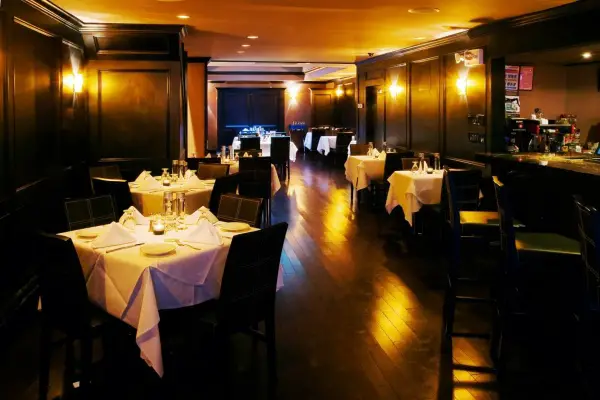 Fine Indian dining in an elegant setting is what you'll find at Midtown East's Darbar Grill. Great ambience and service complement an impressive range of seafood, chicken, goat, and vegetarian entrees. For Valentine's, Darbar Grill will be joining its sibling Darbar in serving a $42 four-course prix fixe, with a complimentary glass of wine for your Valentine. 157 E. 55th St. (btw. Third and Lexington Aves.), 212-751-4600, darbargrill.com
Valentine's Restaurants in NYC: David Burke Kitchen
Regionally sourced ingredients and imaginative reinterpretations of classic American cooking are on display at David Burke Kitchen in The James New York downtown. Valentine's Day will be no exception, as tasting menus will be served, loaded up with temptations like oysters on the half shell (with a cucumber and blood orange mignonette), lobster and calamari ceviche, roasted winter vegetable salad, miso-glazed black cod, dry-aged sirloin with a short rib ravioli. Flourless chocolate cake awaits for dessert. An optional sommelier-selected wine pairing is available as well. 23 Grand St., 212-201-9119, davidburkekitchen.com
Valentine's Restaurants in NYC: Del Frisco's Double Eagle Steakhouse New York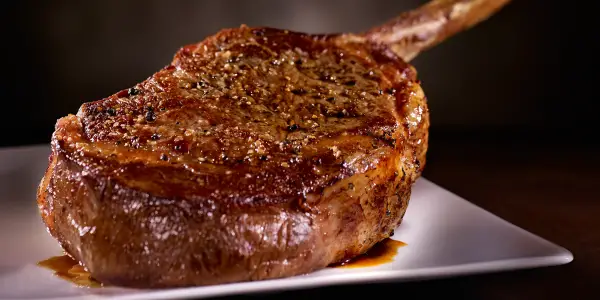 Del Frisco's Double Eagle Steakhouse New York boasts a multi-level space of wood columns, winding staircases, and exposed wine cellars. Bid restraint goodbye when faced with mains like a bone-in prime rib-eye or the Wagyu long-bone tomahawk chop. An array of ultra-rich sides will seal the deal, including chateau mashed potatoes, king crab gnocchi, and lobster mac 'n' cheese. In addition to a special Valentine's Day, Del Frisco's is open seven days a week, including lunch on Saturdays and post-theatre dining. 1221 Ave. of the Americas (entrance on 49th St.), 212-575-5129, delfriscos.com
Valentine's Restaurants in NYC: Empire Steak House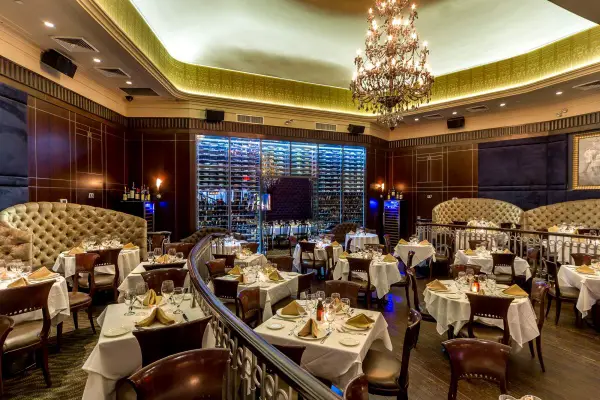 With locations in prime spots on both the East and West sides, Empire Steak House is an excellent destination for Valentine's Day. Built by a trio of brothers who learned their trade at the legendary Peter Luger Steakhouse, Empire shows off the finest cuts of steaks, the freshest seafood, and a premium selection of wine. Look for special prix fixe Valentine's menus. You'll find extra-thick Canadian bacon, Maryland crab cakes, and fresh oysters on the half shell among the appetizers; Porterhouse for two, filet mignon, lobster tail, and bone-in rib-eye highlight the entrees. Dessert and a complimentary glass of champagne are also included ($109.90 per person at both locations, not counting tax, tips, or drinks). West Side, 237 W. 54th St., 212-586-9700; East Side, 151 E. 50th St., 212-582-6900, empiresteakhousenyc.com
Valentine's Restaurants in NYC: Fogo de Chão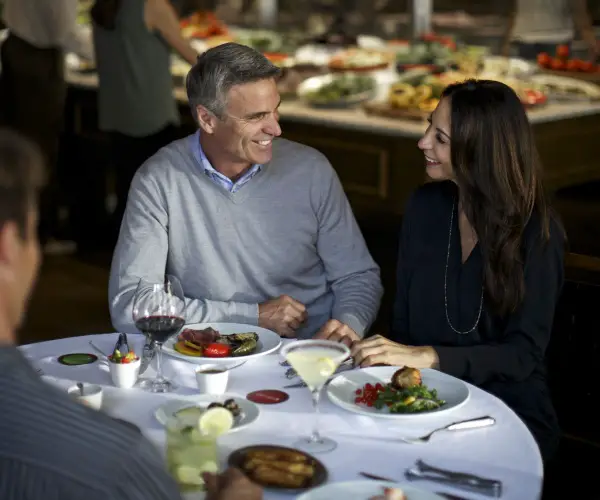 In 1979, Fogo de Chão began sharing the gaucho way of preparing meat in Porto Alegre, Brazil. Today, its gaucho chefs still expertly grill each of its 16 cuts of meat and offer continuous tableside service. For Valentine's Day weekend you'll find traditional Brazilian sides (cheese bread!), a market table and feijoada (stew) bar, and, of course, a selection of fire-roasted meats. Couples dining on Valentine's Week (between Saturday, February 10th and Saturday, February 17th) will receive a Valentine's card for a complimentary lunch or dinner on their next visit (with the purchase of a lunch or dinner), whether that's in New York or back home at one of their two dozen-plus other locations (good from February 18th through May 3rd, 2018). 40 W. 53rd St., 212-969-9980, fogodechao.com
Valentine's Restaurants in NYC: Morton's The Steakhouse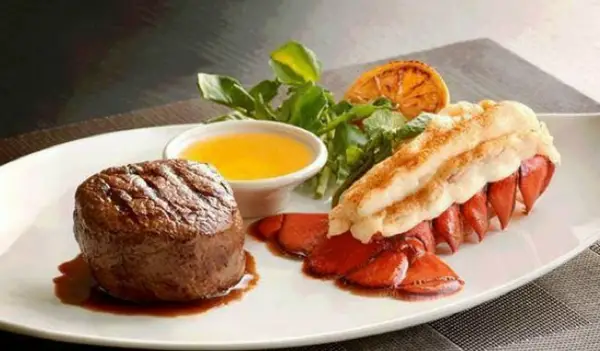 Morton's The Steakhouse manages a perfect balancing act between classic and contemporary. You can see it in the revamped dining room on Fifth Avenue (there's a second location in the Financial District), done up in cosmopolitan blacks and grays, and in the ever-evolving culinary offerings like tuna tacos and miso-marinated sea bass. Morton's serves only the top 2% of beef available in the U.S., so you know you're getting top quality in the center-cut filet mignon or signature cut prime New York strip. All served in serious steakhouse portions. Of course. For Valentine's Day, take advantage of a special "steak & lobster menu"—a succulent steak and a cold-water lobster tail served with drawn butter. It's just $59 and available on Valentine's as well as the entire week between February 10th and the 17th. 551 Fifth Ave. (on 45th, btw. Fifth & Madison Aves.), 212-972-3315, mortons.com/newyork; also visit their downtown location near the 9/11 Memorial at 136 Washington St., 212-608-0171, mortons.com
Valentine's Restaurants in NYC: Nino's 46
Family owned since 1982, midtown favorite Nino's 46 serves traditional Italian favorites with a contemporary twist. Guests are treated like part of the family. For Valentine's Day, look for a special menu with appetizer choices of a seasonal burrata (roasted acorn squash and pancetta) or A-5 Wagyu (boneless short-rib Wagyu beef with French sea salt and rosemary). For entrees, don't miss a four-meat Bolognese with veal, pork pancetta, and braised short ribs; a Porterhouse veal chop marsala; and Southern Italian wild salmon. 39 W. 46th St., 212-719-4015, ninos46.com
Valentine's Restaurants in NYC: Obicà Mozzarella Bar Pizza e Cucina
In Neapolitan dialect, the word "obicà" translates as "here it is," and if you're looking for some of the freshest and most authentic Italian in New York City, point yourself to Obicà Mozzarella Bar Pizza e Cucina, where you'll find it served right before your eyes. From Valentine's Day through Saturday, February 17th, don't miss a special San Valentino specials menu. A complimentary Rossini cocktail awaits, along with à la carte specials (in addition to the regular menu and enjoyed with suggested wine pairings). Your options include a king crab lake salad with black Artemide rice; Angus beef tartare with burrata and a black truffle mousse; grilled artichoke heart pizza; handmade lobster ravioli; duck breast; and a "cuori di cioccolato" (chocolate-almond Caprese hearts) for dessert. Mangia! 928 Broadway, 212-777-2754, obica.com
Valentine's Restaurants in NYC: Patsy's Italian Restaurant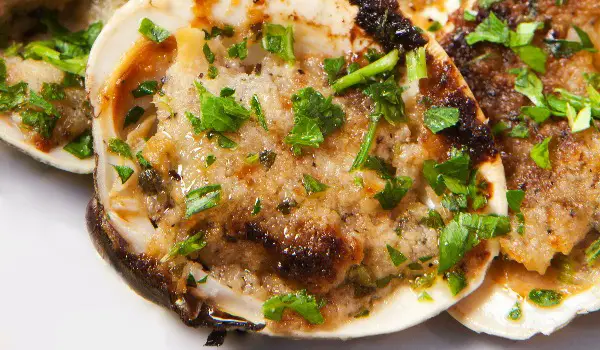 Theatre District landmark (it was Frank Sinatra's favorite!) Patsy's Italian Restaurant has been family-run since 1944. For a classic romantic night out, Executive Chef and Co-Owner Sal Scognamillo recommends his arugula salad, baked clams, chicken Fra Diavolo, and a Passion Cocktail. (Save room for Patsy's famous Warm Chocolate Cake for dessert.) 236 W. 56th St., 212-247-3491, patsys.com
Valentine's Restaurants in NYC: The Sea Fire Grill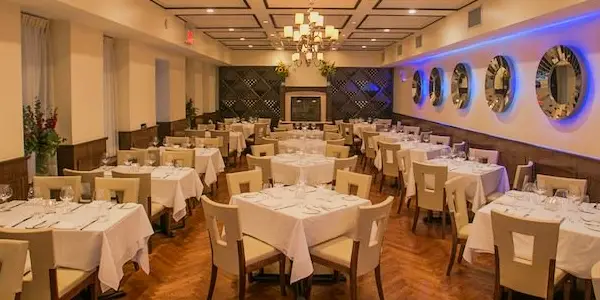 The Sea Fire Grill's superior service, delicious cuisine, and cosmopolitan vibe make it a great Valentine's destination. A special Valentine's Day prix fixe brings options like Spanish octopus, lobster bisque, and a filet mignon-lobster-shrimp-king-crab surf 'n' turf. There's a complimentary champagne toast as part of the package. 158 E. 48th St., 212-935-3785, theseafiregrill.com
Valentine's Restaurants in NYC: Sen Sakana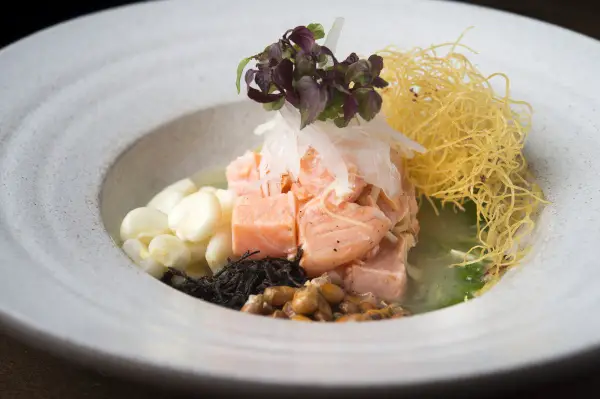 Newcomer Sen Sakana in Midtown provides a sleek setting to experience Nikkei cuisine, an intriguing mix of Japanese and Peruvian influences. For Valentine's Day this year, Sen Sakana will be serving specials like sea scallops sautéed in truffle butter and shrimp dashi; maguro tiradito, which is Japanese tuna served with Peruvian uni sauce and topped with purple daikon tsekemono; "Smoking" Lobster and Corvina Ceviche (above), mixed with aji amarillo and leche de tigre; and, for those with a sweet tooth, hazelnut caramel mousse topped with tempura crispies and kobocha ice cream. 28 W. 44th St., 212-221-9560, sensakana.com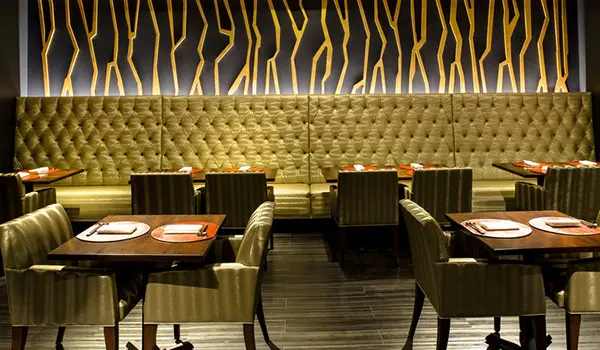 It's always exciting to open up a new frontier of experience, like the Japanese haute cuisine known as kaiseki. Midtown newcomer Suzuki is one of the few places in New York to offer kaiseki, showcasing menus of eight or more interconnected courses. For Valentine's Day, they'll be finishing off these elegant, finely crafted meals with a special dessert. 114 W. 47th St., 212-278-0100, suzukinyc.com
---
Valentine's on the Water in NYC: Spirit Cruises and Bateaux New York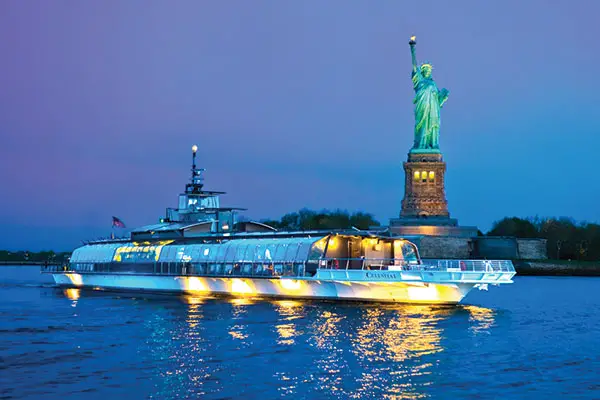 One of New York's most spectacular experiences is getting out on the water with Spirit Cruises and Bateaux New York. Spirit Cruises bookends the Valentine's with dinner buffet cruises on Saturday the 10th and 17th; lunch cruises are available the 11th and 17th. Look for a fireworks cruise on the 14th, complete with a DJ spinning romantic songs and a complimentary rose and champagne toast. Hop aboard the all-glass Bateaux for a Hudson River spin, with plated dinner cruises on Saturday the 10th and 17th; there is a bottomless mimosa brunch cruise on the 11th and a lunch cruise on the 17th. On Valentine's, catch the fireworks on an evening cruise; all Bateaux outings will feature a live band and dance floor. Chelsea Piers, Pier 61, near W. 23rd St. on the Hudson. Spirit Cruises, 866-483-3866, spiritcruises.com; Bateaux New York,
866-817-3463, bateauxnewyork.com
Valentine's on the Water in NYC: Circle Line Sightseeing Cruises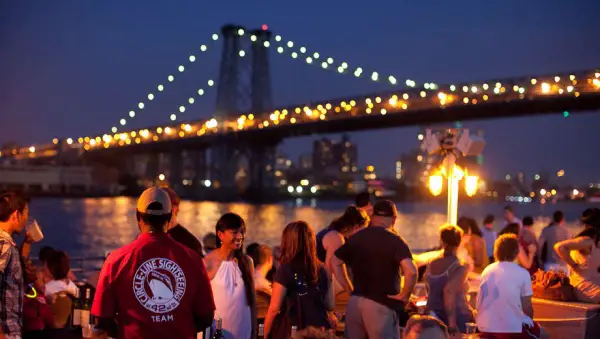 Cruise down the Hudson River this Valentine's Day with someone special and take in the romantically lit New York City Skyline and the Statue of Liberty at night. Circle Line Sightseeing Cruisesoffers a special "Harbor Lights With Your Honey" ride, with front-row seats to the fireworks and complimentary chocolate and a glass of champagne. The $99 ticket is good for two people. Pier 83, W. 42nd St., 212-563-3200, circleline42.com
---
Looking for love in the city? Check out the romantic goings-on in Times Square on February 14th. We've got some great Valentine's ideas for couples in New York, too.
Looking for Free Group Planning Services?
Get free advice on planning your group's trip to New York.
RESTAURANTS

Beloved midtown spot takes inspiration from local tradition,...

THEATER

Gaston Leroux's famous period thriller is now one of Broadwa...

SHOPPING

DataVision is redefining retail with their new, fully intera...

SIGHTSEEING

Sweeping, unobstructed, open-air views of NYC from the top o...