In New York City, whether you're looking to sit back with a bucket of beer and some good game-time grub or you yearn to enjoy a more quiet, intimate party, there's a Super Bowl venue and vibe for every viewer. Round up your friends and get ready to join the football frenzy.
Houston Hall
The rustic design and soaring ceilings of Houston Hall create a perfect backdrop for watching a spectacular sporting event. Houston Hall will show the Super Bowl Sunday pre/post game and main event on 12-foot screens. The lively crowd digs into empanadas, Southern-fried dill pickle spears, wings, burgers, bratwurst, and jumbo Bavarian pretzels with warm cheddar ale dip. Signature cocktails include Espresso Martinis and Moscow Mules, joined by a variety of craft beers on tap, with seasonal specials and plenty of lagers, ales, and even a hazy IPA. $10 cover. 


Super Bowl in Williamsburg
Crystal Lake (647 Grand St.) will host a Super Bowl watch party at their hauntingly decked out bar and event space in Brooklyn. Sports fans can chow down on elevated pub food from the resident chef behind Bitchn Kitchn and score specials like $20 Miller High Life or Coors pitchers, $6 shots of Jim Beam, Old Overholt or Hornitos Tequila as well as 3 for $10 or $4 for 1 Super Bowl Jello Shots. 
Noir Super Bowl
Visit Lost Spirits (11 W. 17th St.) for a 1920s noir Super Bowl viewing party! Football fans can get massive sharing platters to feed their entire squad for $100, $125, or $145. These platters include fries and a range of options like a dozen slider burgers, a dozen chicken sliders, a dozen classic grilled chicken wings, and a platter of lamb. Fans of finger foods can relish in the large Large Charcuterie & Cheese board for $75. For $28, wash it all down with a half dozen bucket filled with Modelo, Topo Chico, or Bud Light.
Underground Super Bowl
Bell Book & Candle (141 W. 10th St.) is hosting Super Bowl fun at their underground spot in the West Village. Guests can enjoy the Super Bowl on two 72-inch projectors with surround sound. Specials like Bud Light and Tecate beer buckets,  priced at 5 for $30, and  $5 jello shots—which can be requested in team colors—will run all night. Dishes include crispy roasted jalapeño deviled eggs with house-made buttermilk ranch, lobster tacos with tomatillo and avocado salsa, and Hawaiian yellowfin tuna nachos with tempura kale, guacamole, sesame, and spicy mayo.
Lux Super Bowl
Head to Midtown East's Space 54 for their LVll Super Bowl Viewing Party on Sunday, February 12th starting at 5 pm. Gameday fans can indulge in sliders, mac 'n' cheese, and chicken wings. Live DJs will add some contemporary sound. VIP tables with or without bottle service and general admission tickets can be booked here.
Wings and More for the Super Bowl
Hole in the Wall is hosting a viewing party for the Super Bowl LVII at both its Flatiron (37 W. 24th St.) and Murray Hill (445 E. 35th St.) locations. Fans can indulge in wings with Asian chili sauce or Frank's RedHot sauce for $10, fries for $6, fried squid served with sweet chili sauce for $13, lamb burgers with feta cheese, tzatziki and grilled onions, served with fries for $20, and "The Chicken Parma" served with fries and salad for $24. Reservations can be made here.
Tin Building Super Bowl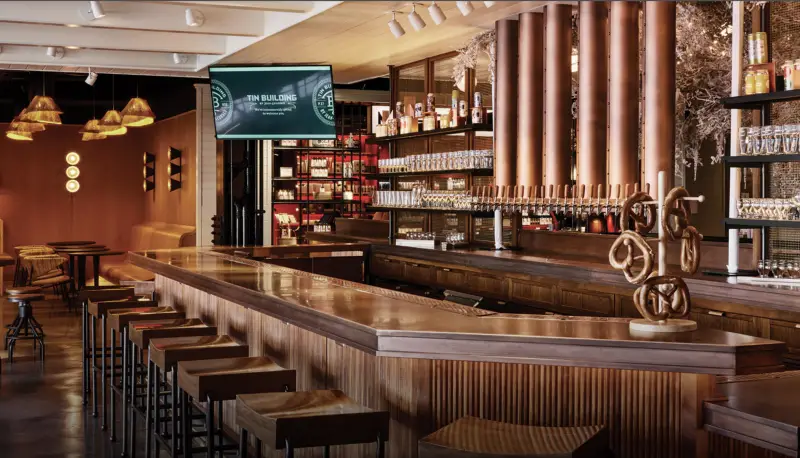 Game in style with a wide range of craft beers and flavorful bites at Beer Here, on the second floor of Tin Building by Jean-Georges. Starting with kick off at around 6:30pm, multiple screens will tune to the Super Bowl, with no cover charges!
Brooklyn Bowl Super Bowl

Brooklyn Bowl adds 16 lanes of bowling, locally crafted beers, and food by the acclaimed Blue Ribbon restaurant group to a Super Bowl Sunday outing. Look for an epic Super Bowl viewing party with full concert sound across 14 HD screens. The kitchen will turn out hearty fried chicken dinners, cheesy nachos, and "rock n' roll fries," topped with chicken gravy, Cajun spice, provolone, and cheddar.
Bryant Park

Photo: Ryan Muir.
To enjoy Chiefs-Eagles rinkside, head to The Lodge at Bank of America Winter Village at Bryant Park. A bar, big screen, and food hall await (as do skating and bumper cars if the game is a blowout).