Football fans—and New Yorkers who enjoy the festivities—are gearing up for Super Bowl LIV, which will kick off at 6:30pm on Sunday, February 2 at Hard Rock Stadium in Miami, Florida. NYC fans of the San Francisco 49ers and Kansas City Chiefs will take to local bars and restaurants for the big game (things will surely heat up during the half-time show as well, which will spotlight the talents of Jennifer Lopez and Shakira). In New York City, whether you're looking to sit back with a bucket of beer and some good game-time grub or you yearn to enjoy a more quiet, intimate party, there's a venue and vibe for every viewer. Round up your friends and get ready to join the football frenzy.
The Ribbon
The Ribbon Times Square, a spinoff of the Blue Ribbon empire of sushi and fried chicken fame, is a perfect destination to watch the big game. For the 2020 Super Bowl, they'll be serving creative takes on bar food favorites like meatball flatbread, fried chicken wings, mac 'n' cheese fritters, pulled-pork BBQ nachos, brisket tacos, and a Nashville hot chicken sandwich. This is a great way to elevate your game day experience! 220 W. 44th St., 212-944-2474, theribbonnyc.com/sports-at-the-ribbon
Flatiron Hall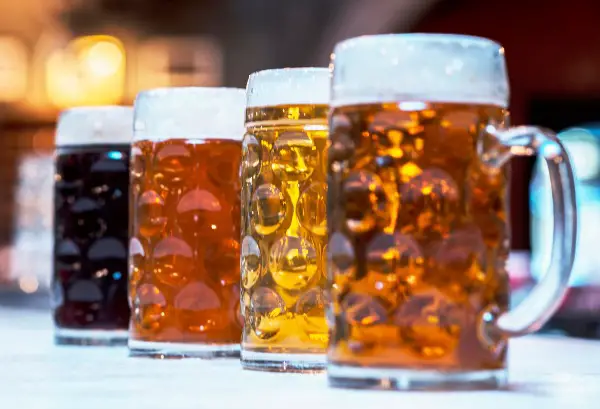 Flatiron Hall is a sprawling, handsome beer hall that gets rave reviews. Watch the Super Bowl on one of the venue's multiple TVs. A $10 cover includes unlimited wings from 6pm until the end of the game. The beer cellar boasts large communal tables and TV screens, which make this an ideal football party hotspot. 38 W. 26th St., 646-790-3200, flatironhall.com
Bar Moxy
Catch all the action at Bar Moxy's rockin' Super Bowl LIV viewing party, which will showcase the big game on an oversize 133" projector screen. Enjoy special deals on staple game day foods—from chicken wings to cheesy waffle fries and jumbo pretzels. There will also be drink specials on pitchers of select beers. For reservations, contact: Legaseatsnyres@taogroup.com. 485 Seventh Ave., moxytimessquare.com
Bill's Bar & Burger
The Super Bowl and burgers are a natural match. For some of the best—and most creative—burgers in the city, pay a visit to Bill's Bar & Burger. The menu here runs 13 burgers strong, all with freshly ground beef patties that are hand-pressed every day in the kitchen. From the Konichiwa to the Ranch Hand, find your flavor, grab a shake, and chow down (and don't forget the Disco Fries). Rockefeller Center, 16 W. 51st St., 212-705-8510; downtown, 85 West St., 212-567-2300, billsbarandburger.com
Houston Hall
The rustic design and soaring ceilings of Houston Hall create a perfect backdrop for watching a spectacular sporting event. Houston Hall will show the Super Bowl Sunday pre/post game and main event on the stylish beer hall's two 12-foot screens. A $10 cover includes unlimited wings from 6pm until the big win. 222 W. Houston St., 212-675-9323, houstonhallny.com
Lot 15

Herald Square's new cocktail lounge Lot 15 will host "The Big Game Watch" in partnership with its cousin property Black Tap Craft Burgers & Beer. Menu highlights include buttermilk fried chicken tenders, Idaho fries, fried mozz, wings, and the "All-American Burger," among other tasty bites. Sponsored by Element Electronics, Lot 15's viewing party will kick off at 4pm. The game can be seen on two 55" and four 70" TVs. There will be an hour offering of mixed drinks, and a beer and wine open bar from 5:30 to 6:30pm. For tickets, visit: lot15superbowl2020.eventbrite.com. 45 W. 35th St., 646-943-5115, lot15.nyc
Planet Hollywood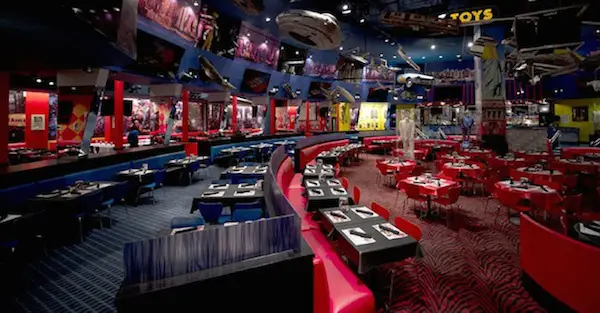 For great food, famous memorabilia, and out-of-this-world events, there's no place like Planet Hollywood. Food is not an afterthought here. A kitchen crew of about 60 churns out the dishes offered on a voluminous menu dominated by huge portions of American comfort food with a sprinkling of Mexican, Italian, and Asian favorites mixed in. Big-screen TVs let you keep up with all the Super Bowl action this year. 1540 Broadway, 212-333-7827, planethollywoodintl.com
PHD Rooftop at Dream Downtown
Dream Downtown will host its 3rd Annual BIG LIV Super Bowl Watch Party at the swanky PHD Rooftop. The lofty lounge will be transformed into the ultimate football viewing party. Beyond the five TVs and cozy lounge pods, beer buckets will be flowing. A special tailgate menu will be unveiled by Chef Brad Warner. The doors open at 5pm and an open bar will be offered from 5:30 to 6:30pm. For tickets visit here. 355 W. 16th St., 212-229-2559, dreamhotels.com
The Long Acre Tavern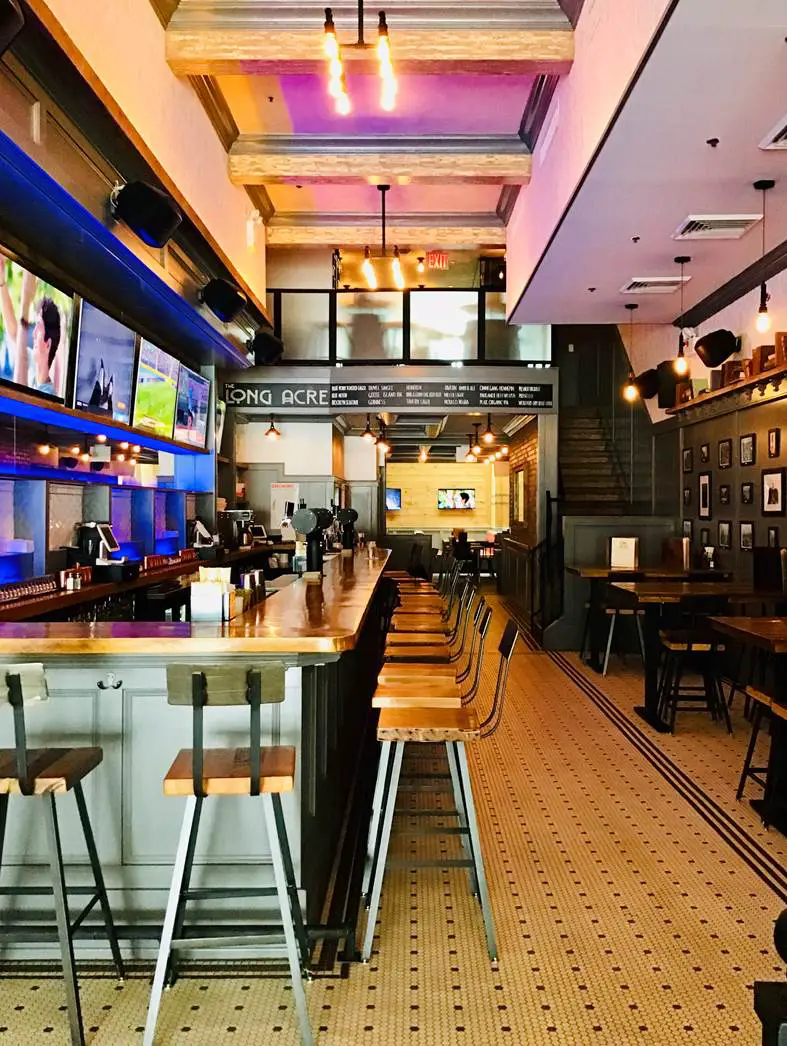 The best sports bar in Times Square has tons of state-of-the-art audio/video TVs for all the Super Bowl action. While you're there, you'll also find classic American fare with a modern edge, including burgers, salads, sandwiches, filet mignon, and much more. The Long Acre Tavern also serves top quality beer and old-school cocktails. 146 W. 47th St., 646-649-3587, longacrenyc.com
Patrick's Restaurant & Oyster Bar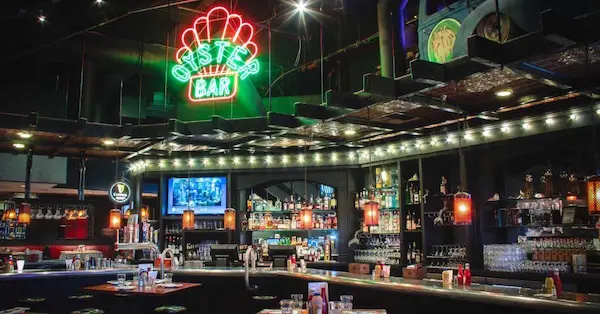 Patrick's Restaurant & Oyster Bar is a new classic from the creators of Tony's DiNapoli. They're serving Pat LaFrieda burgers and USDA prime steaks alongside some of NYC's best oysters, craft beers, and cocktails. TVs are tuned to NFL action. 259 W. 42nd St., 212-776-9100, patricksnyc.com
Pretty Ricky's
From the team behind the East Village's colorful cocktail bar Mister Paradise is Pretty Ricky's—a new destination on Manhattan's LES. Pretty Ricky's will be screening the big game on a large screen in the back room, making an easy viewing experience for all revelers. While watching the 49ers and Chiefs go head to head in Miami, enjoy $5 beers from each of the teams' home cities. Bonus—there's a special $7 food menu. The dishes are twists on classic bar bites such as buttermilk chicken sliders, smoked wings, loaded fries, and nachos with chorizo and house-made queso. 101 Rivington St., 646-429-3957, prettyrickys.com
The Oyster House at Pier A
Inspired by the old oyster houses of New York and the fish market traditions of Lower Manhattan, The Oyster House at Pier A is a free-flowing space designed for convivial eating and drinking. Elevate your game for the Super Bowl with The Oyster House's great selection of East and West Coast oysters, fish fries, grilled seafood, and Double Stack burgers. 22 Battery Pl., 212-786-0153, piera.com
The Market Line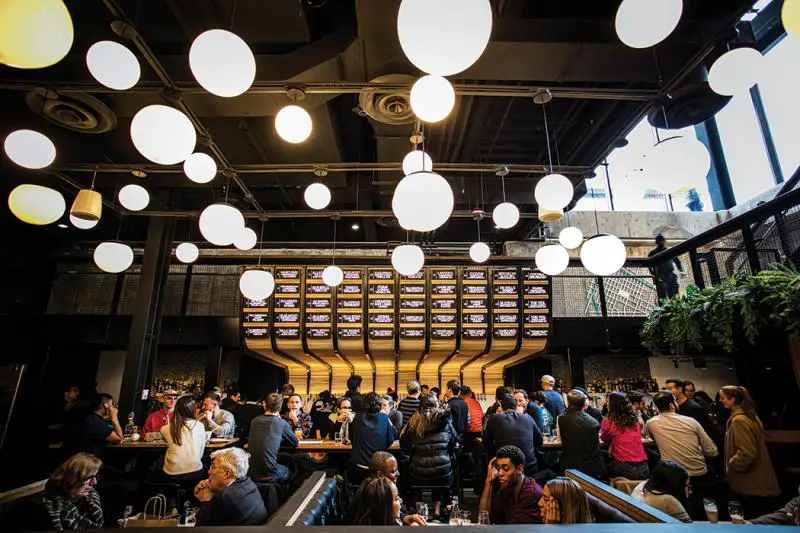 Eric Medsker.
New Lower East Side food hall The Market Line will be throwing down with two massive projectors to view the game for free. Catch all the action in the The Grand Delancey Beer Hall and the grand staircase between Essex Pearl and Torterilla Nixtamal. In addition to football, you'll find a raffle, face painting, and specials at dozens of vendors. 115 Delancey St., marketline.nyc
Woodpecker by David Burke
Jenna Murray/IGC Hospitality.
Woodpecker by David Burke is another ideal game-day spot. In celebration of the annual game, the venue is offering $35 all-you-can-eat pizza and wings for the duration of the entire game. Sip signature cocktails (select libations are offered at $10. Beer and wine enthusiasts can enjoy select beer and wines for $7. Talk about a score! For reservations, email, reservations@igchospitality.com. 30 W. 30th St., 646-398-7664, woodpeckerbydb.com
The Ainsworth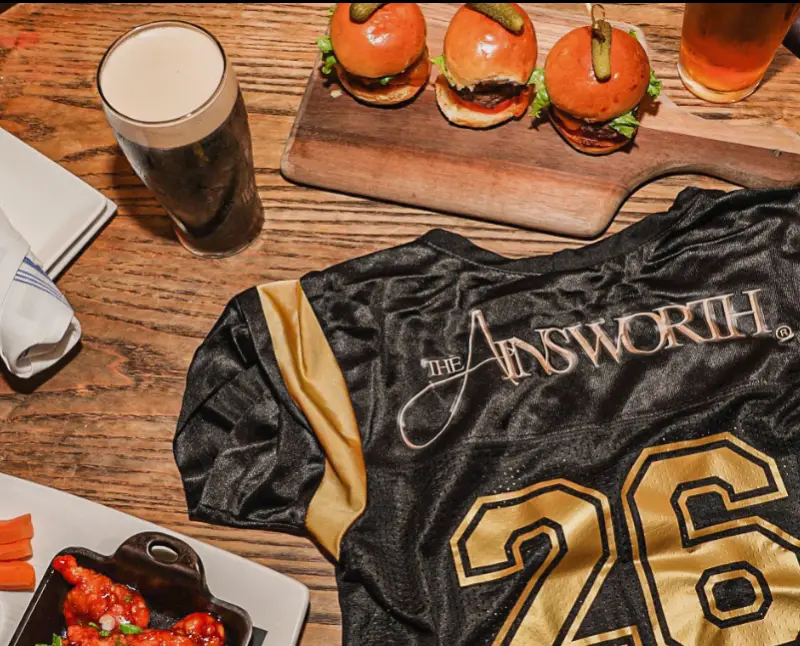 The Ainsworth is a series of fun and modern sports bars/restaurants across NYC. Two locations—Ainsworth Social in Midtown West and the East Village outpost—will be throwing down major Super Bowl parties. Both spots have high-def TVs left and right, full bars, amazing food, and a fully equipped DJ booth. Purchase a $100 East Village ticket or a $80 Midtown West ticket and you'll find unlimited mid-shelf cocktails, beer, and wine for the entire game. You'll also be able to order unlimited off their Super Bowl 2020 food menu, which is stocked with faves like sliders, wings, and mac 'n' cheese bites. Ainsworth Social, 645 Ninth Ave., 212-234-0090; Ainsworth East Village, 64 Third Ave., 212-419-1151, ainsworthnyc.com