Where to Eat in Little Italy
May 27, 2015 - by City Guide
While Little Italy is still an excellent go-to for large, family-style meals at classic red sauce joints and pizzerias, there are plenty of non Italian options that are worth exploring as well.
A.B. Biagi
Some of the city's best gelato can be found here, nestled between the boutiques of Elizabeth Street. Expect world-class stracciatella and excellent coffee as well.
235 Elizabeth St., 212-219-8094, abbiagi.com
Angelo's of Mulberry St.
One of Little Italy's classics. Angelo has been the scene for romantic, candlelit Neapolitan dinners and boisterous family meals since 1902. Expect a natty, old-school wait staff and to be encouraged to drink more wine.
146 Mulberry St., 212-966-1277, angelosofmulberryst.com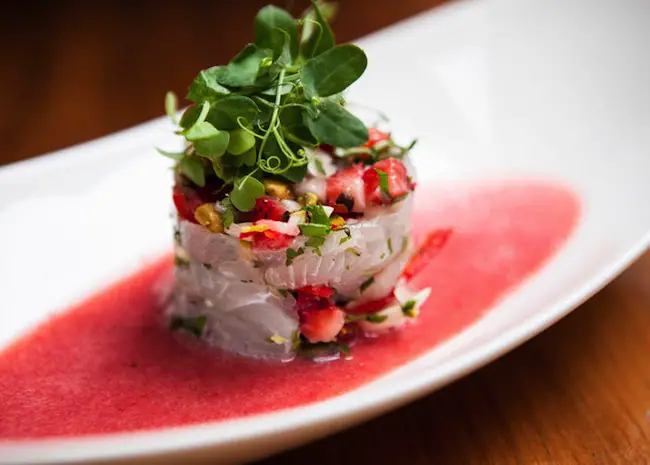 Balaboosta
A bright local favorite for contemporary takes on Mediterranean and Middle Eastern food. Come with a date and make sure one of you gets the Swiss-chard-wrapped lamb loin.
214 Mulberry St., 212-966-7366, balaboostanyc.com
Black Seed Bagel
A tiny, trendy option for wood-fired, Montreal-style bagels and both traditional and non-traditional bagel sandwiches. Think ricotta with apple honey.
170 Elizabeth St., 212-730-1950, blackseedbagels.com
Café Gitane
This seemingly humble café is actually where Nolita's hip creative class wiles away its late mornings and afternoons over French-Moroccan meatballs and glasses of red.
242 Mott St., 212-334-9552, cafegitanenyc.com
Café Habana
Locals pack this lively corner spot for elote (corn on the cob covered in cheese and spices) and their superlative Cuban sandwiches. You'll want to follow suit.
17 Prince St., 212-625-2001, cafehabana.com
Egg Shop
A small, friendly hipster spot for all-day contemporary egg dishes and sandwiches (think pork carnitas with a sunny-side-up, topped with bourbon ketchup) that's also hiding a couple mean Bloody Marys.
151 Elizabeth St., 646-666-0810, eggshopnyc.com
Estela
Barack Obama chose this modern Houston Street hot spot for dinner during one of his recent NYC jaunts. It's a safe bet that he scoured the extensive wine menu and sampled the ricotta dumplings.
47 E. Houston St., 212-219-7693, estelanyc.com
Ferrara Bakery & Café
Another of the old-time Little Italy institutions, Ferrara claims to be America's first espresso bar, and have been baking up everything from cannoli to wedding cakes since 1892.
195 Grand St., 212-226-6150, ferraranyc.com
Gelso & Grand
An enormous corner spot for both traditional and modern Italian. Take a date for some spaghetti pomodoro and scallop crude and don't leave without a few glasses of red in the downstairs lounge.
186 Grand St., 212-226-1600, No website
IL Cortile
For 40 years people have been flocking to IL Cortile's brick-and-vine-covered back garden for Northern Italian favorites like eggplant orecchiette and veal scaloppini.
125 Mulberry St., 212-226-6060, ilcortile.com
La Mela
A quirky, frescoed neighborhood Southern Italian spot that's great for huge parties and serves its Italian basics well into the late-night hours.
167 Mulberry St., 212-431-9493, lamelarestaurant.com
Lombardi's Pizza
The folks here claim to have served America's first pizza (Neapolitan here) back in 1905. Crowds flock here its history, thin crust and thick, small pepperoni slices, which serve as perfect pizza grease cups, in the best way possible.
32 Spring St., 212-941-7994, firstpizza.com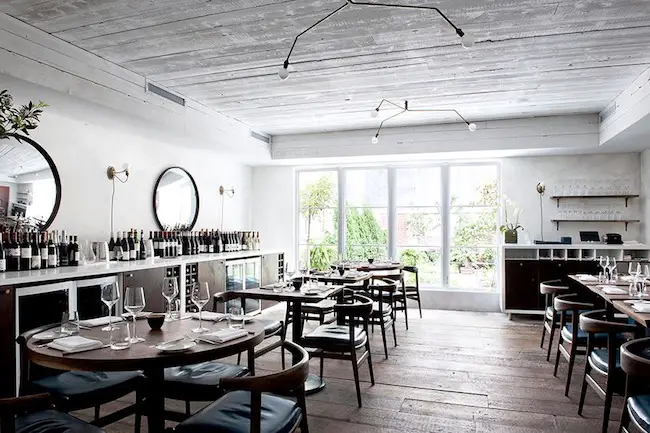 Musket Room
A Michelin-starred take on contemporary fare with a New Zealand bent. The chef specializes in small, colorful presentations, and you'll find a serious wine list as well.
265 Elizabeth St., 212-219-0764, musketroom.com
Nyonya
A rare blonde-wood Malaysian oasis in a sea of old-school Italian joints. Nyonya is where you'll come to try roti canai (a flatbread meant to be dipped in either savory or sweet sauces) with a group of friends.
199 Grand St., 212-334-3669, ilovenyonya.com
Parisi Bakery
An ancient and beloved Italian storefront for fresh breads and classic Italian sandwiches. Put a chicken cutlet on anything they've got and go away happy.
198 Mott St., 212-226-6378, parisibakery.com
Parm
An insanely popular modern lunch counter that specializes in Italian sandwich (and beer) lunches and has an impressive, daily-changing entrée special for the later hours.
248 Mulberry St., 212-993-7189, parmnyc.com
Pearl & Ash
Bowery's trendy date and foodie spot is favored for its extensive wine list and eclectic array of small plates. Think grilled skate with Moroccan spices and bread with a combination of butter and chicken fat.
220 Bowery, 212-837-2370, pearlandash.com
Peasant
A rustic, bi-level wine bar and Italian spot that gets its dinner crowds on the later side. The smaller basement space is recommended for romantic dinner dates.
194 Elizabeth St., 212-965-9511, peasantnyc.com
Pho Bang
The neighborhood go-to for traditional Vietnamese favorites like pho, banh mi and bo luc lac. A place you should be able to stop in with a group any time and get a table.
157 Mott St., 212-966-3797, No website
Public
A large, bustling hot spot (with a Michelin Star) on an otherwise laid-back stretch of Elizabeth Street. Arrive for dates early to grab a drink at The Daily, the adjoining bar, and for dinner, don't miss the New Zealand venison.
210 Elizabeth St., 212-343-7011, public-nyc.com
Puglia
Puglia's been a Hester Street staple since 1919 with its family style Italian classics, brick oven pizza and live crooners. It's the kind of spot you think about what you think about Little Italy.
189 Hester St., 212-966-6006, pugliaofnyc.com
Rubirosa
A perennially-packed, boisterous pizza-and-pasta spot for both group dinners and casual dates. One of the most underrated everyday restaurants in the neighborhood.
235 Mulberry St., 212-965-0500, rubirosanyc.com
Tacombi
An in-demand, open-front taco spot with cheap, flavorful drinks and some of the more outstanding al pastor tacos in the area. Great for a cool respite during hot summer weekend afternoons.
267 Elizabeth St., 917-727-0179, tacombi.com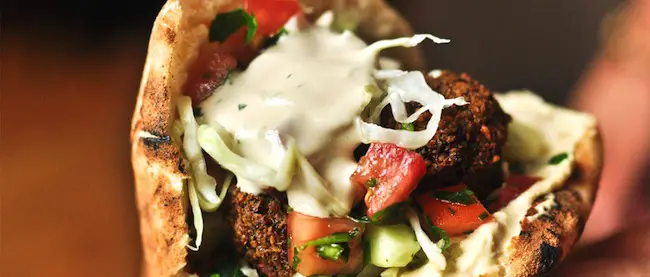 Taïm
The brick-and-mortar location of Flatiron's beloved upscale falafel truck. A great pick for a quick lunch.
45 Spring St., 212-219-0600, taimfalafel.com
Tartinery
A hip, subterranean spot for the open-faced sandwiches known as tartines. The chic space belies the satisfying, homey nature of the food.
209 Mulberry St., 212-300-5838, tartinery.com
The Butcher's Daughter
A buzzy neighborhood favorite for fresh-pressed juices and quick organic meals. You're likely to see locals stopping in during a run or for a light brunch.
19 Kenmare St., 212-219-3434, thebutchersdaughter.com
The Grey Dog
A popular neighborhood breakfast and brunch spot. A place where you can have both pancakes and craft beer and feel just right.
244 Mulberry St., 212-966-1060, thegreydog.com
The Original Benito One
A humble little brick trattoria for oversized bowls and plates of red sauce pasta and glasses of chianti. It's been open since 1968 and not much has changed since then— a good thing.
174 Mulberry St., 212-226-9171, benitoone.com
Umberto's Clam House
In addition to being an interesting and integral part of New York's mafia history, Umberto's is an extraordinarily popular spot for tourists seeking out littlenecks on the half-shell. Expect a wait.
132 Mulberry St., 212-431-7545, umbertosclamhouse.com
Uncle Boons
Imagine the best possible version of every Thai dish you've ever had, plus some you haven't, all tucked in a small, dark basement with some frozen beer.
7 Spring St., 646-370-6650, uncleboons.com
Looking for Free Group Planning Services?
Get free advice on planning your group's trip to New York.
RESTAURANTS

Multi-concept restaurant offering modern Japanese cuisine, a...

THEATER

In a heartbeat, 38 planes with 6,579 passengers were strand...

SHOPPING

DataVision is redefining retail with their new, fully intera...

SIGHTSEEING

Hop aboard these environmentally friendly twin-hulled catama...