Where to Eat on the Upper West Side
May 21, 2015 - by City Guide
The Upper West Side restaurant scene can be more difficult to navigate than in other neighborhoods. It's residential nature and wide avenues make hopping around and "just finding a place," a little more tricky. But there are plenty of excellent options if you know where to go, including excellent bagels, serene fine dining spots and at least one iconic diner frequented by a man named Seinfeld.
Absolute Bagels
A Vietnamese-owned bagel spot with a perpetual line and some of the tastiest chicken salad you'll ever have. Columbia students and locals have known this is one of the best bagel spots in the city for years.
2788 Broadway, 212-932-2052, absolutebagels.com
Awash
The uptown location of the Ethiopian favorite. Prepare to share a variety of flavorful meat stews on a large slab of injera, an Ethiopian bread that takes the place of utensils.
338 E. 6th St., 212-982-9589, awashny.com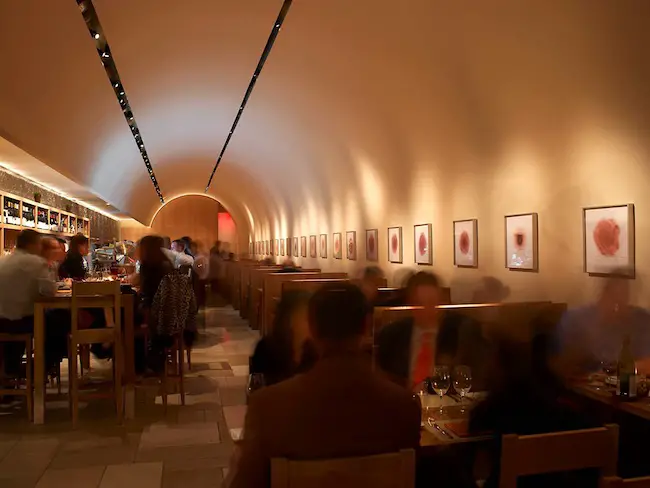 Bar Boulud
One of Daniel Boulud's hipper efforts, with its splashy, all-glass façade and location directly across from Lincoln Center, this French bistro and wine spot is where you can bring a first date for first-rate boudin blanc and a selection of 500 wines.
1900 Broadway, 212-595-0303, barboulud.com
Beautique
A modern American restaurant located just steps from the Plaza Hotel and Paris Theater. Chef Craig Hopson, former executive chef at Le Cirque, offers a menu showcasing classic French technique.
8 W. 58th St., 212-753-1200, beautiquedining.com
Café Luxembourg
With it's classic, simple French bistro vibe, Café Luxembourg is where you'll come for a casual rendezvous over seafood stew, some steak frites and a glass of wine. Note: they've got a large gluten-free menu as well.
200 W. 70th St., 212-873-7411, cafeluxembourg.com
Café Tallulah
A spacious, casual date spot for classic French bistro fare. There's also a downstairs lounge that's great for sneaking off for one of their surprisingly good cocktails or the occasional live swing music show.
240 Columbus Ave., 212-209-1055, cafetallulah.com
Cascabel Taqueria
A laid-back, slightly Americanized Mexican spot with rock-solid hanger steaks, mason jar margaritas and a generally youthful vibe.
2799 Broadway, 212-665-1500, nyctacos.com
Celeste
Excellent pizza and pastas hand-picked from the owner's home neighborhood in Italy are what get people packing this Amsterdam spot. Word to the wise: the owner can either treat you like royalty or kick you out on the slightest provocation, so be nice.
502 Amsterdam Ave., 212-874-4559, No website
Dovetail
A dimly lit, contemporary date and foodie spot with a wonderful tasting menu, on which you can expect to find American Nouveau plates of tuna crudo and seared foie gras with graham cracker.
103 W. 77th St., 212-362-3800, dovetailnyc.com
Ed's Chowder House
Despite the down-home name, Ed's is a large, contemporary spot for elevated chowder and lobster rolls, best accompanied by their shrimp-garnished Bloody Mary.
44 W. 63rd St., 212-956,-1288, chinagrillmgt.com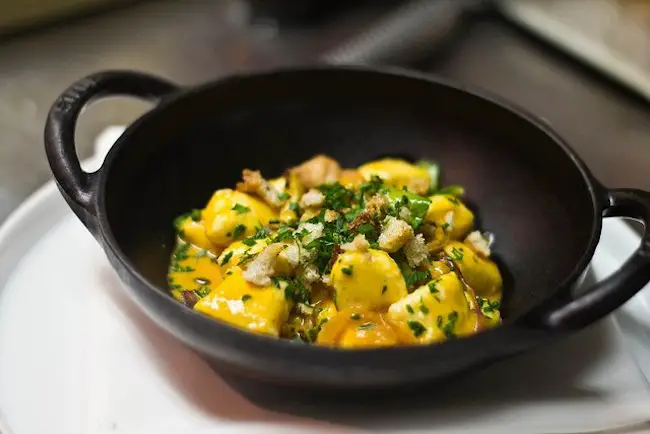 Fishtag
From the chef of Kefi, Fishtag is a seafood-centric Greek spot with a long, narrow tavern feel. More of a date spot than Kefi, it's a good option for a long, wine-filled evening.
222 W. 79th St., 212-362-7470, michaelpsilakis.com
Flor de Mayo
Culinarily, a marriage of Chinese and Peruvian food, with a dash of rotisserie chicken thrown in for good measure. Interior-wise, a marriage between a diner and a picket fence.
484 Amsterdam Ave., 212-787-3388, flordemayo.com
Gennaro
A small, charming, wine-heavy spot for gnocchi, lamb shank and other solid Mediterranean offerings.
665 Amsterdam Ave., 212-665-5348, gennaronyc.com
Indus Valley
Secretly one of the finest Indian restaurants on Manhattan. Friendly service and a brunch buffet of Indian favorites make this spot worth the trip uptown.
2636 Broadway, 212-222-9222, indusvalleyny.com
Kefi
A rustic Greek spot for group dinners, ouzo and pork souvlaki. Come here for good conversation with a bunch of people you can convince to try everything.
505 Columbus Ave., 212-873-0200, kefirestaurant.com
Olma
You don't have to take out a second mortgage to sample caviar at Olma, a spinoff of the Olma Caviar Boutique & Bar in the Plaza Food Hall. A single caviar serving on blini or hardboiled eggwhite runs from $5 to $32. (All varieties of caviar are sold here.) If you're not up for the caviar tasting platter, there are other options: salads, panini, baked salmon, or duck breast; there's even a caviar pizza. Also cocktails, a large selection of Champagnes and wines, and an espresso bar.
420 Amsterdam Ave., 212-390-0708, olmacaviar.com
Parm
The uptown location of this insanely popular modern Italian sandwich spot is more dinner- and date-friendly than its downtown counterpart. Check out their daily-changing dinner specials.
235 Columbus Ave., 212-776-4921, parmnyc.com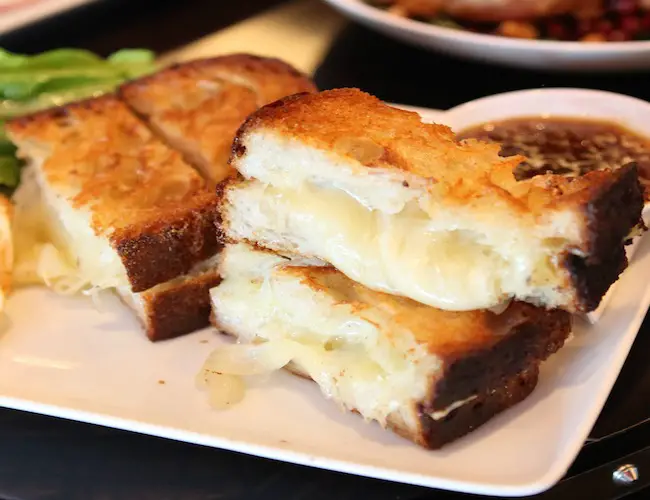 Piada at the Plaza
NYC's first Italian restaurant featuring innovative versions of the most popular Italian street food: the piadina romagnola.
1 W. 59th St., 347-481-7311, piadanyc.com

Porter House New York
A massive, high-powered steakhouse at Time Warner Center from the man who once ran Windows on the World. Check out its adjacent bar, Center Bar, before heading in for beef.
10 Columbus Cir., 212-823-9500, porterhousenewyork.com
Salumeria Rosi Parmacotto
A gem of an Italian spot serving up charcuterie, Tuscan small plates and wine, all to be enjoyed best on warm summer nights on their sidewalk seating. Feel free to take home some salume as well.
283 Amsterdam Ave., 212-877-4800, salumeriarosi.com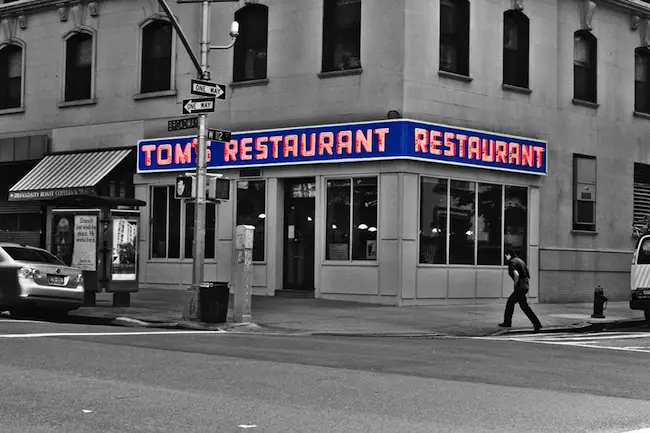 Tom's Restaurant
You may know it as Monk's, but the diner that served as the famous exterior for Seinfeld's regular haunt is actually Tom's. If you go on the right day, you'll find the Big Salad on the menu.
2880 Broadway, 212-864-6137, tomsrestaurant.net
Looking for Free Group Planning Services?
Get free advice on planning your group's trip to New York.
RESTAURANTS

Multi-concept restaurant offering modern Japanese cuisine, a...

THEATER

Gaston Leroux's famous period thriller is now one of Broadwa...

SHOPPING

DataVision is redefining retail with their new, fully intera...

SIGHTSEEING

Rosé Mansion is back for another summer residency in NYC aft...