11 Winter Cocktails in NYC You Must Try Right Now
February 26, 2019 - by Regina Molaro
Kick off the holidays in NYC with a festive holiday-themed cocktail or two. When temperatures dip, head inside one of these cozy New York City hotspots and create some memories.
Dutch Fred's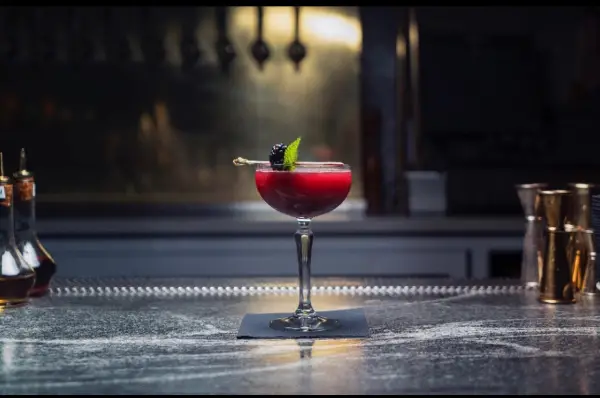 Dutch Fred's brings together the character of Hell's Kitchen past with the buzz of its present in an upbeat spot. The house specialty is craft cocktails with a twist: watching the bartenders at work is almost as much fun as tasting their efforts. This winter, don't miss the Kiss Kiss Bang Bang, which blends together Brockmans Gin, fresh lemon, blackberry purée, and Prosecco, for an effervescent seasonal refresher. 307 W. 47th St., 646-918-6923, dutchfreds.com
Catch NYC
Toast the holidays at Catch NYC with a CGT—Catch Gin & Tonic in the trendy Meatpacking District. The customized G & T features Bombay Sapphire East Gin, Yellow Chartreuse, Dolin Dry Vermouth, and house-made tonic. To capture the essence of the winter season, it's flavored with classic holiday baking spices such as cinnamon, nutmeg, cardamom, and allspice. It also features grapefruit and lemon peels, rosemary, a spritz of lemon juice, and some bubbly club soda. The CGT is served in a Collins glass and is adorned with a sprig of rosemary as a garnish. 21 NinthAve., 212-392-5978, catchrestaurants.com/catchnyc
The Bar and Grand Salon at Baccarat Hotel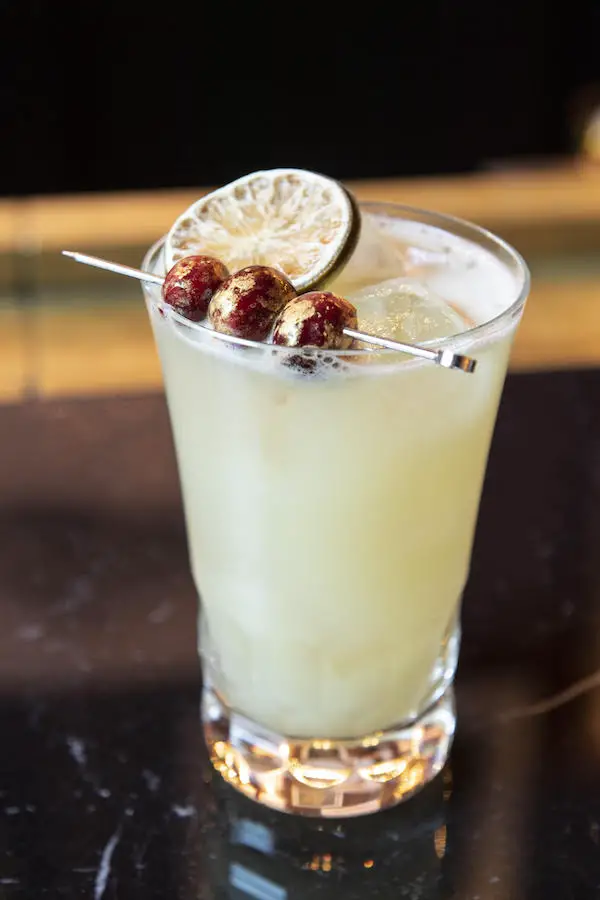 Baccarat Holiday. Credit: Evan Sung/Baccarat Hotel New York
The Bar at Baccarat Hotel draws inspiration from great American long bars of decades past, the glam ballrooms found in French hotels, and the royal stables at Versailles. It's an ideal hideaway for some holiday cocktails to share with a date, a group of friends, or colleagues. Indulge in the G. Smith, which is also referred to as "Grandpa Smith." This crisp, refreshing spiced green apple cider cocktail is made with quinoa vodka, fresh Granny Smith Apple Juice, and Granny Smith Apple Liqueur. It is spiced with the warming winter flavors of clove, cardamom, and cinnamon agave. This libation destination also entices with its L'abricot Sour—a Cognac Sour made with house-made apricot bitters that are aged with oak for more than one year. It boasts equal parts Remy Martin 1738/XO/Louis XIII and L'abricot du Roulot liqueur. Citrusy lemon juice balances the sweetness while angostura ushers in some depth and complexity with subtle notes of spice. An egg white gives the drink a frothy texture. 28 W. 53rdSt., 844-294-1764, baccarathotels.com
DIEGO at Public Hotel
The decadent Peacock drink offered at Ian Schrager's chic DIEGO at Public Hotel is served in an elaborate copper peacock-shaped vessel. Created by innovative mixologist Ivy Mix, it boasts the fine flavors of Absolut Elyx vodkawith lavender syrup, mandarin/tangerine purée, and a spritz of lemon juice. It also has dashes of cardamom bitters and is topped with soda and a mint bouquet garnish. It serves 8 festive revelers. 215 Chrystie St., 212-735-6000, publichotels.com/restaurants-and-bars/diego/cocktails
Fulton Hall at Gotham Market at The Ashland
Winter revelers and shoppers can restore warmth and toastiness with Fulton Hall's hot specialty cocktail, Hall's Apple Cider. This festive holiday treat is seasoned with toasted spices and gently warmed to perfection. It features apple cider, a pinch of star anise, cracked coriander, and a bit of clove. It's embellished with cinnamon sticks, which also provide a kick of flavor.Patrons can tailor the drinks to their own preferences. They can be spiked with Irish whiskey, dark rum, bourbon, or mezcal. 590 Fulton St. at Ashland Pl., Brooklyn, gothammarketashland.com/vendor/fulton-hall
Mastro's
The Holiday Cheer cocktail at Mastro's boasts all of the cozy winter flavors that holiday-goers are craving. After a long day of shopping or sightseeing, unwind with a delicious dose of Holiday Cheer. It warms with the flavors of Irish cream and Kahlua, which mingle with Licor 43, and vodka. 1285 Sixth Ave., 212-459-1222, mastrosrestaurants.com
Morton's The Steakhouse
Bliss out at Morton's The Steakhouse. The drinking and dining destination lifts holiday spirits with its delectable Holiday Bliss Cocktail. It boasts bubbly prosecco and celebrates an assortment of fresh winter-time flavors such as cranberry, passion fruit, and lemon. It pairs perfectly with Morton's selection of prime steaks, fresh seafood, and sides. 551 Fifth Ave. (near 45th St.), 212-972-3315; 136 Washington St. (Albany St.), 212-608-0171, mortons.com mortonsthesteakhouse.com
Slowly Shirley
Warm up with a friend or lover with this decadent Tahitian coffee for two. Beyond the Plantation Barbados 2001, it boasts Encanto Pisco, and cold brew concentrate along with some orange juice, passion fruit syrup, guava nectar, and lime juice. There's also a hint of house falernumand a dollop of honey syrup. The luxe coffee is served in a Chemex-style glass filled with crushed ice. It is garnished with grated coffee and a delicate, colorful orchid. 121 W. 10thSt., 212-243-2827, slowlyshirley.com
Raise New York
Winter has its own version of sangria at Raise New York. Its fun Santa-gria cocktail is handcrafted with festive cranberries, which resemble mini holiday ornaments. It was created by mixologist Nicole Andreoli. Beyond the cranberries, it boasts white wine, white grape juice, red apples, and a bit of sugar for some extra holiday sweetness. The Santa-gria is garnished with a sugared rosemary twig. Each month, Raise New York partners with a charity and donates a percentage of its profits to a partner. 416 Third Ave., 212-481-1712, raisenewyork.com
Trademark Taste + Grind's Winter Pit Stop
Step into a magical winter wonderland when you enter Trademark Taste + Grind's fun Winter Pit Stop pop-upshop, which will be open through the New Year.Twinkling lights, yuletide tunes, and festive treats create an upbeat holiday ambiance. Indulge in seasonal signature cocktails such as the Trademark Eggnog, Mexican Hot Chocolatespiked with Ilegal Mezcal, Bourbon Hot Apple Cider, or Rum Maple Cookie Old Fashioned, which is made with cookie infused rum. The Winter Pit Stop will be open from 6-9 pm every Wednesday through Friday. 38 W. 36th St., 646-858-2320, ingoodcompany.com
Toby's Estate
Those who need a time-out from holiday revelry can opt for one of the hot, non-alcoholic drinks at small batch coffee roaster Toby's Estate. Its Gingerbread Latte was inspired by the taste of warm gingerbread cookies. The latte boasts espresso and a house-made gingerbread syrup along with some steamed milk, allspice, cinnamon, clove, and fresh ginger. Toby's Spicy Drinking Chocolate is a classic hot chocolate, which gets its kick from a homemade honey-chili syrup that's infused into the Omanhene chocolate sauce. Available exclusively through the Toby's Estate mobile app. Toby's has several locations including Flatiron Espresso Bar (646-559-0161, 160 Fifth Ave.); West Village Café and Brew Parlor (646-590-1924, 44 Charles St.), and Urbanspace Vanderbilt Market (646-590-1924, 81 E. 45thSt.), tobysestate.com
Looking for Free Group Planning Services?
Get free advice on planning your group's trip to New York.
RESTAURANTS

Beloved midtown spot takes inspiration from local tradition,...

THEATER

In a heartbeat, 38 planes with 6,579 passengers were strand...

SHOPPING

A premier destination for family entertainment....

SIGHTSEEING

The only provider of ferry transportation to the Statue of L...