Celebrate Women's History Month 2018 in NYC
February 16, 2018 - by Merrill Lee Girardeau
Get excited: Women's History Month is coming up! Each March since 1987, the U.S. has recognized the many and various contributions of women throughout history, as well as the ladies making the world a better place today. New York has no shortage of brilliant, glass-ceiling-busting women, and you can enjoy their work throughout the month of March and beyond. Here are some museum exhibitions, events, comedy, food, and drink, to whet your appetite for Women's History Month.
Women's History Month NYC: Collecting the Women's Marches at New-York Historical Society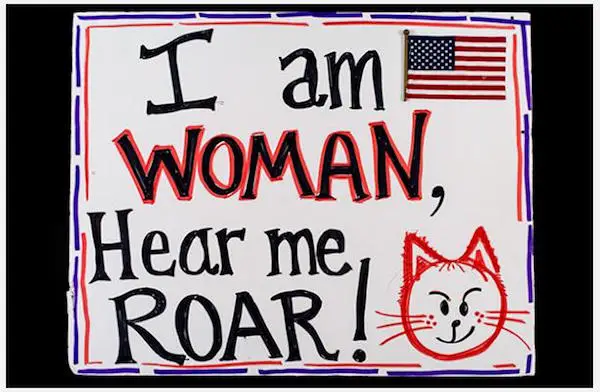 Elaine Maas, Sign for Women's March on New York City, 2017. Foam board, fabric, plastic. New-York Historical Society
Celebrate very recent history at Collecting the Women's Marches. This exhibition consists of signs, pussy hats, and other artifacts from the Women's Marches on January 21, 2017. While you're around the New-York Historical Society, check out Hotbed, which documents activism on behalf of female suffrage in New York one hundred years ago. 170 Central Park West, 212-873-3400, nyhistory.org
Women's History Month NYC: Fearless Girl on Wall Street
Pop by Wall Street to see a small bronze girl, hands on hips, standing before the charging bull statue that is an icon of downtown Manhattan. The diminutive statue, called Fearless Girl, was designed by Kristen Visbal and was installed on March 8, 2017, or International Women's Day. Fearless Girl has attracted plenty of controversy for its feminist challenge to Wall Street hiring practices. We encourage you to shove the noise aside and see the statue for yourself. 8 Broadway
Women's History Month NYC: March 3 at Brooklyn Museum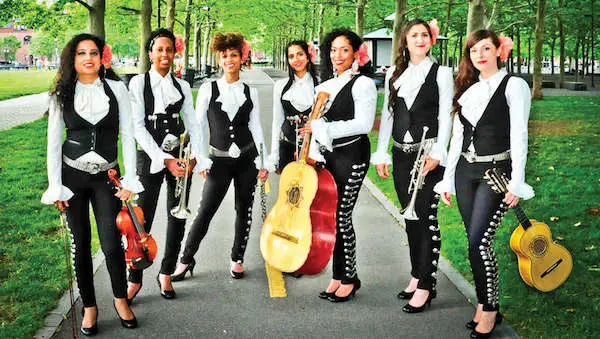 Mariachi Flor de Toloache
See an incredible slate of events in honor of Women's History Month at the Brooklyn Museum on Saturday, March 3. Part of Target First Saturdays at the museum, this celebration will involve special museum tours, workshops, and talks. Hear the only female mariachi band, Mariachi Flor de Toloache. Take a special tour of the profound feminist installation Dinner Party by Judy Chicago. Go to a poetry reading. Participate in a feminist book club. Or do all that and more on March 3! 200 Eastern Parkway, 718-638-5000, brooklynmuseum.org
Women's History Month NYC: Badass Bitches of the Met Tour
Ever notice that 94% of the art in the Met is by men? Well, the people at Museum Hack did notice, and they've come up with a tour of the museum that showcases the female artists that are on display. This two-hour tour might not be sponsored by the museum, but it is led by spunky, informative guides who help you see art history through the eyes of some creative ladies. Call 347-282-5001 or text 347-815-1147, museumhack.com
Women's History Month NYC: Janine Jansen at Carnegie Hall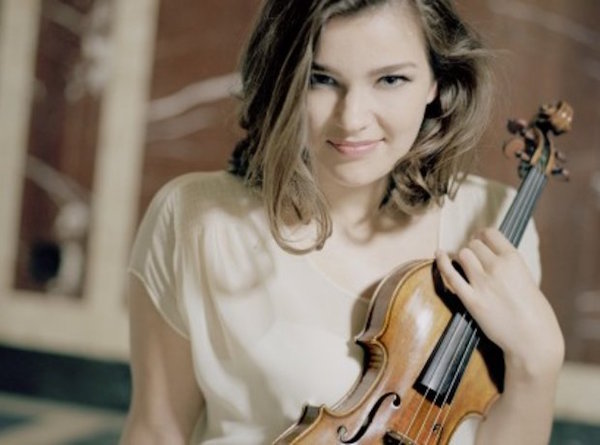 If you'd like to commemorate Women's History Month with a touch of refinement, see celebrated violinist Janine Jansen at Carnegie Hall on March 13. Part of Jansen's 2018 "Perspectives" series at Carnegie Hall, the evening will begin with a pre-concert talk from a Simon Morrison, a Princeton music professor. At 8 pm, Jansen and the Philadelphia orchestra will perform a concerto specifically written for Jansen by Michel van der Aa and conclude the evening with Rachmaninoff's Symphony No. 2. 154 W. 57th St., 212-247-7800, carnegiehall.org
Women's History Month NYC: Women's Stories on Broadway
Glenda Jackson, Alison Pill, and Laurie Metcalfe star in Three Tall Women. composite: Metrosource.
This March, take in a Broadway show or two with female-centric storylines. Beautiful: The Carole King Musical weaves songs we all know with the story of an important woman in music history. Revel in the Caribbean as one girl seeks her destiny in the fantastic musical Once on This Island. See a blockbuster Disney movie come to life (and get "Let It Go" stuck in your head all over again) in the hotly anticipated Frozen. If you're looking for a play, go for Edward Albee's Three Tall Women, starring powerhouse actresses Glenda Jackson, Laurie Metcalf, and Alison Pill.
Women's History Month NYC: Toast Women and Wine at Corkbuzz
Whether you're celebrating ladies as a group, a pair, or solo, why not do so at Corkbuzz? Corkbuzz boasts a female sommelier, Laura Maniec, who is one of the few women to earn a Master Sommelier title after years of study. With one location near Union Square and the other in Chelsea Market, you can enjoy a red or white of your choice, along with tasty bar bites like the spicy brussels sprouts. Union Square: 13 E 13th St., 646-873-6071; Chelsea: 75 Ninth Ave, 646-237-4847, corkbuzz.com
Women's History Month NYC: Female Comedians
See hilarious ladies at two upcoming comedy shows this March. Broad City writer Kara Klenk hosts a stand-up show every Sunday night at Upright Citizens Brigade's East Village location. See Klenk's killer comedy, in addition to her guests, at If You Build It. In Brooklyn, the best new comedy show around is Butterboy, hosted by three talented ladies of comedy: Aparna Nancherla, Maeve Higgins, and Jo Firestone. Each Monday night they bring out a choice selection of standups at Littlefield in Gowanus.
Women's History Month NYC: Female Chefs

Chef Mina Newman at Sen Sakana
Enjoy an amazing meal from a kitchen run by a woman this March! You might like the French fare at the adorable West Village scene Buvette (the chef is Jody Williams). Meet the astoundingly cool butchers/chefs/owners of White Gold Butchers, Jocelyn Guest and Erika Nakamura. Have some green rice with a chicken thigh on top at Midtown's new Sen Sakana, co-run by Chef Mina Newman. Dynamic British chef April Bloomfield helps run the kitchens at some of New York's most popular restaurants, including The Spotted Pig and The Breslin.
Looking for Free Group Planning Services?
Get free advice on planning your group's trip to New York.
RESTAURANTS

Brings together the character of Hell's Kitchen past with th...

THEATER

Digital projections that cover Radio City's proscenium arche...

SHOPPING

DataVision is redefining retail with their new, fully intera...

SIGHTSEEING

Hop aboard these environmentally friendly twin-hulled catama...