NYC's Best Asian Fusion Restaurants
May 22, 2017 - by Chelsey Grasso
New York is a town of contrasts and overlaps, and you can find that reflected in a favorite city cuisine: Asian fusion. Whether it's a restaurant bringing together Asian flavors with non-Asian preparations, or adding an unorthodox twist to a classical Asian dish, Asian fusion restaurants bring a memorable experience for you and your taste buds.
Best of NYC Asian Fusion: Asia de Cuba (NoHo)
Asia de Cuba marries together the food cultures of Latin America and Asia, creating dishes that utilize techniques from both culinary backgrounds. The end result? Near perfection, evident in the food's intriguing and eclectic flavors. Wok dishes are particularly popular dinner choices, including the Chili Rubbed Scallops served with black rice, black beans, roasted cauliflower, and Japanese aioli. You'll also find playful Large Plate options on the menu, such as the Ginger & Papaya Marinated Palomilla (flat iron steak, tatsoi, pickled vegetables, and Thai chili mojo). 415 Lafayette St., 212-726-7755, asiadecuba.com
Best of NYC Asian Fusion: Dinnertable (East Village)
Dinnertable is a "discrete restaurant" that's only open Tuesday through Saturday for dinner service, so naturally, it's a New York City hotspot. Fortunately, the food lives up to it with a changing menu of Asian fusion tapas that includes the likes of Octopus Poke (soy yuzu, pineapple, corn, cilantro), Dinnertable Dog with House Pickles (house miso sausage, potato bun, wasabi pea salt, sauces, market pickles), and Huevos Chamucos (dill wasabi eggs, Spanish sturgeon caviar). The desserts hold their own as well, with the Chocolate Taco being a longtime favorite of local patrons. 206 Ave. A, dinnertable.nyc
Best of NYC Asian Fusion: Macao Trading (TriBeCa)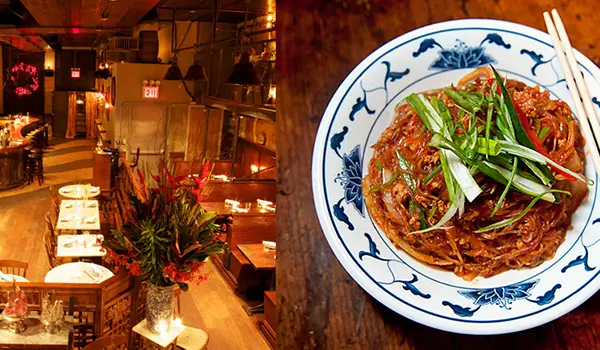 Macao Trading is known for their rich mixing of Chinese and Portuguese flavors to create dishes that leave the taste buds singing. Some of the more unique dishes you'll see on the menu include the African Chicken (piri piri, ginger sesame slaw, peanut curry sauce) and Macanese Lobster Noodles (Shanghai noodles, kale, chili beurre blanc). If your party's feeling extra ambitious, you may want to order the Taipa Steamboat for the table, which includes Macanese chili prawns, duck confit, little neck clams, mussels, linguiça, Chinese vegetables, green curry, and Cerignola olives. 311 Church St., 212-431-8642, macaonyc.com
Best of NYC Asian Fusion: 2nd City (West Village)
Never eaten at a Filipino taqueria before? Well 2nd City is now your chance. Specializing in tacos, burritos, rice bowls, burgers, and bao buns, you'll often find a line out the door for this affordable Asian fusion restaurant. Seating may be limited, but with menu items such as Adobo-Rito (soy braised chicken with kimchi fried rice), Nice Buns (crispy fried pork belly bao buns with BBQ, sweet & tangy pickles, and scallions), and Sinigang Bowl (short rib, garlic fried rice, bok choy), we definitely think it's worth the wait. 525 Hudson St., 917-639-3262, 2ndcityusa.com
Best of NYC Asian Fusion: Pig and Khao (Lower East Side)

Both Thai and Filipino cooking techniques and flavors infiltrate the menu items at Pig and Khao, whose head chef and owner is Leah Cohen (yup, she was a Top Chef contestant!). Stop by for brunch to scarf down the Champorado (Filipino chocolate rice pudding with crispy bacon bits) and the Longonissa Sausage (with fried egg and tomato cucumber salad), or come for dinner to experience the BBQ Baby Back Ribs (with BBQ sauce and Asian slaw) or Crispy Pata (pork leg, pickled green mango, and dipping sauces) amongst other flavorful menu items. 68 Clinton St., 347-704-2398, pigandkhao.com
Looking for Free Group Planning Services?
Get free advice on planning your group's trip to New York.
RESTAURANTS

Conveniently located in the Port Authority Bus Terminal, the...

THEATER

An epic love story about the relationship between John, an A...

SHOPPING

Indulge in natural luxury with the softest bedding on the pl...

SIGHTSEEING

Customized, state of the art fleet will get you from the air...