The Best Seafood in and Around Hell's Kitchen
April 23, 2018 - by Merrill Lee Girardeau
The jam-packed neighborhood of Hell's Kitchen has no shortage of nice restaurants where you can hang your hat and enjoy dinner before the 8pm performance of Hello, Dolly! If you're craving fresh-caught seafood for your meal, some of your best pre-theater options can be found on this list. The picks range from steakhouses with surf that rivals the turf to sushi places for the raw-fish fans to strictly seafood restaurants. You'll find there are plenty of oysters, scallops, lobster, and fish to be had (New York City is a coastal town, after all).
Best Seafood in and Around Hell's Kitchen: Blue Seafood Bar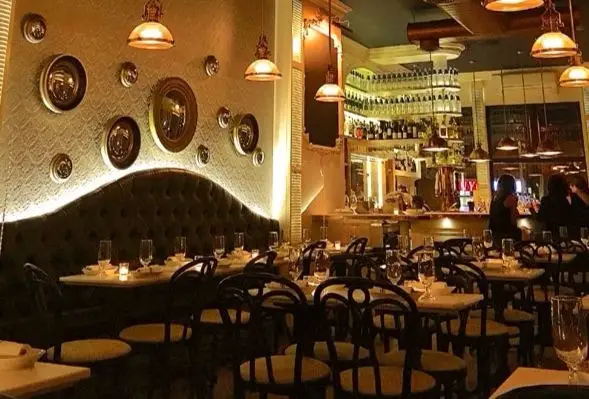 From decor that's straight out of a perfectly preserved 1900s steamer to the exquisite selection of oysters, Blue Seafood Bar gets the seafood theme note-perfect. You'll have a hard time choosing among the diverse crudo and other satisfying Mediterranean dishes like salted branzino and grilled octopus. The service is notably quick, attentive, and friendly as well. Try one of their brick-oven pizzas, or come for brunch and have bacon with waffles and bottomless cocktails. At happy hour, you can try some of their Shigoku oysters ("firm, clean, bright & briny, with hints of cucumber & melon," according to the menu) at a discount. 856 9th Ave., 212-757-7511, blueseafoodbar.com
Best Seafood in and Around Hell's Kitchen: Blue Fin
Seeing The Band's Visit at the Barrymore Theatre? Right down the street on the outskirts of Hell's Kitchen is Blue Fin, a swanky seafood spot with a diverse Asian-fusion menu. You can enjoy a seafood tower on ice, full of lobster, clams, and oysters, and a sushi roll like the Truffle Rainbow Roll with tuna and salmon dressed with truffle oil. Blue Fin also prepares wonderful charred Spanish octopus as an appetizer and Faroe Island salmon and Chilean sea bass as notable entree dishes. 1567 Broadway, 212-918-1400, bluefinnyc.com
Best Seafood in and Around Hell's Kitchen: Esca
The approachably upscale Esco serves seafood-rich Italian food, courtesy of the famous chef/restaurateur duo Mario Batali and Joe Bastianich. You can't go wrong on this delectable menu full of clams, fish, and nearly every other creature of the sea. Try the diver scallop crudo with tangerine pressed olive oil, then local littleneck clams, followed by spaghetti with a pound of lobster(!), chili peppers, and mint. Their pre-theater menu is $59 per person if you're looking to save a little. 402 W. 43rd St., 212-564-7272, esca-nyc.com
Best Seafood in and Around Hell's Kitchen: Gloria
A pescetarian's dream, Gloria has a curated menu of fresh ingredients that complement each other beautifully. The consensus is certainly in favor of corn bread to start, followed by Jonah crab dressed in a bouillabaisse-flavored sabayon sauce. On the entrees, it's a toss-up between the Spanish mackerel with walnut pesto and the monkfish with smashed potatoes. As far as the cocktails go, we're in love with names like the Parker Posey (gin, campari, and lemon) and the What's Love Got to Do with It? (a bubbly mezcal mixture). 401 W. 53rd St., 212-956-0709, glorianyc.com
Best Seafood in and Around Hell's Kitchen: Marea
At the southern end of Central Park and not too far from Hell's Kitchen lies Marea, one of the preeminent seafood restaurants in the city. Their two-Michelin-star cuisine will wow you from amuse bouche to dessert. You can sample the outstanding crudo, oyster selection, apps, and entrees, and the prix-fixe menu is recommended to get the best value. We recommend the fresh, handmade pasta with jumbo lump crab, chili, and basil, or with octopus with bone marrow and red wine sauce. It'll cost a pretty penny, but the place earned their mettle with top-notch seafood you'll never forget. 240 Central Park South, 212-582-5100, marea-nyc.com
Best Seafood in and Around Hell's Kitchen: Ñaño Ecuadorian Kitchen
We admit most of the items on this list lie on the pricier end of the spectrum. For the most reasonably priced pick, we'd point you to Ñaño Ecuadorian Kitchen. It's a small place with a substantial menu full of flavorful seafood, cilantro, and lots of rice. The Ceviche Mixto is excellent, as are the green plantain cups stuffed with shrimp and coconut. As an entree, the sudado stew packed with seafood like octopus, shrimp, and mussels, will not disappoint in its spicy red sauce. 691 10th Ave., 646-649-4678, nanobarnyc.com
Best Seafood in and Around Hell's Kitchen: The Palm West Side
Perfect for lunch before a matinee or pre-theater dinner, come to the legendary Palm Restaurant location in Hell's Kitchen. In addition to its famous steaks, The Palm nails it on the lobster. You can have sumptuous lobster bisque, lobster mac 'n cheese to accompany your entree, or split a 3-pound whole lobster, sustainably sourced and buttery as can be. Another standout seafood item is the Chilean sea bass entree with butternut squash risotto and lemon-sage brown butter. 250 W. 50th St., 212-333-7256, thepalm.com
Best Seafood in and Around Hell's Kitchen: Sen Sakana
Dive into Nikkei cuisine not too far from Hell's Kitchen at Midtown West's Sen Sakana, where Peruvian and Japanese flavors unite in this historical crossover of culinary cultures. On the long and seafood-packed menu, you'll find the especially tasty tiraditos under the cold starters, a concoction the menu calls "Sashimi meets Ceviche." With the Maguro Tiradito, expect fresh raw fish, fresh, flavorful garnishes, and plenty of incredible sauce. With its own sushi counter, Sen Sakana also serves hand rolls with Peruvian accents. Try the Unagi Hako with eel, quinoa, and tamago, or the Andes Yama with snow crab, pickled asparagus, beet puree, and salmon. Going to a show? Enjoy four courses on the pre-theater prix fixe menu for $49 per person. 28 W. 44th St., 212-221-9560, sensakana.com
Best Seafood in and Around Hell's Kitchen: Sushi of Gari 46
Sushi of Gari offers fine sushi and teriyaki in the Times Square area. Order the new trend of omakase, the sushi chef's tasting menu featuring the freshest fish (you'll have to pay per piece, though, which can rack up the price) and look forward to the excellent eel, fatty tuna, and Tuna of Gari. 347 W. 46th St, 212-957-0046, sushiofgari.com
Looking for Free Group Planning Services?
Get free advice on planning your group's trip to New York.
RESTAURANTS

Vida Verde brings the tastes, colors, sounds, and scents of ...

THEATER

In a heartbeat, 38 planes with 6,579 passengers were strand...

SHOPPING

An array of quality branded merchandise showcasing HBO's® aw...

SIGHTSEEING

Opened to the public in 1913 thanks to the ingenuity and amb...