New York City has long been a supporter of the LGBT community, and if you're gay and planning a visit to the city, then you're in for a treat. Rounded up below are six "must-dos" if you're in Manhattan and looking for a memorable time. From visiting the famed Stonewall Inn to catching a local drag show, check out our top six picks for gay travelers coming to New York.
Best of NYC Gay Visits: The Stonewall Inn (West Village)

Image: NCPA Photos/Flickr


Make a visit to the place "where pride began." The Stonewall Inn is an important part of gay pride history, and it's still a popular destination for modern New Yorkers today. Get your photo in front of the famed brick exterior before heading in to grab a drink and take in the game-changing establishment that surrounds you. 53 Christopher St., 212-488-2705, thestonewallinnnyc.com
Best of NYC Gay Visits: Kinky Boots (Midtown West)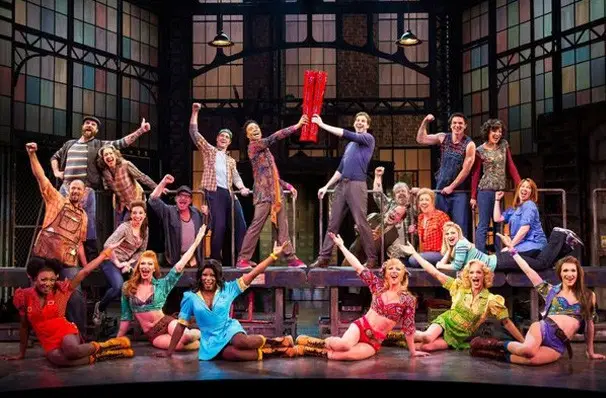 Kinky Boots tells the story of a struggling factory owner who teams up with fabulous entertainer to create a sensational achievement by working together as they learn to embrace their differences. Winner of a Tony, Grammy, and London's Olivier Award, Kinky Boots has long been an LGBT favorite on Broadway and around the world. 302 W. 45th St., 212-239-6200, kinkybootsthemusical.com
Best of NYC Gay Visits: Don't Tell Mama (Theatre District)
New York is famous for its Broadway talent and for its cabaret scene. You'll find both at Midtown legend Don't Tell Mama, which boasts a piano bar, restaurant, and two separate cabaret shows, making for a fun-filled night that you'll never forget. You also never know who you might run into once you've walked through their doors, with icons such as Liza Minnelli, Paul Newman, Bette Midler, and Kristin Chenoweth all having stopped by in the past. From comedy to spoken word, the shows you'll catch on stage at Don't Tell Mama cover every genre one could possibly imagine. Talk about variety! 343 W. 46th St., 212-757-0788, donttellmamanyc.com
Best of NYC Gay Visits: Leslie-Lohman Museum of Gay and Lesbian Art (SoHo)
There's plenty of investigating, exploring, and enjoyment to be had at the Leslie-Lohman Museum of Gay and Lesbian Art. Currently on exhibition is FOUND: Queer Archaeology; Queer Abstraction. If you can't make it by September 10th, then you'll want to be sure and check back on October 7th, when BARBARA HAMMER: Evidentiary Bodies opens to the public. 26 Wooster St., 212-431-2609, leslielohman.org
Best of NYC Gay Visits: Lips (Midtown East)
If you want to see some of New York City's best drag, then there really is no place that compares with Lips NYC. The number one drag show for over 20 years, this establishment offers nightly drag queen shows for its wining and dining guests. Along with a spectacular performance, Lips NYC also has an exquisite menu, including items such as Lobster Ravioli and Filet Mignon. 227 E. 56th St., 212-675-7710, lipsnyc.com
Best of NYC Gay Visits: Elmo (Chelsea)

With a fashionable interior, American comfort food, a bustling bar, and a large clientele of LGBT patrons, Elmo is so much more than just a restaurant. Of course, the amazing food menu and drink list aren't to be glazed over either. Entrees include the likes of Prince Edward Island Mussel Frites, Slow Braised Chicken Tacos, and Miso Glazed Salmon. Also be sure to try out their signature cocktails, including the Watermelon martini and Blood Orange Cosmo. 156 7th Ave., 212-337-8000, elmorestaurant.com
---
Looking for more insider info on LGBTQ New York? City Guide's sister publication Metrosource. Metrosource has been proudly serving the modern metropolitan LGBTQ community for over 25 years. Both in print and online you'll find their passion for covering pop culture, entertainment, design, travel, health, fitness, and celebrating the stories of gay people and friends and allies.