Brooklyn Children's Museum was the first museum for children, founded in 1899, and is New York City's largest cultural institution for families. This popular attraction in Crown Heights invites children to explore the world with hands-on exhibits and diverse perspectives. The principles of experiential and inquiry-based learning govern the permanent and rotating exhibits shown by the museum, which is recommended for kids from 6 months old to 10 years old. Read on for what to expect when you and your child visit Brooklyn Children's Museum and its outpost in DUMBO.
Brooklyn Children's Museum in NYC: Permanent Exhibits
The Sensory Room features storytime, singing, a parachute, and interactions with live animals. The Sensory Room is designed to accommodate children on the autism spectrum in addition to other young museum-goers. 


ColorLab celebrates rotating art from African American, Afro-Caribbean, and African artists and explores Afrofuturism through a toolbox that children are encouraged to explore. The ColorLab features arts and crafts for hands-on application of the themes and techniques featured in the exhibit.
Miniature storefronts fill World Brooklyn, an interactive space where kids can play shopkeeper, baker, grocer, shopper, designer, performer, and builder. Businesses include International Grocery, WJ Bookstore, a large-scale MTA bus model, and Caribbean Travel. World Brooklyn reflects the diverse communities represented in the borough at large and teaches kids to be good neighbors.
Water play, a sandbox, music, dress-up, and blocks engage toddlers ages 6 and below in Totally Tots. This exhibit is meant to promote fine motor skills, sensory exploration, and sharing with new friends.
Collections Central shows historic artifacts from the Children's Museum's collection of 30,000 objects. This wide-ranging exhibit invites close inspection of historical items from the Paleolithic era to modern times, as well as design projects inspired by the objects shown. Objects come from categories like antiquities, dolls, African culture, world fashion, geology, taxidermy, ocean life, and insects.
Your kid can become a gardener in Neighborhood Nature, an ecology exhibit. There is a cork garden, a "beach," diorama habitats, and special appearances by the museum's collection of live animals.
Brooklyn Children's Museum in NYC: Rotating Exhibits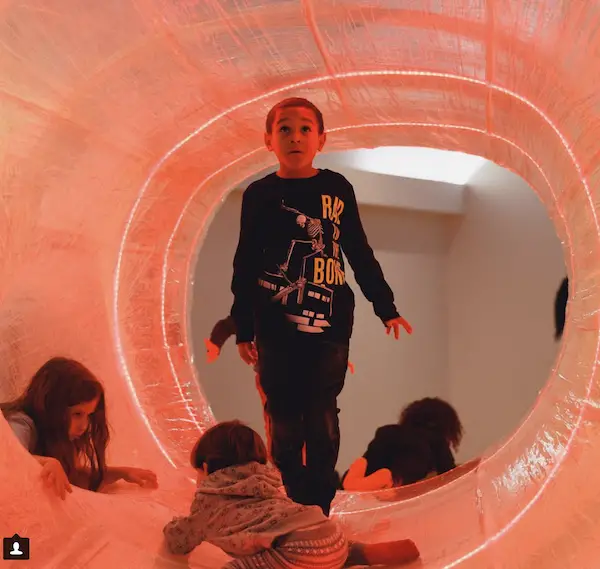 TapeScape at the Brooklyn Children's Museum/Instagram
TapeScape at BCM is a fascinating structure made from 480 rolls of clear packing tape and scaffolding. Kids can crawl through the tunnels, lit from within by LED lights, and play inside this unique showpiece. This is the 16th TapeScape by Eric Lennartson, the author and architect of this project. On view through December 30. 
Change Begins with You(th) is the design of high-schoolers who intern in the collection department at the Museum. The items on display were chosen to reflect current events and revolve around themes of gentrification, criminal justice, gender equity, and racism. The high-schoolers, who belong to BCM's Rapid Response Collecting Task Force, chose an NYC "March for Our Lives" protest poster, a suit worn by a politician protesting a deportation, and a bag belonging to a poet teaching writing to young inmates at Rikers Island. Ongoing.
Brooklyn Children's Museum in NYC: Programs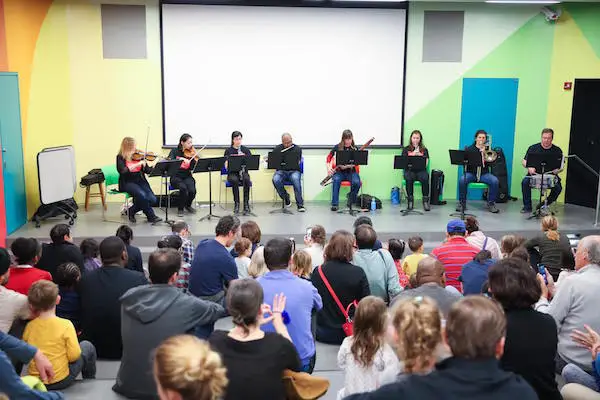 Thursdays, kids can learn about music with the Little Orchestra Society at BCM/Facebook
Scheduled events for kids occur every week at the museum, a few of which feature the museum's extensive collection of live animals. The Touch Tank gives kids the chance to feel real starfish and sea urchins, while Live Animal Adventure features snakes and other creatures. Sylvia's Story Corner features books on nature, composting, and sustainability. Holding History lets kids hold the artifacts from the museum's collection and ask what makes an object "historical" and worthy of preservation. BCM Explorers Day occurs every Tuesday, inviting kids to dive into the permanent exhibits at the museum. Thursdays, kids can make music with The Little Orchestra Society at BCM.
Brooklyn Children's Museum in NYC: Pay As You Wish
Select your own admission price during two special time blocks per week. Pay As You Wish hours occur every week on Thursday from 2pm to 6pm and Sundays from 4pm to 7pm. Ordinary admission price is $11 for all except ages 12 months and below (they get in free).
Brooklyn Children's Museum in NYC: Cafe
ONE FOUR FIVE is the seasonal cafe inside the museum, with rotating selections of food and drink for kids and adults alike. Right now, the all-day menu features breakfast selections like granola and avocado toast, as well as sandwiches, kale salads, coffee, and tea.
Brooklyn Children's Museum in NYC: SPARK in DUMBO
Brooklyn Children's Museum has a DUMBO outpost near the Brooklyn Bridge, where kids can drop in to play or attend scheduled activities like craft times. SPARK reimagines the Brooklyn Block Lab section of BCM's main branch and also offers music classes and space for birthday parties. Recommended for ages 6 months to 6 years, SPARK is open Wednesday through Sunday. 1 John St., 718-852-270
---
The Brooklyn Children's Museum is located at 145 Brooklyn Ave. Tuesday, Wednesday, and Friday hours are 10am-5pm. Thursday hours are 10am-6pm. Saturday and Sunday hours are 10am-7pm. Call 718-735-4400 or visit brooklynkids.org for tickets and more.