Dumplings are a New York City favorite. As fall turns to winter, there's nothing better than a warming appetizer treat from these great restaurants.
Hong Kong Station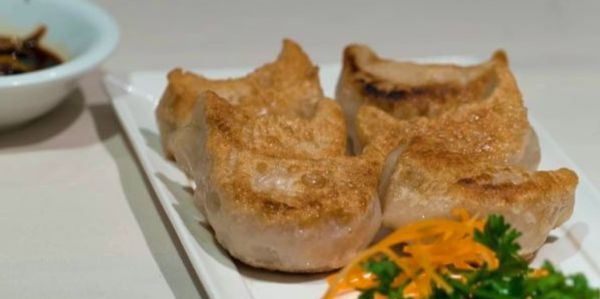 A variety of dumplings are on the menu at Asian eatery Hong Kong Station in Times Square. Choose your favorite filling—from shrimp to soy bean, chicken; or pork and chives. For a crispier version, opt for the tasty fried dumpling. There's a lovely setting as well, right in the heart of the Theater District. 157 W. 47th St., 646-429-8277, hongkongstationnyc.com


Bào Tea House
Bào Tea House celebrates the dumpling. Mixed and matched with creativity, Bào's Asian-inspired treasures are made with sweet or savory fillings such as roasted chicken and buffalo sauce; spinach, carrot, mushroom, cabbage, spinach & bean curd; black sesame, homemade custard and coconut milk, and beyond. Catch the Bao buzz at the Times Square location (360 W. 42ndSt., (646-684-3567) or retreat to the West 4thSt. locale (140 W. 4thSt., 646-833-7870), baoteahouse.store
Hunan Slurp
The uber-stylish Hunan Slurp in the East Village offers a Dumpling Trio that boasts colorful dumplings, which are all handmade with love in-house. Colored with juices from spinach and carrots, the dumplings are stuffed with either pork and chive; shrimp and cabbage; or pork with preserved Chinese mustard. 112 First Ave., 646-585-9585, hunanslurp.com
Little Alley
The jumbo soup dumpling has returned to Little Alley. Indulge! First enjoy it with a straw and then poke the dumpling open to enjoy what's inside. Offerings include pork and ginger, or pork, crab meat and ginger. The menu includes Poached Dumplings in Chili Oil, which are filled with chicken and ginger; Potstickers filled with pork and Chinese vegetables, or Pan-Fried Pork Bun filled with pork and ginger. 550 3rdAve., 646-998-3976, littlealley.nyc
MáLà Project
Regardless of whether dumpling enthusiasts prefer them boiled or pan-fried, MáLà Project offers both. Its tasty dumplings are filled with pork or health-conscious veggies. Locations include the East Village (122 First Ave., 212-353-8880) and Bryant Park (41 W. 46thSt., 917-261-7520), malaproject.nyc
The Tang
Garlic Pork Dumplings at The Tang.
Contemporary Asian noodle bar The Tang offers a trio of dumpling varieties, which include Fried Pork and Chive Dumplings, Pork Dumpling in Chili Oil, and Garlic Pork Dumplings. The Tang's delectable cuisine is inspired by regional Chinese cooking styles from Sichuan, Hunan, and Beijing. The Tang boasts two locations—one in the East Village (120 First Ave.,646-678-3092) and the other on the Upper West Side (920 Amsterdam Ave., 646-596-7970) thetangnyc.com
Pierogi Boys
Foodies may also opt for handmade Polish dumplings from Pierogi Boys. The menu includes potato & cheese; sauerkraut & mushroom, and meat pierogis. There's also a sample platter, which includes two potato & cheese pierogis; two sauerkraut & mushroom pierogis; and two meat pierogis served with mushroom gravy, caramelized onions, sour cream, and bacon. DeKalb Market Hall, 445 Albee Square West, Brooklyn, pierogiboys.com