New York's restaurant scene is one of the city's biggest draws. Whether you come to the city specifically to dine at a Michelin-starred establishment or just need to keep your strength up, NYC has 45,000 spots ready to serve you. These restaurants encompass nearly every cuisine on earth—nearly, because one man has been striving for six years to eat the food of every country without leaving NYC. Actually that's every country with a population of 1 million or more. And so far, he's managed to score 142 of them.
The last 26 are proving to be a challenge. Even New York seems to lack the cuisine of Papua New Guinea and East Timor. "I'd like to say that I've eaten the world from A to Z in New York City, but I'm still looking for food from Zambia and Zimbabwe," says Charles Bibilos, author of the acclaimed United Nations of Food blog. I am up to 'Y' though, and the food of Yemen is awfully tasty."
Ethnic food doesn't have to be overly spicy or made of weird ingredients—unless you want it to be, says Charles. "I've learned to love almost anything. Namibian mopane worms and Uzbek horsemeat salad are actually really delicious," he says. "But every country in the world serves a wonderful dish that even the most conservative eater can enjoy."
Image: United Nations of Food blog
City Guide sat down with Charles to take advantage of his knowledge of ethnic eats, gained during hundreds of meals. Because most visitors have full agendas, we are focusing on (mostly) Manhattan dining, even though the outer boroughs are a treasure trove of ethnic restaurants. Here are some of Charles' recommendations, with a (V) denoting those that are especially vegetarian-friendly.
Eating Around the Globe in NYC: Meat & Gravy
Image: Brick Lane Curry House
Most of my family members back in Iowa avoid spicy food and stick to the two major food groups: meat and gravy. When they're in town, that's what I feed them—but with an international twist.
Jameson's Bar and Kitchen in Midtown is a gastropub with an Irish flavor. They make a pie with beef and Guinness, and serve a not-so-authentic but tasty brunch. For a nice shepherd's pie, try Muldoon's, a charmingly divey Irish pub near Grand Central Terminal.
Some dishes we think of as typically Indian were actually invented by immigrants living in London. Chicken tikka masala is arguably the national dish of the U.K. now. The version served at Brick Lane Curry House (V) is authentically...English. For a decidedly non-Indian vegetarian dish, try the eggplant chips topped with cheddar cheese.
Andre's Cafe & Bakery, an informal Hungarian spot on the Upper East Side, makes a ferociously red chicken paprikash, but it's flavorful rather than hot. Like the goulash, it's served with homemade nokedli (noodles). This is comfort food, Central Europe style.


Eating Around the Globe in NYC: Sandwiches
Image: United Nations of Food blog
Venezuela excels at handheld street food. Patacon Pisao (V) serves your choice of meat, cheese, sauces, and/or veggies stuffed inside a fried plantain "bun"; try the patacon with pernil, fried cheese, and special sauce. Similar fillings are nestled in arepas (corncakes that resemble Kaiser rolls) at Caracas Arepa Bar (V) in the East Village with additional locations in Brooklyn. For a great vegetarian option, try the la mulata arepa, overflowing with beans, cheese, sweet plantains, and red peppers.
Num Pang (V), with eight locations and counting in Manhattan, serves Cambodian-inspired sandwiches on crisp rolls, garnished with pickled daikon and carrots. The roasted cauliflower with chili-soy eggplant spread is a great vegetarian choice, and carnivores should try the Khmer-style sausage made in Brooklyn.
Mexican "sandwiches" come in many forms and Tacos Morelos (V) in the East Village does them very well. Their tacos and burritos are always solid, but try the huaraches—grilled, sandal-shaped, bean-studded dough, topped with cheese, onions, and your choice of meat or veggies.
Eating Around the Globe in NYC: Small Plates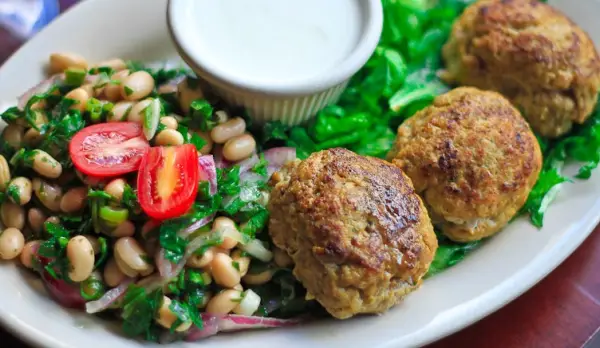 Image: Balkanika
Mezes are the Mediterranean version of tapas, and at two of my favorite places they just keep on coming. Zenon Taverna (V) in Queens serves enormous Greek Cypriot "meals" of 16 different vegetarian, seafood, or omnivorous small plates for about $25 per person. Balkanika (V) in Hell's Kitchen offers a platter of 18 Macedonian mezes with hot pita bread for just $26. If you are still hungry, try a burek (a savory pastry) or a mixed grill. Both are great for sharing.
Eating Around the Globe in NYC: The Middle East (Beyond Falafel)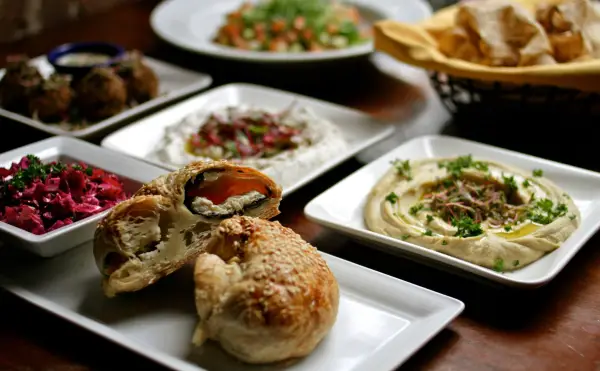 Image: Gazala's Place/Facebook

The lesser-known (to Americans anyway) cuisines of the Middle East are well worth exploring. Ravagh Persian Grill (V), with three locations in Manhattan, has excellent meat and vegetarian kebabs, but the stews are even more amazing—try the koresh fesenjan, made with walnuts and pomegranate.
Gazala's Place (V) in Hell's Kitchen, Manhattan may be the only Israeli Druze restaurant in the United States. The owner's paper-thin homemade pita bread is unique, and the roasted lamb is incredible.
Kalustyans (V), a mecca for spices and specialty foods since 1944, serves outstanding sandwiches and salads in its upstairs deli, with the offerings changing from day to day. I'll usually just order a combo of whatever vegetarian salads they have, and they're always amazing.
Yemen Cafe and Saba Restaurant are in Astoria, Queens—about 25 minutes from Manhattan. They are great places to taste saltah, a sizzling cast-iron pan of shredded lamb with fenugreek, served with enormous round loaves of fresh tandoori bread.

Eating Around the Globe in NYC: Into Africa
I'm obsessed with African food, and New York is filled with unpretentious places that cater to cabdrivers (and adventurous foodies). Some of the best African food is in the Bronx and Brooklyn, but there are excellent African options in Manhattan, too.
Chez Jacob in Harlem serves a great version of the Senegalese national dish, Jollof rice, which is a wonderful introduction to West African food. Try it with a delightfully slimy okra sauce.
Awash's (V) three locations offer wonderfully fresh Ethiopian food, including injera, the sourdough flatbread that you use to scoop your meat or vegetables. Try the Ethiopian beers and honey wine too.
Somali-owned Safari (V) in Harlem is another favorite. Somali chefs do delicious things to goat, and Safari also serves excellent chicken, fish, and beef dishes.
B&B Restaurant on West 26th St. is a 24-hour place that serves a by-the-pound buffet of West African, Caribbean, and American food—along with anything else the West African chefs feel like making. It also may be your only chance to taste the cuisine of the owners' home country, Guinea-Conakry.
Eating Around the Globe in NYC: Snacks
Malaysia Beef Jerky in Chinatown makes and sells nothing but jerky, but if you're picturing a piece of leather from the 7-Eleven, this isn't it. Malaysia "jerky" is deliciously soft, and available with as much or as little spice as you want.
For more than 100 years, Yonah Schimmel Knish Bakery (V) on the Lower East Side has been selling the Eastern European turnovers perfected by New York's Jewish immigrants. Although potato is the most traditional filling, my favorite knishes are stuffed with kasha (buckwheat).
Even if you have only $5 in your pocket, you'll leave Vanessa's Dumplings (V) satisfied. Stop into either the Chinatown or Union Square location for an inexpensive and filling snack of dumplings or sesame pancakes.
Eating Around the Globe in NYC: Best Places to Feel Like You Know a Secret Password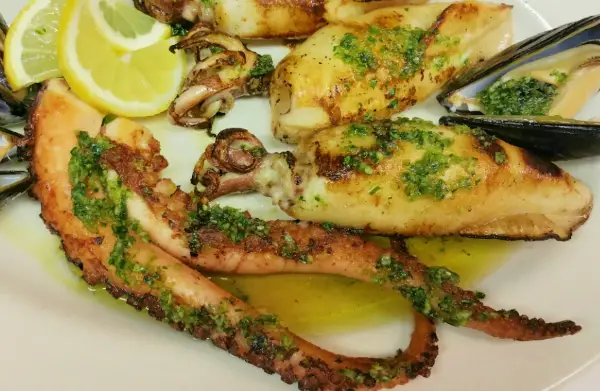 Image: United Miners Soccer Club/Facebook

Streecha Ukrainian Kitchen is in a hard-to-find basement in the East Village where homemade food—made by Ukrainian babushkas—is served from 10 am to 4 pm Friday through Sunday.
The United Miners Soccer Club (Rudar) is a restaurant in the basement of a private Croatian (specifically Istrian) social club in Astoria. The homemade fuzi (similar to bowtie pasta) with veal sauce is incredible; for an unusual snack, order the girice if it's available as a special. Try the palacinke (crepes) for dessert.
Eating Around the Globe in NYC: Drinks, Coffee, and Dessert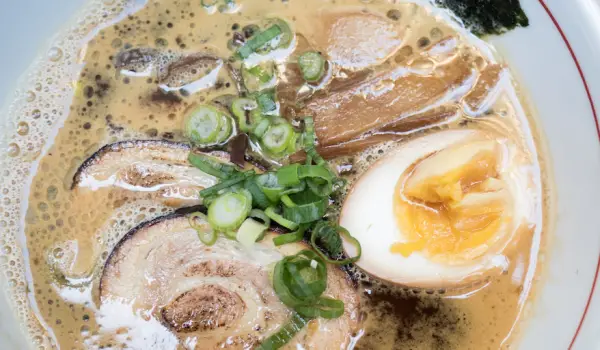 Image: Kopi Kopi
Kopi Kopi (V) in Greenwich Village is an Indonesian coffee shop that also serves ramen. Order a coffee drink that you've never heard of, especially if it involves tons of ginger.
Also in the Village you will find Cones (V), a wildly creative Argentinean ice cream shop. The scotch-and-kumquat ice cream is worth the extra price if it's available, and the yerba mate ice cream will make you feel like you can outrun a speeding taxicab.
Al-Sham Sweets & Pastries (V) is a tiny Jordanian shop serving the best baklava I've ever eaten… and my Greek ancestors will kick my ass for saying that. It's worth the 25-minute subway ride to Queens, especially if you start with a nice Yemeni, Croatian, or Greek meal in the neighborhood.
Eating Around the Globe in NYC: Other Manhattan Favorites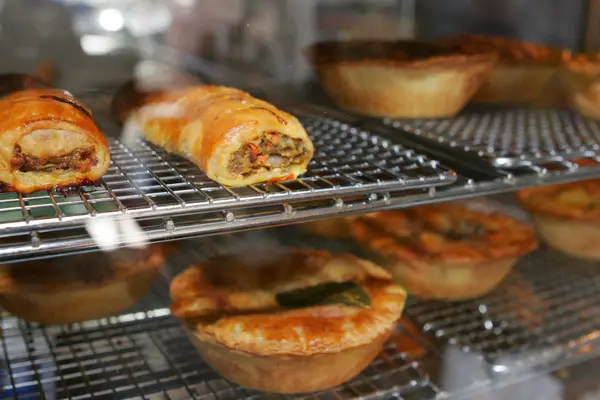 Café Mingala (V) on the Upper East Side is the only Burmese restaurant in New York. The tea leaf salad and mohinga (fish and rice noodle soup with toasted chickpeas) are unique and delicious.
Cafe Katja is an Austrian restaurant on the Lower East Side. I love the herring salad, but you can't go wrong with any of the sausages.
An Aussie once told me that his country's meat pies can never be better than barely edible, but Tuck Shop (V) proves him wrong. There are two locations, including one in the Chelsea Market. If you can talk them into bringing back the brekkie pies, I'll be your friend forever.