Elevate - New American Cuisine With a Japanese Twist
May 23, 2013 - by Richard Jay Scholem
Only in New York City will you find a restaurant serving modern Japanese and New American food in Chinatown. Located in the Wyndham Garden Hotel, probably Chinatown's most upscale, sophisticated building, Elevate Restaurant & Lounge's relatively uncommon name gives little or no clue as to its identity.
Its sleek, multinational milieu, with a bar and lounge atmosphere, features yellow chrysanthemums, a seafood display on crushed ice, white tablecloths, brick veneer, and glass tile walls where diners can order anything from a pork bun to a porterhouse pork chop or a sushi and sashimi omakase to surf and turf. All the main courses and desserts are skewed toward the west (with occasional Asian touches). The starters are split between oriental and occidental selections while the remainder of the extensive menu provides diners with a vast array of clean and bright sushi entrees and stand-alone bites, raw bar possibilities, sushi rolls, sashimi, etc.
The kitchen commander is Leo Lai, a knowledgeable, 20-year veteran of the restaurant wars who is skilled at seamlessly blending Eastern and Western influences into many of his creative dishes.
His tender sea scallops are enlivened by crispy Chinese sausage; strip steak can be found on many menus, but Chef Lai's comes with wasabi-spiked Béarnaise sauce. Desserts are also a smooth mix of the two cultures and cuisines. The silken vanilla bean panna cotta is propelled to an unexpected level by its lemongrass syrup while the rich mango cheesecake benefits from a touch of crystallized cilantro. Even the four Bindi gelatos and sorbets the restaurant lists—in addition to the usual vanilla and mandatory green tea picks—offers rarely seen pomegranate.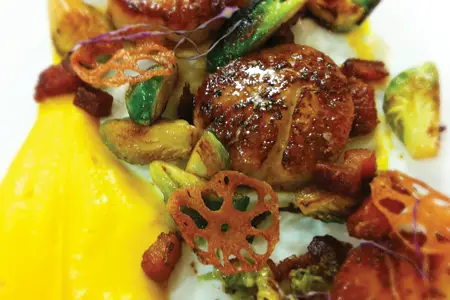 The hands-down most outstanding dish encountered was the crawfish tempura starter: soft, bite-size, delicious fish coated with tangy Cajun aioli, mixed with shiitake mushrooms resting on a cooling, offsetting bed of lettuce. Other starters sampled were a small but special seared trio of tuna, salmon, and white tuna individually garnished with Thai sweet chili, black currant mayo, and passion fruit. A standard, fresh lobster salad (was light on lobster and a non traditional, dark, smoky lobster bouillabaisse drew mixed reactions. Both the soup and a husky, tasty porterhouse pork chop arrived closer to lukewarm than hot while the bountiful, diverse sushi entrées—the edomae style and vegetarian style—were exemplary.
There were no strike outs among the sweets. I especially admired the traditional, intense chocolate lava cake with its vanilla gelato, bon bon crackers, and phylo strands.
93 Bowery (Hester St.), 646-329-3416; www.elevaterestaurant.com
Looking for Free Group Planning Services?
Get free advice on planning your group's trip to New York.
RESTAURANTS

The handsome, 12,000 square foot Times Square location offer...

THEATER

This new American musical offers a deeply personal and profo...

SHOPPING

A premier destination for family entertainment....

SIGHTSEEING

This renovated museum complex includes the 900-foot-long air...