New York rooftop experiences typically come at a premium, but not on this list. Here are 10 rooftop bars with happy hour deals to kick off your summer—and keep it going strong.
Bar Hugo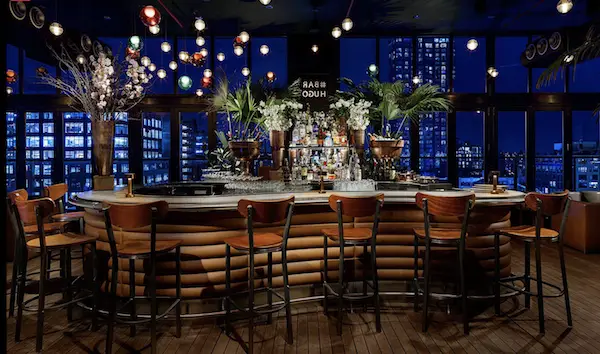 Monday-Friday 5-8pm. Walk west of Soho to the lesser-known neighborhood of Hudson Square for an elevated experience. Bar Hugo, located on the 20th floor of Hotel Hugo, impresses with sleek interiors and retractable floor-to-ceiling windows that open out to the Hudson River during sunset. This crowded happy hour lasts until 8pm on weeknights and offers excellent drink deals for the downtown set. Select specialty cocktails like the Blood Orange Cosmo are $10 during happy hour.  Beer is $6, wine $8, well drinks $9, and specialty cocktails are $10. 525 Greenwich St., 212-608-4848, barhugorooftop.com
SERRA Fiorita by Birreria
Thursdays, 5-7pm. Eataly, the Italian food emporium, has a rooftop garden at its Flatiron location. SERRA Fiorita by Birreria is in full bloom for the season, decked out in photogenic vines, colorful blossoms, and twinkle lights. Come Thursday evenings for their happy hour, with a discounted platter of their best bites like arancini, olives, and fried artichokes. During select happy hours, SERRA also hosts special Spritz-themed events to educate and entertain guests about the bar's signature cocktail: the Aperol Spritz. With a menu of seasonal Italian plates, you'll want to stick around for dinner too. 200 Fifth Ave., 14th Fl., 212-937-8910, eataly.com
Broken Shaker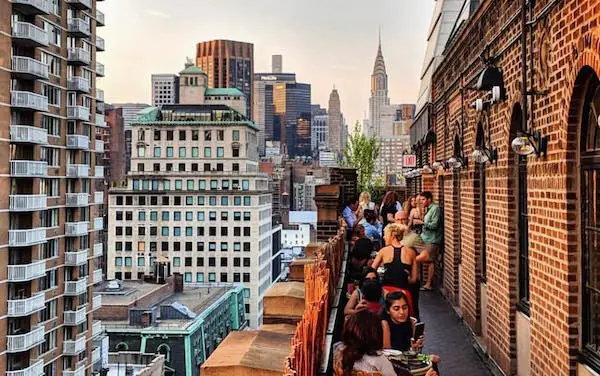 Daily, 11pm-1am. Night owls, this one's for you. The Freehand Hotel in Murray Hill is home to the popular upscale tiki bar Broken Shaker, located on the 18th floor. Visit Broken Shaker during a late night, and you'll be treated to Reverse Happy Hour from 11pm to 1am. Deals include beer + shot combos, El Jimador Margarita, daily punch for $7, and a selection of snacks like plantain chips and guac. 23 Lexington Ave., 212-475-1920, freehandhotels.com
Night of Joy
Daily, 5-8pm. Inside Williamsburg's Night of Joy you'll find quirky Victorian furnishings, but outside on the roof the vibe is considerably dressed down. Come chill on this welcoming patio, where you'll find frozen margs and other drinks for $7, every day. Mix it up with $7 cocktails like the Basil-Lime Gimlet and sangria, plus $5 select beer. 667 Lorimer St., nightofjoybar.com
Haven Rooftop
Monday through Friday, 4-6pm. Get a bird's eye view of Times Square at Haven Rooftop. This rooftop lounge, located atop the Sanctuary Hotel, draws those looking for sunshine, fresh air, and drinks for less at happy hour. Haven offers $6 beer and $10 margaritas, Prosecco, and wine on weekdays. A perfect pick before dinner and a show! 132 W. 47th St., 212-466-9000, havenrooftop.com
Sky Room
Tuesday to Friday, 5-7pm. Watch the sunset over the Hudson River at Sky Room, located in Midtown West near Hudson Yards. This sky-high lounge offers rotating food and drink deals at their DJ'd happy hours, held on bilevel covered terraces. During happy hour bottles of beer are $6, and wines and well drinks are $8. There are also $6 fries, $8 pizza margherita, and rotating drink specials nightly. 330 W 40th St., PH & 34th Fl., 212-380-1195, skyroomnyc.com
Zona Rosa
Monday-Friday, 5-7pm. Chef Ivan Garcia's Zona Rosa is an ideal Williamsburg hangout. Book a spot on the roof during happy hour for cheap margs, shots, and small plates on weekdays. Margaritas and sangrias are $7, select beer is $4, and tecate with a shot of tequila is $8. Plus, snack on $7 quesadillas, flautas, wings, or esquites. 571 Lorimer St., 917-324-7423, zonarosabrooklyn.com
The Delancey
Sunday-Wednesday, 5-8pm; Thursday, 5-7pm. It's fairly easy to find a hip rooftop bar in the Lower East Side, but few offer deals like The Delancey. Come Sunday through Thursday to this three-level club and event venue for a relaxing drink among palms and cushy sofas. The tropical vibe extends year-round, as the roof is retractable and the environment is climate-controlled for partying in all seasons. $2 off all drinks during happy hour, with additional food deals. 168 Delancey St., 212-254-9920, thedelancey.com
Tavern29
Monday-Friday, 11am-7pm & 11pm-2am. Tavern29's two happy hours are even better news once you learn there's a roof where you can enjoy them. This Murray Hill rooftop attracts fun-loving groups to its picnic tables for both daytime and late-night happy hours on weekdays. On the two floors inside, you'll find a polished pub with TVs behind the bars and chandeliers overhead. Happy hour deals include $5 beer, $6 wine, and $7 cocktails. 47 E. 29th St., 212-685-4422, tavern29.com
Kimoto Rooftop Garden Lounge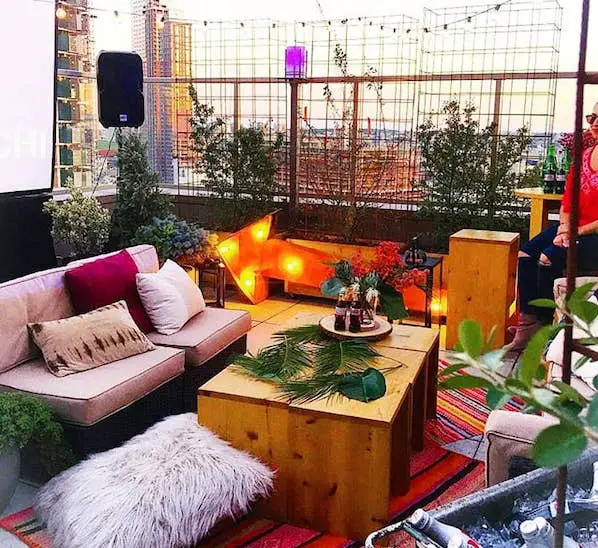 Daily until 7pm. Downtown Brooklyn has just what you're looking for: drinks with a view! Come to Kimoto for daily specials on Asian-inspired offerings. Every day of the week, happy hour lasts until 7pm and includes daily deals on Kirin Ichiban drafts, wine, sangria, and well drinks. Other specials include discounted margaritas by the glass and pitcher on Tuesdays, 30% off all bottles of wine on Wednesdays, $5 spring rolls on Thursday, and dollar wings on Sunday. 216 Duffield St., 718-858-8940, kimotorooftop.com
---
---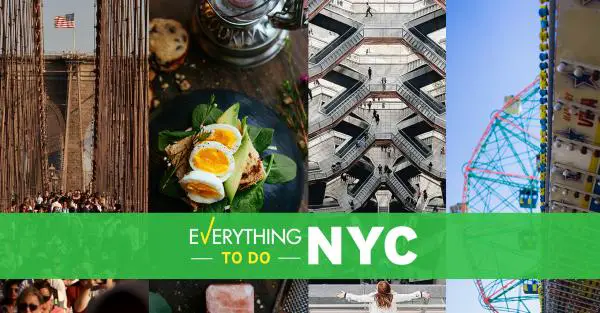 Want free advice on what to do and see in New York? Join our Facebook group Everything to Do NYC, a place for people to ask questions and get tips on how to make the most of the city.