You don't have to break the bank to enjoy tasty sit-down Chinese cuisine in NYC; you can even have a pleasant bit of atmosphere. Here are three great spots where you can enjoy fresh, tasty Chinese cooking at affordable prices.
Chinese Restaurants to Try Now in NYC: Ding Szechuan
Judging by the number of Chinese diners at a recent NYC lunch, Ding Chinese Restaurant is doing something very right. The room is relatively somber with dark brown walls and a few hanging red good luck symbols. At the front is a full bar; on most of the tables there is an induction heating system for cooking your own Chinese barbeque. Most of these offerings are in the $15 range at lunch; you select one meat or seafood, the kind of base desired (spicy, chicken-based, etc.), vegetables and plunge in.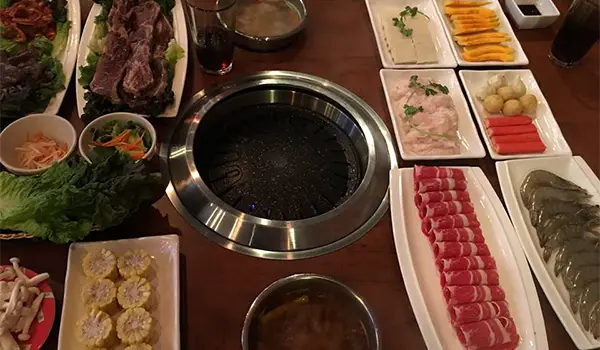 My Spicy Dried Pot with chicken, Chinese broccoli, cabbage, and bok choy was plenty spicy, served in a large bow. The cream corn soup with chicken and shrimp was soothing with plenty of seafood. The lunch special at $9.95 is a great bargain and portions are relatively large. The dan dan noodles on the table next to me looked terrific as did the Berkshire pork belly with skin ($17.95). Service is professional and they keep things moving if you've got theater tickets. Ding is at 234 W. 48th St., handy to the Theater District; open 11:30am to 11:30pm.
Chinese Restaurants to Try Now in NYC: Hong Kong Station
For ambiance, head to Hong Kong Station, also in the Theater District and accessible through the lobby of the Night Hotel as well as from the street. The front room is attractive with well-spaced tables; a corridor lined with red lanterns leads to a larger room at the rear that has a lovely lit ceiling. There are plenty of $9.95 lunch choices although I ordered "outside the box" starting with the dim sum platter (in reality, a steamer basket) of eight little treasures with delicious ingredients including a particularly good vegetable medley.
A half duck with home style vegetables was delicious although note that the duck, as is typical of Chinese restaurants, is a bit fatty. Szechuan sliced pork was spicy as ordered; the standout was a dish of Chinese broccoli in oyster sauce (don't be confused because it's translated as 'olive' on the menu). Portions are very generous and the service is attentive. All ingredients are very fresh and dishes are nicely presented so they look good before you dive in. There is a full bar. Hong Kong Station, 147 W. 47th St., hongkongstation47.com; open 11am to 11:30pm.
Chinese Restaurants to Try Now in NYC: Hunan Slurp
A contemporary eatery serving Hunan noodles and plates doesn't begin to do justice to Hunan Slurp. The place is bright and great looking with blond wood communal tables, (and some smaller one for twosomes), overhead lighting and shiny metal stools. Chef and artist Chao Wang is right on the noodle trend, drawing his inspired dishes from his hometown of Hengyang in China's Hunan province. The noodles here are mifen, long, slippery and made from pounded rice, designed for delicious slurping. I loved the Hometown Lu Fen—thinly sliced beef, chunks of pork char siu, bean curd, crunchy soy beans, and an egg, all topping a noodle tangle.
Don't overlook plates like the Hunan Salad of grilled pepper and eggplant, preserved duck egg, and soy sauce with sesame oil dressing ($12), the chicken stir-fried with whole ginger ($25), and Pickled Mustard Tuber Stir Fried with Berkshire Pork, listed on the menu as pickled vegetable. If dishes don't have enough zing for you, add a little of the chef's homemade red chili sauce. Sharing is part of the fun here, as is watching a trendy, mostly young crowd enjoying one of the best new Chinese restaurants in New York. When I went it was BYOB which helps with the cost; check before you go. 112 First Ave. btw. 6th & 7th Sts., hunanslurp.com; open Tuesday- Sunday from noon to 3pm for lunch and from 5 until 10pm for dinner. Closed Mondays.