This week's game changers for NYC include the swearing in of Governor Kathy Hochul and along with it prospects for increased NYC sway in the capital—and more cooperation between city and state leaders (admittedly the last eight years have set a low bar). The FDA's decision to provide full approval of the Pfizer vaccine, moved up from Labor Day and expected to facilitate more mandates, will hopefully tamp down case loads and increase traveler confidence. The Mermaid Parade and the West Indian Day Parade have been cancelled for this year, but there is still plenty going on, including openings and reopenings like these:
It's amazing that 60,000 people came out in the rain Saturday night for The Homecoming Concert, even if its abrupt ending amid record rainfall was on-brand for the coronavirus era. But it's not over completely for certain—the city is exploring options to try again. New York is resilient. And full of second chances.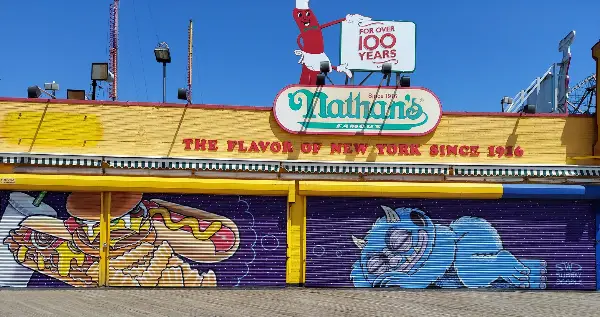 The Alliance for Coney Island announces the "Coney Island for Everyone" Mural Initiative with 13 new murals in the Amusement District and along Mermaid Avenue. Pictured: artwork by Subway Doodle.
LINKS OF INTEREST
NYC
BEYOND NYC
EVERYTHING TO DO FACEBOOK GROUP POST OF THE WEEK
City Guide's Everything To Do NYC Facebook Group continues to grow, bringing together 50,000 city superfans, sharing tips and observations about what's really going on in NYC. The group is active, with this recent post generating nearly 500 comments:
Any tips for how best to not look like a tourist?
Although there were quick responses like "we can always tell," the poster appreciated the outpouring of NYC wisdom. She summed up the advice as "#walkfast #mindyobusiness and when all else fails #getouttatheway." Beyond lighter looks at New York life you'll find ETD provides a great forum to get a read on what locals and visitors are thinking. It's also a great place to market your venue. If you're not a member yet, join us.