For the third week in a row NYC tourism has a game changer. As of today, the vaccinated can go maskless (with exceptions, of course, like hospitals and public transportation). Normalcy is returning, quickly, and City Guide is seeing a rise in interest in NYC travel. The subways are back to 24/7. Take a look for Lion King or Hamilton tickets and you'll find availability is already down to scattered singles. Reopenings continue to roll in:
If you're a fully vaccinated New Yorker, you're now in the majority in the state. With COVID rates plunging and cultural opportunities rising, we anticipate an influx of tourists arriving soon.
Macy's bets big on Herald Square: $235 million dollar initiative in the works. Rendering by FXCollaborative.
LINKS OF INTEREST
NYC
NATIONAL
CLOSING TIME
DATA FROM EVERYTHING TO DO NYC FACEBOOK GROUP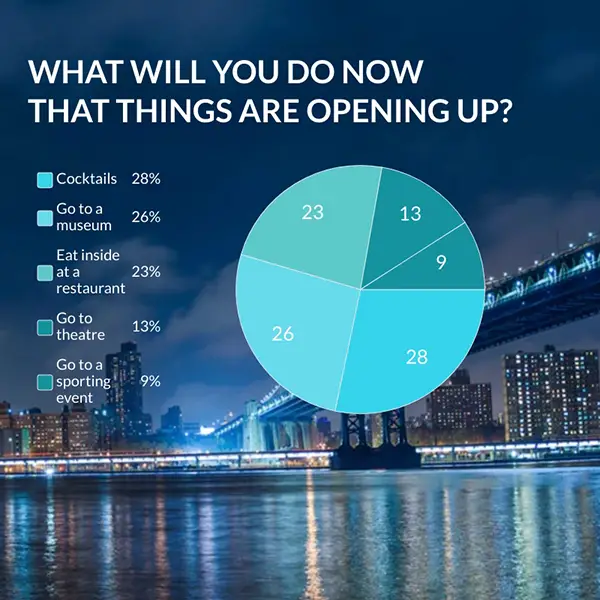 Everything To Do NYC Facebook Group brings together 26,000 New York City superfans. It's a great resource for knowing what's going on, getting city suggestions, and tracking consumer sentiment. A recent poll gave a glimpse into what areas New Yorkers will be drawn to first. Check out the responses and full results here. And join the group if you haven't already—it's great for marketing directly to New Yorkers and tourists.
ANNOUNCING EVERYTHING TO DO EXCLUSIVES
Davler Media is launching a new special events series. These will be experiences that are unavailable anywhere else, whether it's a special wine tasting, a docent's behind-the-scenes tour, or a VIP outing. Look for "Summer Kick Off—Meet the Celebrity Chefs." Membership is currently free; sign up here to receive an invitation.
BEHIND THE ONE WORLD OBSERVATORY EXPERIENCE
The tallest building in the hemisphere. The largest screen. A ride that goes straight up at 23 miles per hour. City Guide's Behind The Experience video series learns the secrets of One World Observatory. Have a look at our whole series, which now includes Madame Tussauds, Benjamin Steakhouse, the Museum of the City of New York, and SPYSCAPE. CHECK IT OUT—it's fun!