New York Comic Con is coming up this October, as comic book fans well know. Whether you're headed to the city for this event or looking for family activities this summer, we've rounded up a diverse list of adventures grounded in comic culture. There's a 4-D Marvel Experience, a superhero bar, and the mecca of comic books in Midtown. As for where to find actual superheroes in Gotham, here's a map. And, click here for more specific details on NYCC!
Madame Tussauds New York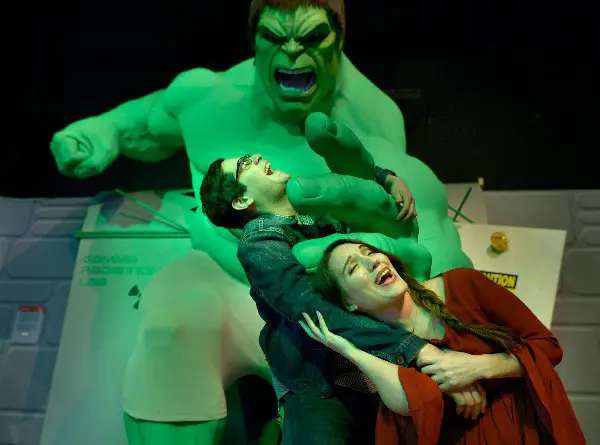 Join The Avengers at The Marvel 4-D Experience at Madame Tussauds. This immersive gaming and entertainment experience enlists you to help The Hulk, Captain America, Thor, Iron Man, and Spider-Man save the world. Bring your family to have a blast with this incredible VR technology in addition to wind, water, and smell that enhance the experience. While you visit the museum, be sure to take pics with other superhero wax figures. Madame Tussauds has recreated Samuel L. Jackson as Nick Fury, Brie Larson as Captain Marvel, Hulk, Iron Man, Chris Evans as Captain America, Chris Hemsworth's Thor, and Spider-Man for the ultimate Marvel selfies. 234 W. 42nd St., info@MadameTussaudsNY.com, madametussauds.com


Midtown Comics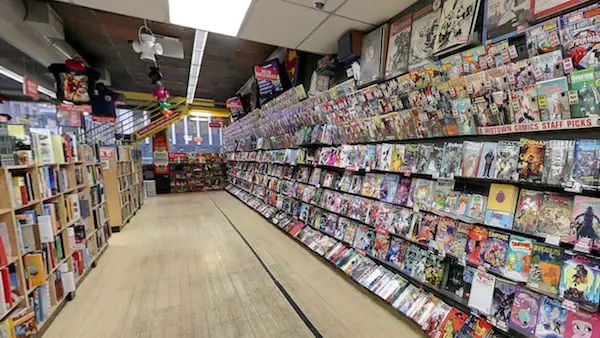 Midtown Comics, Times Square location.
Buying comics? Your first and only stop is Midtown Comics. There are three locations around town, providing new and back issues of your favorite series. Midtown also stocks manga, graphic novels, toys, trading cards, and more. You'll always find a helpful, expert staff to help you find whatever you need. Don't be surprised if you're there for half a day exploring the shelves. If you find too much to bring back in your suitcase, Midtown Comics has a great online store as well. Times Square: 200 W 40th St.; Grand Central: 459 Lexington Ave.; Downtown: 64 Fulton St.; 800-411-3341; midtowncomics.com
The Super Tour of NYC
A multitude of superheroes call Gotham City home. See where Spider-Man and Superman saved the day with a new bus tour of New York, "The Super Tour of NYC." On Location Tours hosts this sightseeing adventure featuring over 40 locations you've seen in comic book-inspired film and television. You'll see where Captain America landed in Midtown and the New York Stock Exchange, where Batman battled Bane, among other exciting locations. Costumes welcome! Meet near Times Square, 212-913-9780, onlocationtours.com
New York Comic Con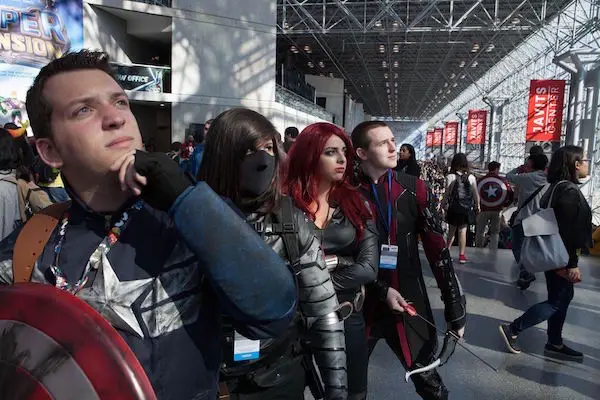 The East Coast's largest gathering of comic book fans is New York Comic Con, which attracted 250,000 visitors in 2018. Grab a badge, get your Joker makeup ready, and head to the Javits Center October 3-6, 2019 for this incredible weekend of events. There are celebrity appearances, panels, screenings, and plenty of other activities to indulge your love of superheroes, villains, and everything in between. 429 11th Ave., 1-888-605-6059, newyorkcomiccon.com
Gotham City Lounge
Drink a Harley Quinn, and take a pic in front of a Wonder Woman mural at Gotham City Lounge. This Bushwick dive bar sells affordable drinks surrounded by imagery from popular comic books, superhero movies, and standbys like Star Wars. Enjoy the toy stormtroopers and neon bat signal sign while you sip a DareDevil (a daily mystery cocktail). 1293 Myrtle Ave., 718-387-4182
Barcade
There are plenty of arcade games featuring your favorite comic book characters. Play some pinball and drink a beer at one of Barcade's three locations in Chelsea (near the New York Comic Con location), the East Village, or Williamsburg, Brooklyn. Chelsea: 148 W. 24th St, 212-390-8455, barcadenewyork.com; East Village: 6 St. Marks Pl., 212-388-0522, barcadestmarks.com; Williamsburg: 388 Union Ave., 718-302-6464, barcadebrooklyn.com
The Society of Illustrators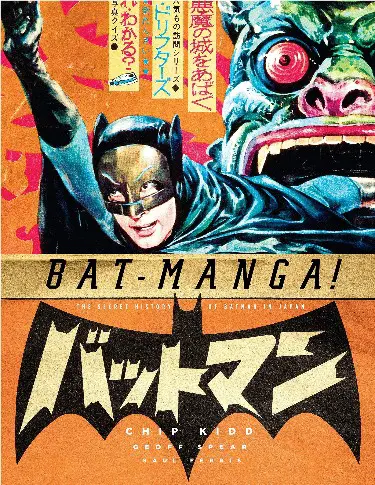 If you're looking for a more scholarly approach to comic-book illustration, visit The Society of Illustrators on the Upper East Side. Its Museum of Illustration welcomes all to visit its exhibition spaces, which frequently feature the work of comic book and graphic novel illustrators. In honor of the Caped Crusader's eightieth anniversary this year, the museum has a complete suite of Batman exhibitions on view now. See a selections from Chip Kidd's Batman collection, Bat-Manga!: The Secret History of Batman in Japan, and more during New York Comic Con. Batman exhibitions on view now through October 12. 128 E. 63rd St., 212-838-2560, societyillustrators.org