We are reminded again this week that the world can change in a moment. Deplorable Russian aggression is rattling global stability, but Ukrainian courage is also providing inspiration. Closer to home, the announcement of the relaxation of mask requirements and other Covid mitigation policies will result in an accelerated reopening of the city, already visible at the Broadway box office, where both grosses and capacity (92%!) continue to trend upward. Other tourism data includes:
Mayor Adams isn't concerned about lifting Key2NYC requirements while there's an influx of visitors. "We want tourism back," he says. "It's a major economic boost for us."
Starting Thursday and running through next Monday, nights at Edge feature SKYLIGHT. A Northern Lights Inspired Experience. An immersive light display will illuminate the outdoor skydeck; a large-scale cloud display indoors will accommodate the selfie set.
Winner! Outstanding Achievement in Support of New York City Tourism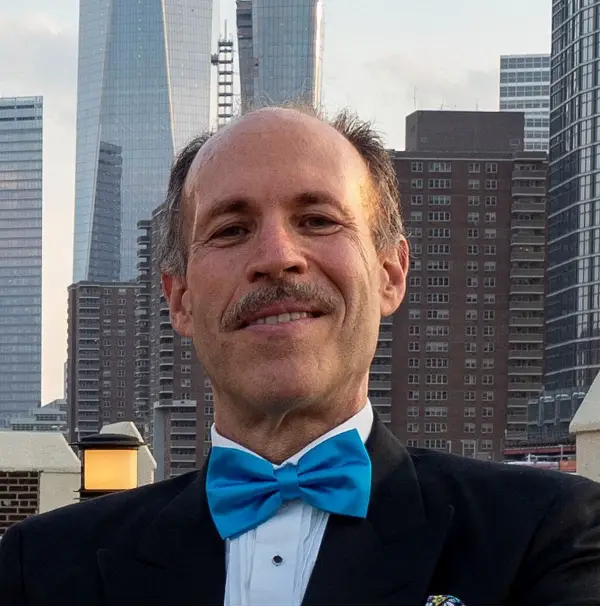 Congrats to City Guide's Eli Marcus, winner of the 2022 Apple Awards in the category of "OUTSTANDING ACHIEVEMENT IN SUPPORT of NEW YORK CITY TOURISM."

The Apple Awards are produced by the Guides Association Of New York City and honor individuals and organizations that encourage and promote New York City tourism, culture and preservation while supporting the work and contributions of professional New York City tour guides.

A well-deserved honor for "The Mayor of Times Square"!!
A Fearlessly New, Fiercely Now "for colored girls" Arrives on Broadway
When it debuted 46 years ago, Ntozake Shange's iconic celebration of Black womanhood broke new ground. An all-Black, all-female cast filled the stage with powerful, humorous, and unvarnished stories of resilience and sisterhood. The New York Times went on to declare, "Shange writes with such exquisite beauty that anyone can relate to her message."

Read more here.
Links of Interest
NYC
CLOSING TIME
A Hotel Concierge Lunch at Cucina 8½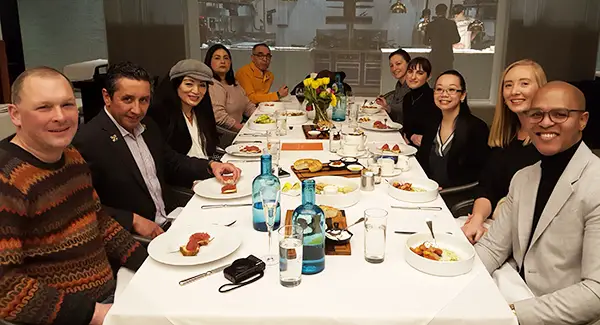 City Guide co-hosted a hotel concierge lunch on Thursday, February 24th at Cucina 8½, 9 W. 57th St., one of New York's finest new Italian restaurants. Please contact Events Director Joanne DeSantis for future groups, private parties, or events.
February 23, 2022
"If you want some good news, it is that tourists or leisure travelers are returning pretty much in force," says NYU professor Sean Hennessey in a recent Times article on Omincron and tourism, "and amazingly enough, they are in many cases willing to pay more for a night's room than they were prior to Covid." The spring travel outlook is strong, with traveler intentions setting pandemic-era records—more than 1 in 5 American travelers already have trips planned for April and May. Other signs of a heating-up tourism economy include:
NYC & Co. is anticipating 85% of 2019's peak visitation by year end (reflecting a full domestic recovery and international travel at 82% of peak levels). Strong forward bookings are being reported as well, approaching pre-pandemic levels. "All signals are pointing to the beginning of the end of international travel restrictions due to the pandemic," says Dan Richards, CEO of Global Rescue, noting the sharp rise in traveler comfort around safety. 
The Orchid Show returns to The New York Botanical Garden this Saturday, with extended programming on select evenings.
LINKS OF INTEREST
NYC
BEYOND NYC
CLOSING TIME
JANUARY 2022 NEW YORK CITY TOURISM NEWS
Eric Adams has been sworn in as the 110th mayor of New York City and you can already feel the shift in energy. Adams's visit to Pearl River Mart in Chinatown yesterday included the announcement of an overhaul of the city's approach to small businesses, with agencies ordered to review the violations they issue and shift from punishing to partnering. Adams also advocated for speeding up the return to offices. 

There is no ignoring the Omicron variant, but there is plenty of scientific evidence that this latest surge will not be long lasting. South Africa notes its peak has passed, with a 30% drop in week over week cases in late December. In the U.S., Columbia researchers estimate infections could top out next week; the University of Washington puts the peak at February 6th.

Broadway news is full of cancellations and closings, but the latter are par for the course this time of year. Digging a little deeper into the box office numbers reveals grosses nearly doubled last week over the week before; average ticket price was $150, a high water mark for the past few months.
Travel agents report that Omicron is not dampening bookings. They say that by this stage of the pandemic, travelers know what they're signing on for and are doubling down on their resolve. Despite weather, Covid, and cancellations, the holiday travel numbers were sky high. "Our business has not been affected by Omicron," notes Bruce Rosenberg, President of HotelPlanner. "Omicron is actually seeing a spike for us, so sales are up...We're seeing a huge rebound."

In New York City we will probably have to wait a little longer, but that rebound is coming.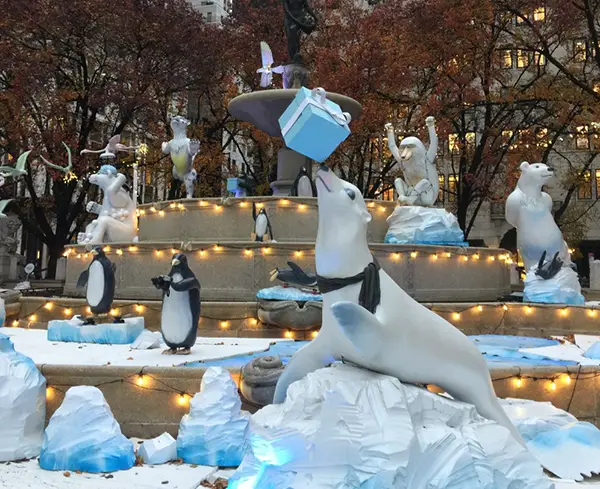 Links of Interest
NYC
BEYOND NYC
CLOSING TIME
Rentbrella Comes to NYC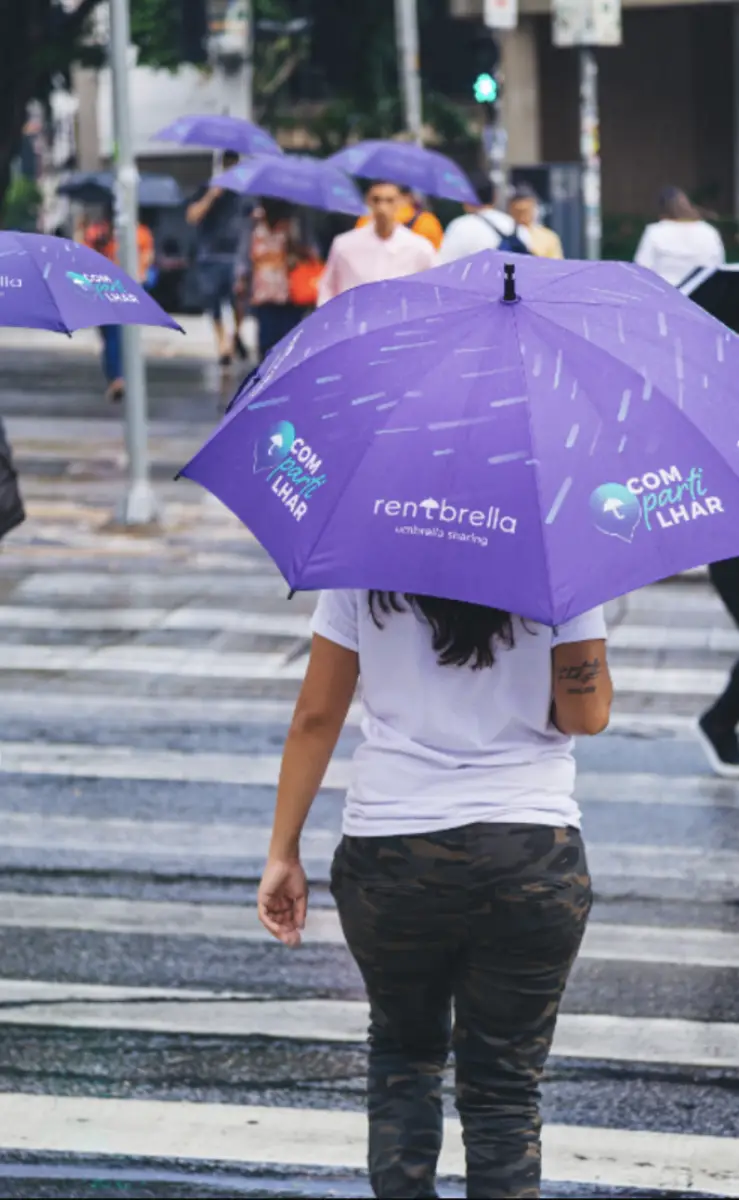 Rentbrella has launched in NYC, bringing a Citi Bike-style experience to the realm of rain repelling. The Brazilian mobility and technology company has installed more than 35 umbrella sharing stations in high-traffic areas across Manhattan. Users can access umbrella sharing for a free 24-hour period. Available on the App Store and Google Play, the Rentbrella platform provides users the location of the nearest sharing station, with plans to expand to over 300 city spots this year. The company was founded in part to reduce waste and improve sustainability.
Times Square Alliance Hosted Special Guests for New Year's Eve Countdown
Michael Hull for the Times Square Alliance.
Times Square Alliance and Countdown Entertainment, co-organizers of Times Square New Year's Eve, honored Broadway performers at 2021's New Year's Eve. Actors Michael James Scott (Aladdin), Mary Claire King (Chicago) and Ben Crawford (The Phantom of the Opera) represented the performing arts community and served as the evening's distinguished Special Guests. The trio joined outgoing Mayor de Blasio to push the crystal button on the main stage in the center of Times Square, which signals the lowering of the Waterford Crystal Times Square New Year's Eve Ball.
The moment — viewed by billions across the world — officially begins the 60-second countdown to the New Year. Due in part to the presence of the Special Guests, the moment is historically seen as a celebration of the human spirit and a source of hope for the New Year. "As 2021 draws to a close, we are honored to shine a spotlight on the Broadway community, a group with members that individually – and as a collective - demonstrated perseveration, resiliency and dedication throughout the year," said Tom Harris, President of the Times Square Alliance. "Times Square would not be the vibrant, thriving neighborhood that it is without its theaters and the performers who bring magic to their stages."
The Special Guest designation is an annual tradition for Times Square New Year's Eve that dates back to the mid-1990s. Each year since, by selecting a Special Guest, the event producers honor an inspiring individual/s who represents public service, resiliency, and the human spirit. Last year's Special Guests were the "Heroes of 2020," first responders, frontline and essential workers and their families who sacrificed so much in 2020 to provide care and support for their communities. Other past Special Guests include former President Bill Clinton and former Secretary of State Hillary Clinton, former Secretary of State Colin Powell, Supreme Court Justice Sonya Sotomayor, former UN Secretary General Secretary Ban KiMoon, Muhammad Ali, Lady Gaga, Christopher Reeve, Medal of Honor winner Salvatore Giunta, and #MeToo founder Tarana Burke.
"The reopening of Broadway earlier this year provided a rally cry that many people around the world needed, and was a great example of our city's strength and fortitude," said Jeff Straus, President of Countdown Entertainment. "This year's Special Guests helped revive the spirit of the city this year, and we want to celebrate and carry that positive energy into the New Year."
Everything to Do Facebook Group Post of the Week
City Guide's Facebook Group Everything to Do NYC brings together more than 73,000 NYC visitors and superfans. This is a great place to get a feel for what tourists are looking for, and to be inspired by what the city can bring to travelers, as in this recent post:
We had an AMAZING time in NYC!! It was our first and we tried to do as many things as possible with the time we had. We fell in love with the city. My son wants to live there eventually. We agreed it felt very much alive everywhere we went.
The post got over 100 comments, with a debate over the relative safety of Times Square. If you're not yet a member, join us. You'll find the group is a prime resource for finding out what's going on at ground level in NYC.