Data from the New York City Department of Health and Mental Hygiene suggests that Omicron has peaked in NYC. Positive tests and emergency room visits are both diving down, with the Bronx seeing a drop of 35% in cases requiring hospitalization. Governor Hochul notes the decrease and is considering letting the statewide mask mandate lapse February 2nd. Washington Post charts show Omicron's dramatically lower severity. Given the strong parallels to South Africa's experience with Omicron, we join the Governor in optimism that February will bring vastly improved conditions for city activities. Additional good news for NYC includes: 
Polling shows that Omicron's effects are shallow for most Americans. Comfort levels toward going to the movies hasn't changed, across all generations (despite the pandemic, Spider-Man: No Way Home is the second-highest domestic film opening ever). TV news viewers aren't taking much interest in Covid despite the spike. Omicron is hammering the European hotel market, but China and the U.S. are exceeding expectations. A Bank of America report out Monday predicts the U.S. hotel sector will be only 2% below 2019 levels by the end of the year. Further evidence of the rebound in NYC includes: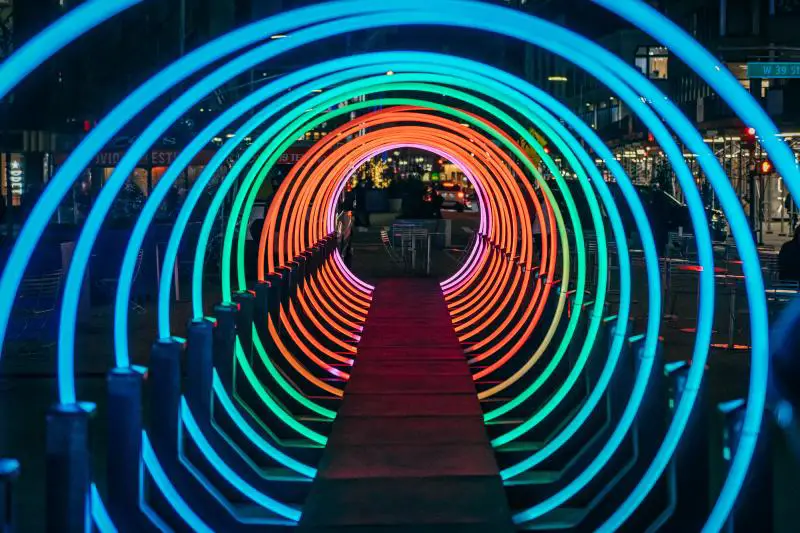 The Garment District Alliance has unveiled Passage, a pedestrian tunnel with interactive light and sound features. You can find it on Broadway between 39th and 40th through February 13th. Created by Serge Maheu, with fabrication and assembly by Félix Ménard. Photo credit: Alexandre Ayer / @DiversityPics for the Garment District Alliance.
Links of Interest
NYC
BEYOND NYC
CLOSING TIME
New Dual Hotel Property for Chelsea
New dual-branded SpringHill & TownePlace Suites New York Manhattan Chelsea has opened its doors, boasting 46 floors with impeccable skyline views. Situated at 140 West 28th Street between Sixth and Seventh Avenues (the heart of the Flower District), the property sports a prime location for city explorations, including close access to the Fashion District, Hudson Yards, and Chelsea Market. Design and functionality blend in the rooms, with guest amenities like a complimentary breakfast and WiFi, a fitness center, and a business center. TownePlace Suites New York Manhattan/Chelsea is designed for extended stays, with its king bedded studios featuring half fridges and electric cooktops. 
For additional information check out marriott.com/nyctl and marriott.com/nycsl.
You're Invited
Interested in attending private, one of a kind events (once we return to normal)?
ETD Exclusives is City Guide's 2022 program to partner with NYC restaurants, museums, and other venues to sponsor unique activities. As a member of the NYC tourism community you can get on the guest list. Complete a quick survey to select your interests and you will soon start seeing invitations. There is no membership fee, it's free. Get on the list, fill in the quick survey.
Everything to Do Facebook Group Post of the Week
City Guide's Facebook Group Everything to Do NYC brings together 75,000 NYC visitors and superfans. People trade notes on best pizzas and bagels, Broadway shows, and what's activities are worth the investment of time and money. Itineraries are popular shares here and a great way to see how people plan out their trips and what they prioritize. A recent poster gave a rundown of her affordable NYC visit, which was enhanced by group suggestions. They loved dining at Carmine's, Ellen's Stardust, Junior's, Wo Hop, and La Perie Turkish Coffee, and took in Little Island, Little Italy, Chinatown, the Staten Island Ferry, The Vessel and Hudson Yards, Central Park, Grand Central Station, Times Square, the Brooklyn Bridge, The High Line, and Broadway. If you're not yet a member, join us—you'll find free market research in what visitors are seeking out on NYC trips.