Enjoy Classic New York Deli PJ Bernstein with a Coupon Code Good for 15% Off
July 11, 2018 - by City Guide Discounts
For decades, PJ Bernstein has been the favorite deli of countless New Yorkers and visitors. The best overstuffed sandwiches like roast beef, pastrami, corned beef, brisket, tongue can be found here. They're joined by delicious matzoh ball, split pea, kreplach, borscht, chicken, mushroom barley, and lima bean soups. Legendary potato pancakes, Russian borscht, pierogies, 7-layer chocolate cake, and more! Open 7 days 8am-9pm. You can savor for less with City Guide's coupon code, good for 15% off orders over $20!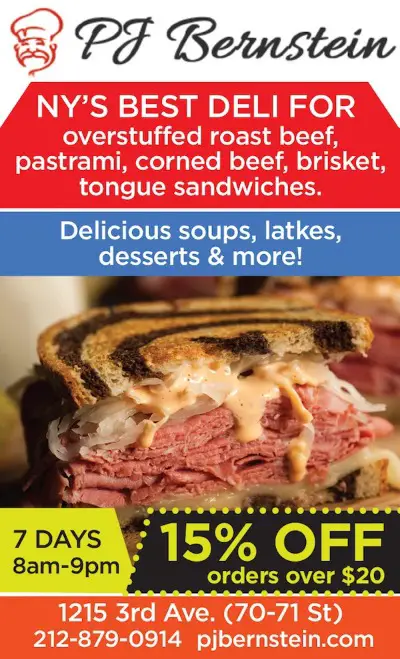 1215 Third Ave. (btw. 70th & 71st Sts.), 212-879-0914, pjbernstein.com
Looking for Free Group Planning Services?
Get free advice on planning your group's trip to New York.
RESTAURANTS

Vida Verde brings the tastes, colors, sounds, and scents of ...

THEATER

In a heartbeat, 38 planes with 6,579 passengers were strand...

SHOPPING

The world's largest source of cameras, camcorders, and more ...

SIGHTSEEING

This renovated museum complex includes the 900-foot-long air...