Experience global films at the upcoming Queens World Film Festival! March 19-29, 2020, the NYC borough welcomes filmmakers and film-lovers to watch a diverse lineup of movies, as well as meet, network, and celebrate together. Tickets are on sale now!

The Queens World Film Festival, now in its tenth year, was started by filmmaker Don Cato, the Artistic Director of the festival. He and Executive Director Katha Cato strive to create a collaborative, communal environment in the borough of Queens for this annual event. Screenings are held at two local cinema institutions: The Museum of Moving Image and Kaufman Astoria Studios. These Astoria venues will host screenings, talks, and awards ceremonies throughout the festival. 
Festival organizers have chosen more than 200 films for the event. Films include live-action and animated shorts, documentary features, and narrative features from around the world. A festival press release cites that filmmakers of 32 nations will be represented, including Iran, Latvia, Ethiopia, Saudia Arabia, Singapore, and the Czech Republic. 
The diverse pool of represented filmmakers include nearly 90 women. There are even films made by children as part of "Kid's Corner" on March 29. New York City filmmakers also contributed to the festival, with 26 films from Brooklyn and 24 from Queens. 
Other featured films include The Factory by Max Chico, whom the Cannes Diversity Project called one of the decade's 10 best global filmmakers. Other films include Ode to Passion, an original rock-n-roll musical, and the documentary feature Last Sermon by Jack Baxter. 
At the festival, which offers a variety of ticket packages for guests, you can tailor your viewing experience by programming blocks, organized by theme. Themes include "Divided Together," a block of two films showing Saturday, March 21. Other blocks include "WTF" (also on March 21); "Women's Voices" on Friday, March 27; and "Another America" on Saturday, March 28.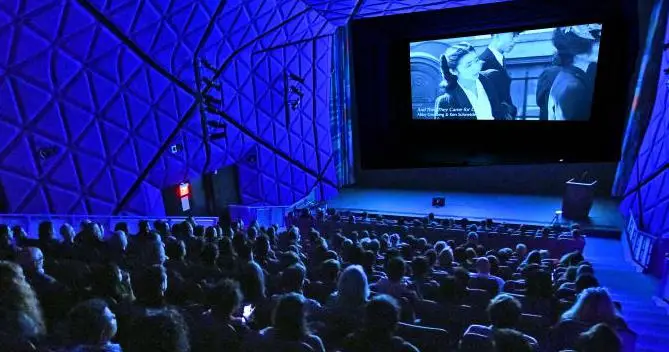 Museum of the Moving Image's Redstone Theater.
Opening night, Thursday, March 19, witness "Tales of Connectedness." This event, hosted at the Museum of the Moving Image's Sumner Redstone Theater, will kick off the festival with six short films. Evoking the diversity of the festival's lineup, the films include an animated short from Denmark, a narrative short from Iran, a British narrative short, and three narrative shorts from the United States. 
Tickets for the Queens World Film Festival are on sale now! Purchase tickets for single films or blocks of films ($15 for ages 18+), or bundle your tickets for sets of 3 or 5 at a discounted rate. Weekend passes and all-access passes are also available for cinephiles from New York and beyond!  
The Queens World Film Festival will be screened at the Museum of the Moving Image & Kaufman Astoria Studios. MOMI: 36-01 35th Avenue, movingimage.us. Kaufman: 34-12 36th Street, kaufmanastoria.com. For tickets and more information about the festival, call 718-429-2579 or visit queensworldfilmfestival.com.