To have a meal at the highest dining room in the hemisphere, point yourself toward ONE Dine, the restaurant atop One World Observatory. The fastest elevator in the world gets you here in less than a minute (it's a very entertaining minute, as you get to watch the entire history of New York flash before your eyes). When you arrive, friendly staff guides you into an airy space that just happens to have some of the best views on the planet.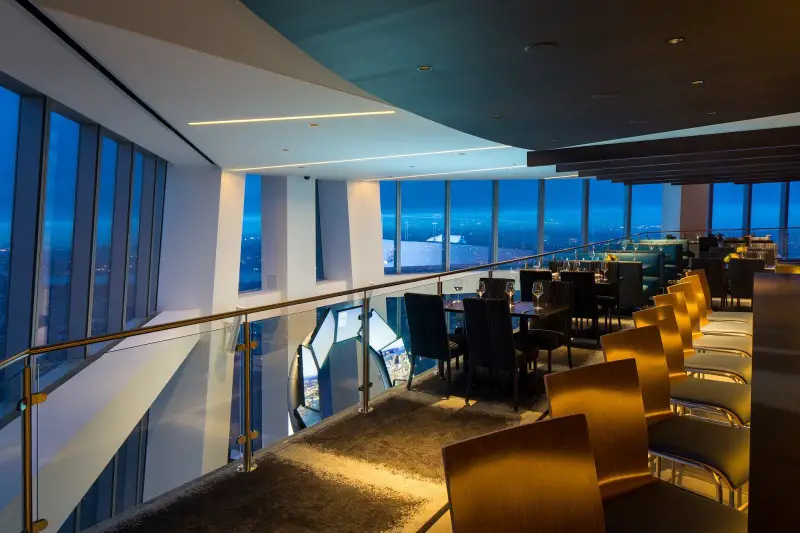 You'll find an elevated experience—in more ways than one. OWO reserved some of its best vantages for its dining room. Guests look north to two rivers, bridges, and canyons that cut through buildings both historical and hyper-modern. Even if it's not your first time peering through these windows, shifts in light make it different every time. It's always thrilling, like the sense of advantage you feel atop a ski lift, or a mountain. Big booths along the back wall are perfect for special occasions.
Despite the competition with the views, the food at ONE Dine does not feel like an afterthought. Credit goes to Executive Chef Matthew Eland, who crafts meals on par with the fine dining you'd find at ground level. Three courses, thoughtful pairings, and a warm atmosphere make for a meal that invites you to sit, relax, and enjoy.


The philosophy here is driven by the local and the artisanal, for an experience that tells a uniquely New York story. Meals are complemented by local beer, handcrafted cocktails, and small-production wines—the house vintages are sourced from Long Island. There may not be time to visit every corner of New York, but ONE Dine brings the city to guests, drawing on relationships with long-standing providers across the boroughs. Eland says he enjoys being able to point out the window at where his components come from, a shaved ice purveyor, say, or chocolate from local favorite Jacques Torres. Even the stylish white ceramic plates are a New York product—made in Brooklyn's Sunset Park to be exact.
Like those plates, the menu here is sophisticated while remaining approachable. It's designed to be a la carte, with a mix and match approach letting guests create their own experiences. Come in fall and you'll see the likes of burrata with roast beets, fig, and honeycomb, or Brussels sprouts with red pepper jam on the appetizer menu. Large plates cover options like grilled trout with hazelnut brown butter or porcini tortellini with a walnut pesto. From the grill? Look for a rack of lamb with a blue cheese tzatziki or a rib eye with a chanterelle demi-glace. A maitake special on the side of fresh fish combines meaty mushroom with an appealing texture thanks to the cornmeal in the breading, finished with a subtle Spanish pimento kick. Potato wedges on the side are cross loaded baked potatoes and croquettes, matching crisp exteriors with tender insides.
Lunchtimes are just as successful. You can grab a house burger with applewood-smoked bacon and a side of herb-dusted fries. There's an elevated chicken sausage sandwich that splits the difference between bánh mì and a ballgame: the most refined sausage you've ever tasted gets nestled into crusty Italian-inspired bread. Jake's Handcrafted, an artisanal shop in Brooklyn, provides the meat—their Tokyo Chicken Brat—which puts a juicy spin on sansho peppercorn and sweet soy, the sandwich finished with cabbage and hints of lemongrass. Asian influence also shows up in the seasonal spare ribs, perfectly marinated, with a burst of brightness from a Chinese mustard sauce.
With a venue this popular, reservations are a very good idea. Although off meal times are slower and you could walk in to a table, the observatory's 8pm closing time means dinners start on the early side (the staff doesn't want anyone to feel rushed). Reservations are accepted thirty days in advance. If you're more spontaneous, you definitely won't get shut out. Two other excellent options await on the 101st floor.
ONE Mix is the observatory's bar, which doesn't take any reservations at all. It's altitude without attitude, conveying the feel of a neighborhood bar despite the rarefied views. Thursday evenings are a great time to stop by: "Live and Local" nights feature music from artists based in the area. Tickets come with a two-drink voucher, making this a pretty sweet deal. The timing is great as well, as sunset is an amazing time to be at the observatory, watching day transform into night and the lights of the city come on.
The other option is ONE Café, a casual entry with modern options. Pastries and baked goods are ready to side with fresh coffee, and there are also made-to-order choices, with quality meat and cheese joined by soups, salads, and sandwiches.
Chef Matthew Eland
The core at ONE Dine stays the same while the flavors around it change, as suits the season. Eland's favorite time of year to cook may come as a surprise. "I love the winter," he says. "It's the most challenging. Long-braised, roasted, that appeals to me. Fire charring, developing a lot of flavor that way—it drives your creativity."
Grill skills here aren't exactly coincidental: Eland served a stint at the nearby Blue Smoke barbecue spot, working with New York hospitality master Danny Meyer. "They don't allow live fire up here," Eland concedes. "Which is probably for the best."
Not having access to a 101st-floor pit smoker is just one of the challenges when you man the highest kitchen in the country. For one thing, the clientele comes from around the world, and may not be passing through again for months or years. "We get one shot," Eland says. "I don't mind being held to that very high standard."
---
ONE Dine is located atop One World Observatory, 285 Fulton St., entrance on the corner of Vesey and West Sts. For reservations, call 844-696-1776 or visit oneworldobservatory.com/restaurant.