Hemant Mathur, the Michelin-starred chef behind restaurants like Devi and Tulsi, has embarked on a new culinary venture with Saar Indian Bistro. The restaurant opened this past May in the heart of New York's Theater District, serving lunch, dinner, and pre-theater specials from its chic dining room on West 51st Street. Read on for what to expect—or, more accurately, what to order—at this fantastic northern Indian bistro!   
Saar Indian Bistro: Upscale Northern Indian Cuisine
Saar is not your typical neighborhood Indian restaurant. Mathur, who was born in Jaipur and has worked in world-class restaurants from Delhi to Mexico to Germany, places northern Indian cooking at the forefront of the menu and presents it with an upscale twist. You won't find any dishes drowned in gravy or bland bowls of rice. Instead, you'll taste tender lamb kebab with papaya and black pepper chicken with dosa (rice crepes) and coconut chutney. Perfectly spiced and pleasantly surprising, these dishes achieve Mathur's intention for Saar: "to show how food has evolved in India over the past 100 years, serving the dishes exactly as they are prepared and eaten at home today."


The dinner menu presents dishes of three sizes—small, medium, and large—to be consumed as more traditional courses or as a series of tapas. Must-order plates include the appetizer-sized cauliflower latkes, an Indian take on the potato pancake native to Jewish kitchens. The midsize Lasooni kebab is made with chicken thigh meat and cooked in the tandoor oven. This clay oven is Mathur's most effective tool; he's even been called "Yo-Yo Ma of tandoor cooking."
Taste Kashmir by way of Italy with the truffle risotto and a twist on Indian street food with the pindi chole, a potato-stuffed tandoori bread with Indian street salad and chickpeas. The large halibut entree is also a standout, accompanied by Bengali mustard cauliflower and potato sauce, rice, and the squash-like parval, served crispy.
Vegetarians and vegans can look forward to biryani rice made with tangy jackfruit, and gluten-free diners can rest easy, as all GF dishes are labeled as such on the menu. Don't forget sides like pillowy garlic naan bread and saag paneer with housemade cheese.
Saar Indian Bistro: Winning Desserts
Sharing the helm with Mathur is his wife, Surbhi Sahni, the Creative Director and Executive Pastry Chef at Saar Bistro. Sahni was the pastry chef at both Tulsi and Devi, her previous culinary ventures with Mathur, which both received a Michelin star.
On this dessert menu, Sahni presents twists on Indian preparations, such as the unniyappam, a fritter made of sourdough and plantains that she covers with black pepper caramel sauce and serves with vanilla ice cream. Other pastries include the spiced upside-down pineapple cake with chili maple drizzle and the fig firni, a rice custard with garam masala-poached figs.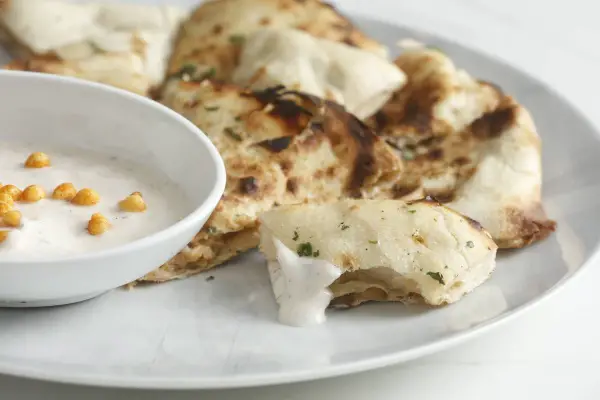 Saar Indian Bistro in NYC: Pre-Theater Perfection
On your way to a show? Saar is conveniently located in the Theater District within walking distance of most Broadway shows, and its Pre-Theater deal offers diners a fantastic scan of the menu for a competitive price. Have 2 courses for $35 per person, or add on dessert for $40. Both options include one glass of house wine or a non-alcoholic drink. Order favorite starters like the cauliflower latkes with cranberry chutney or the shakarkandi chaat: charcoal-smoked Japanese sweet potato with tamarind chutney and roasted cumin. Second course options include the scallops with coconut basil sauce and tandoori Colorado lamb chops with potatoes, peanuts, and spiced pineapple chutney. You'll want to tack on dessert, which offers you a choice between fig firni (rice custard with spiced figs) or kaju kulfi. This Indian cashew ice cream is topped with chili chocolate crackle cookies—yum!
Saar Indian Bistro in NYC: The Pink City
Saar, which means "essence of something" in Hindi, is decorated with deep-black banquet seating, industrial bronze light fixtures, and an eye-catching bar plated with flashy bronze tile, all surrounded by a whimsical floral wallpaper of turquoise and pink. The pink accents around the room, which also include the upholstered chairs, recall Chef Mathur's hometown, nicknamed "the pink city." Click here to reserve Saar Bistro for your next party, wedding reception, or corporate event!
---
Saar Indian Bistro is located at 241 W. 51st St. (btw. Broadway & Eighth Ave.). Call 646-609-2142 or visit saarnyc.com for reservations and more.