In 1944, Pasquale "Patsy" Scognamillo opened Patsy's Italian Restaurant in New York's Theater District. Today, the restaurant remains on West 56th Street, thriving with a committed local following and constant stream of visitors. The epitome of a family restaurant, Patsy's has seen only three executive chefs: Patsy himself, his son Joe, and the current chef, Joe's son Sal Scognamillo.
Executive Chef Sal Scognamillo and family, at Patsy's Italian Restaurant.
When asked if the menu has changed since his grandfather opened the place, Sal Scognamillo told Italia Living, "The heart of the menu is the same. It's a red sauce Italian restaurant." Teasing, he added that the restaurant no longer serves brains oreganata as they once did. Other Southern Italian classics like veal chops siciliano and chicken contadina have remained on the time-honored menu.


With no formal training in cooking, Sal Scognamillo instead learned the recipes from his grandfather and father as a young man. He took over the kitchen in 1988 as the executive chef and has led the restaurant ever since. As Scognamillo told Italia Living, he starts cooking sauces, tiramisu, and cheesecakes every morning at the restaurant to prepare for the evening rush. At dinner you'll sometimes find Scognamillo circulating throughout the dining room and chatting with patrons. You might also meet his father Joe, still active in the restaurant though he's "retired" from the kitchen. Sal also claims his father is the better cook and, in his eighties, still remembers every recipe!
Appearing on cooking shows hosted by Martha Stewart and Harry Connick Jr., Sal Scognamillo has continued his family legacy by sharing his favorite recipes with all lovers of Italian cooking. In 2015, Scognamillo published Patsy's Italian Family Cookbook, full of delicious dishes like mussels with white wine and lemon, osso bucco, and handmade veal meatballs. The restaurant has also branded its own line of tomato sauces with all-natural ingredients. For home cooks looking to perfect their pasta, try Patsy's fra diavolo, tomato basil, vodka, and marinara, available in grocery stores nationwide.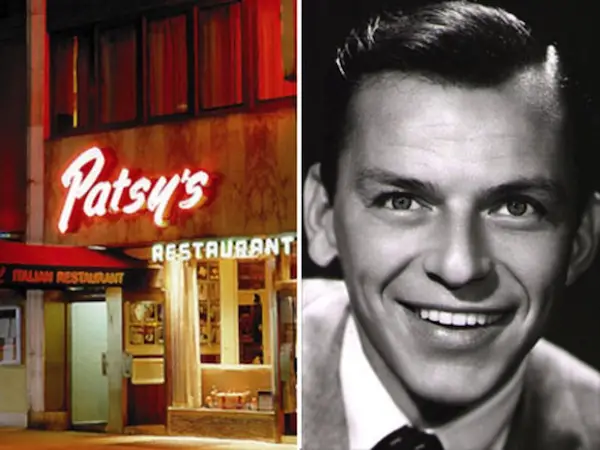 Ol' Blue Eyes, Frank Sinatra, was a regular at Patsy's.
No stranger to celebrity visits, Patsy's patron saint is Frank Sinatra, who frequented the restaurant in his heyday and whose family members still visit today. In fact, the Patsy's website quotes Nancy Sinatra on family values: "The Scognamillo family dynasty is not unlike the Sinatras'. Theirs is in the food and ours is in the music."   
In a video available on YouTube, Scognamillo recalls how, in 1978, Sinatra once reserved a room upstairs at Patsy's for a private party and was surprised when some 48 members of the New York Yankees walked in to meet him. The Yankees, having just won the World Series, were thrilled to meet the singer and returned to their tables to celebrate their victory. Later, when Yankees manager Billy Martin asked to pay the bill, Joe Scognamillo answered that Sinatra had paid already for the entire team! 
Today the restaurant still serves Sinatra's favorites like stuffed artichokes, veal milanese, and desserts like cannolis and sfogliatelle. Patsy's also offers a wide selection of wines from Italian vineyards to complete your meal.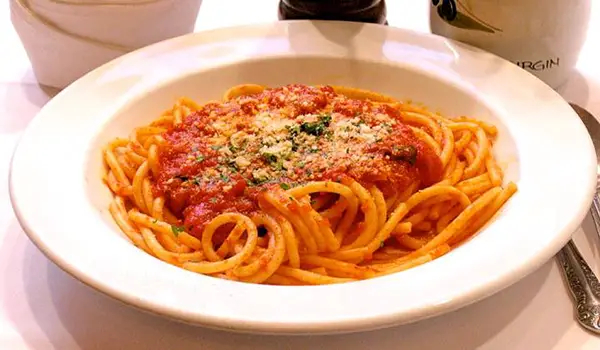 Patsy's prix fixe menus allow you to try a trio of Italian dishes for a great deal. From noon to 3pm for $42 per person, order a three-course lunch with a soup or salad, choice of entree (one of which is the chef's favorite, rigatoni sorrentino), two sides, and the dessert of the day. Come to Patsy's before your show for three courses of their Pre-Theater Menu. Have penne alla vodka, chicken marsala, two sides, and dessert with coffee for $70, offered 3-7pm.
Scognamillo says he loves the veal rollatini marsala (veal stuffed with cheeses and covered in marsala sauce and mushrooms) and linguine with littleneck clam sauce, rich with garlic and a touch of cream. He told the blog The Nest that if he had to choose a last meal on earth, it would be Patsy's rigatoni sorrentino, a pasta made with his grandfather's slow-cooked tomato sauce recipe and three cheeses: mozzarella, ricotta, and Parmigiano-Reggiano. Scognamillo was kind enough to share the recipe with us (the final product is pictured below)!
Patsy's Rigatoni Sorrentino
INGREDIENTS

3 cups tomato sauce (Patsy's Marinara Sauce)
1/2 pound fresh ricotta cheese
1 pound rigatoni, cook al dente
2 cups shredded mozzarella (about 1 pound)
1 1/2 cups freshly grated Parmigiano-Reggiano
DIRECTIONS

Preheat the broiler. In a large saucepan, bring the sauce to a boil. Remove from the heat; pour half the sauce into a bowl, and reserve. Add the ricotta and the cooked rigatoni to the saucepan with the sauce, mix to combine, and bring to a simmer over low heat. Spoon the hot rigatoni-sauce mixture into a baking dish and add the reserved sauce. Top with the shredded mozzarella and grated Parmigiano-Reggiano and broil until the cheeses have melted, about 5-8 minutes. Serve immediately.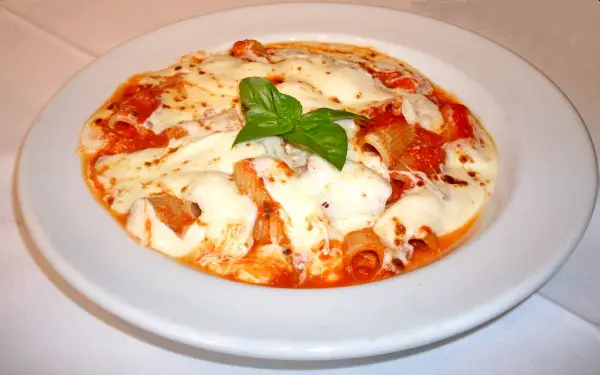 Whether for the first time or the fiftieth time, come to Patsy's for a family welcome and a hearty, "stick-to-your-ribs" meal, as Chef Sal likes to say. When Italia Living asked Scognamillo about the restaurant's future, he said his two sons are interested in his business, so it's safe to assume Patsy's will stay a family restaurant for many years to come!
Patsy's is located at 236 W. 56th St. Call 212-247-3491 or visit patsys.com for reservations and more.