NYC's Best Soft Serve Ice Cream
July 15, 2016 - by Chelsey Grasso
There's no dessert that's more nostalgic on a NYC summer night than a large cone of soft serve, and there's no time to want it more than during a sweltering day in Manhattan. If you're wanting to step it up a notch from Mister Softee next time you need some soft serve in the city, check out these seven stops. From Asian inspired to soft serve made with goat's milk, this is the good stuff. We promise.
Best of NYC Soft Serve: Takashi (West Village)
Takashi is a Japanese and Korean barbecue joint, but it's their dessert that we're most interested in during the summer. Takashi's homemade Madagascar Vanilla Soft Serve is the stuff dreams are made of, as are the toppings. From gold flakes to red beans, this is one restaurant where you'll want to leave room for dessert! 456 Hudson St., 212-414-2929, takashinyc.com
Best of NYC Soft Serve: Chloe's Soft Serve Fruit Co. (Flatiron)
Chloe's Soft Serve has a lot of tricks up its sleeve, the biggest being that the soft serve is actually made from water, sugar, and fruits. That's right, there's no dairy involved… but based on the texture and flavor of this good stuff, you'd never know it. The Dark Chocolate and Mango are two year-round flavors to try, while seasonal selections such as Plum, Apple, and Pear are also absolute go-tos. 25 E 17th St., 212-675-0550, chloesfruit.com
Best of NYC Soft Serve: Victory Garden (West Village)
Victory Garden rotates their flavors out daily, so stop in frequently to see which four they have available. Made with goat's milk, this frozen yogurt has a unique taste to it that's addictive and memorable. The flavors here also hold their own, ranging from the likes of Apricot Lavender and Black Walnut to Honey Rosemary and Pumpkin Spice. Yum. 31 Carmine St., 212-206-7273, victorygardennyc.com
Best of NYC Soft Serve: Nicoletta (East Village)
Yes, we know Nicoletta is a pizza spot… but we also know that their soft serve is homemade and one hundred percent delicious. Get it topped with rosemary caramel popcorn, strawberry jam, olive oil poundcake, or toasted marshmallows to really seal the deal. 160 2nd Ave., 212-432-1600, nicolettapizza.com
Best of NYC Soft Serve: Ray's Candy Store (East Village)
If you want your money's worth in the soft serve game, head over to Ray's Candy Store. For $4 you'll get a soft serve that's towering in size. Ray's isn't about the frills though, instead presenting that old school charm that will remind you of what New York used to be like before the hipster foodie movement began. Chocolate, vanilla, and pistachio are your options here, and they'll each easily satisfy your sweet tooth! 113 Ave. A
Best of NYC Soft Serve: Big Gay Ice Cream Shop (East Village)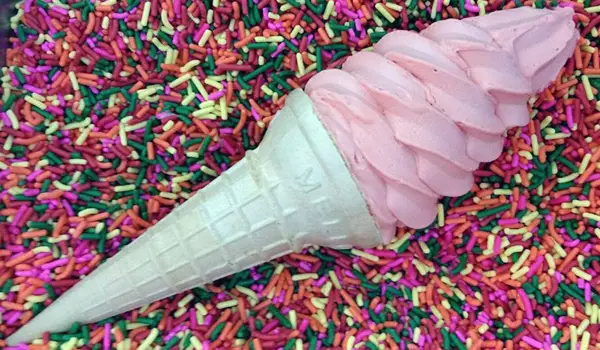 The soft serve at Big Gay Ice Cream Shop is tasty all on its own, but it's the toppings that make it a noteworthy stop on any visitor's list. The Bea Arthur, a local favorite, comes with vanilla soft serve covered in dulce de leche and crushed vanilla wafers. Also worth trying are the Salty Pimp (vanilla soft serve, dulce de leche, sea salt, and chocolate dip) and the Coco Cone (chocolate soft serve and curried coconut flakes). Additional location in the West Village. 125 E. 7th St., 212-533-9333, biggayicecream.com
Best of NYC Soft Serve: Momofuku Milk Bar (East Village)
Don't head to Momofuku expecting to get your typical soft serve swirl. Oh no, the flavors here are inspired by your breakfast cereal! The Cereal Milk Soft Serve is their most popular, made with milk, cornflakes, brown sugar, and salt, while the Fruit Cereal Milk puts a twist on it with a taste that will remind you of fruity pebbles. Additional locations in Midtown West, the Upper West Side, and Brooklyn. 251 E. 13th St., 347-577-9504, milkbarstore.com
Looking for Free Group Planning Services?
Get free advice on planning your group's trip to New York.
RESTAURANTS

Guy's American Kitchen & Bar is a dynamic restaurant introdu...

THEATER

A new musical following a wannabe rock star who poses as tea...

SHOPPING

DataVision is redefining retail with their new, fully intera...

SIGHTSEEING

Enjoy a narrated harbor tour including views of the Statue o...