At two New York City locations, Empire Steak House has perfected the classic combination of steak and scotch. Whether you're looking for a luxurious meal in Midtown East or West, Empire will have you covered with attentive service and tip-top ingredients, from jumbo shrimp cocktails to start through the tiramisu at the end of your meal. Brothers Russ, Jack, and Jeff Sinanaj opened Empire after training at Peter Luger Steakhouse; they show off their mastery with USDA Prime steaks that sizzle, sing, and satisfy. Check out Empire's offerings below!
Empire Steak House: The Steak

Black-and-blue, rare, medium, or well-done, the steaks are the showstoppers at Empire. Empire serves only USDA Prime beef, the highest quality of meat on the market. Their steaks are dry-aged on-premises, from the ribeye to the rack of lamb. One distinctive cut on the menu is the tomahawk, a bone-in ribeye with a rib left intact that arcs across the plate. Empire also serves the creme-de-la-creme of Japanese steaks, A5 Wagyu ribeyes, and tenderloins.


Thankfully, Empire's steaks are all massive, but their double portions of Porterhouse and Empire steaks are perfect for two people (they also have cuts good for 3 or 4 diners as well!). The sides of steamed broccoli and mashed potatoes make earthy and buttery companions to the steak, while you'll be asking for tureens of their signature sauce. Don't worry; they sell it by the bottle. 
Empire Steak House: The Surf
With an extensive selection of seafood, you might have trouble choosing some surf to go with your turf. Empire serves fantastic fried calamari, as well as a filling, delicious salmon entree. A classic surf and turf is yours for the taking as well: an 8-oz. filet mignon paired with 10-oz. lobster tail. Crab cakes and tuna tartare are other standout appetizers.
Empire Steak House: Scotch & Other Drinks
Whether you're a scotch aficionado or a complete novice, you'll be guided to the perfect single-malt scotch at Empire Steak House. Their list is around 100 strong and broken down by region, from the Speyside Glenlivets to the Lagavulins in Islay. Their whiskey and bourbon list is pretty impressive as well, as is their list of house specialty cocktails (go for the old fashioned).
As if all this weren't enough, Empire stocks over 400 varieties of wine! In the Midtown East location, the wine room with its tall ceilings and lit shelves can be reserved for private dining.
Empire Steak House: The Steals
Like many other restaurants in the Theater District, the original Empire Steakhouse offers a prix-fixe pre-theater menu. For $42.95 per person, you'll get three courses and a side dish with your entree. You can sample the soup of the day, enjoy a 12-oz. sirloin, and take bite after bite of their chocolate mousse cake.
While Restaurant Week won't be around for awhile, just note that Empire always participates in this city-wide event. For $26 at lunch and $42 for dinner, you can experience the unbeatable steaks, seafood, and other dishes at deep discounts. Keep an eye out!
Empire Steak House: The Spaces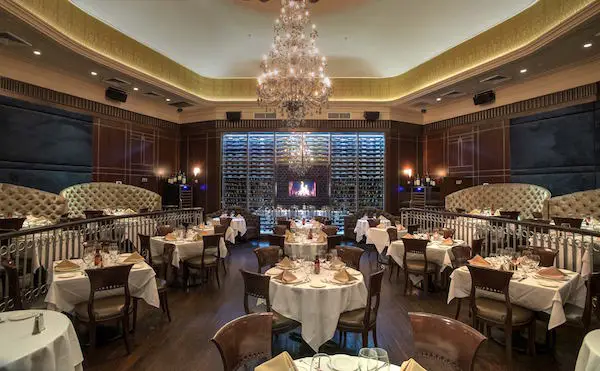 Empire Steak House at E. 50th Street. 
Both locations of Empire Steak House welcome you with white tablecloths, chandeliers, and plenty of space! Each is available for private events, whether you're looking to reserve a small party in either of its wine rooms or take over the entire space in the Theater District or Midtown East. The original location in the Theater District opened in 2013, while their new location opened in 2016 on East 50th Street in a former opera house/cabaret (you'll see it when you walk in the door).
Empire Steak House has two locations. Midtown East: 151 E. 50th St., 212-582-6900; Midtown West: 237 W. 54th St., 212-586-9700, empiresteakhousenyc.com.