If you're looking for fresh seafood, exquisite presentation, and perfectly soft rice, come to Midtown Manhattan's Suzuki and its accompanying sushi bar, Satsuki, which recently received a Michelin star! Here's a breakdown of what you'll find at Suzuki, Satsuki, and the bar called Three Pillars—and why you should book a table ASAP.

Kaiseki Introduction FIVE: Special Menu at Suzuki
Kaiseki is a fine-dining tradition in Japanese culinary culture. Typical courses include appetizer, soup, sashimi, a hot dish, and dessert. At Suzuki, Chef Takashi Yamamoto alters his recipes monthly, tailoring ingredients with the season for optimum fresh flavor. If you're new to the kaiseki experience, consider the Kaiseki Introduction FIVE prix fixe menu. Zensai is the course that starts you off, with steamed asparagus and herring-roe "komochi" seaweed; that's followed by assorted seasonal sashimi; Yuan-style grilled salmon; baby sardine rice pickles; red miso soup; and baby peach and yuzu jelly for dessert. This special chef's menu is just $50 and a great introduction to kaiseki dining.


More Kaiseki at Suzuki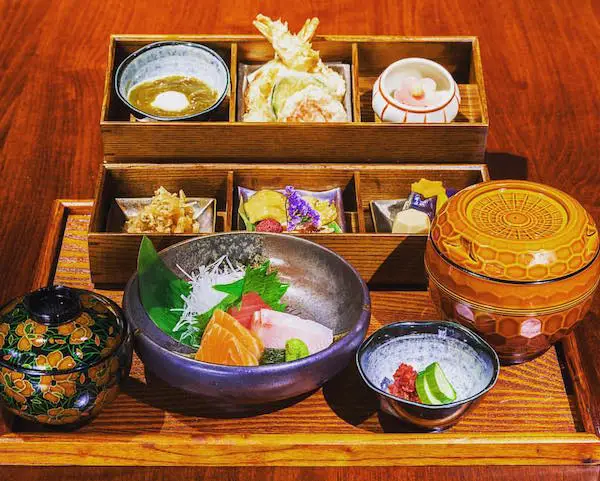 At Suzuki you will be treated to a diner's paradise as you sample each meticulously plated dish.
The sashimi gets high marks for fresh ingredients and fun, spherical presentation on the plate. Other dishes are decked with star-shaped garnishes or come nestled in little wooden stands. Whether you're an old hat with kaiseki or you have no idea what to expect, the gracious waitstaff will give you all the information you need to have the best meal possible.
Omakase at Satsuki
Outside Japan, New York has more Michelin-starred Japanese restaurants than any city in the world. Satsuki, the small sushi bar off the main dining room at Suzuki, was just awarded its own Michelin star. This confirms its status as a superb restaurant, with innovative dishes, interesting ingredients, and impeccable service.
Chefs Toshio Suzuki (for which Suzuki is named) and Kentaro Sawada craft unbelievable omakase sushi at this 10-seat counter. Omakase indicates a menu selected by the chef and includes several courses, prepared before your eyes, for maximum enjoyment. The great thing about omakase is you leave it up to the expert; no need to agonize over what to order! There are only two pre-fixe choices on the menu: the Full Omakase, and the less expensive sushi-only omakase. Favorite pieces of sushi include the marinated tuna and gizzard shad with kelp.
Drinks at Three Pillars
Come early to your reservation for a drink at Three Pillars. This intimate space (almost never crowded) offers unique cocktails to prepare you for the amazing meal you're about to eat—or grants you a peaceful happy hour after work. The most popular drink by far is the Fujiyuki, a mountain of ice in the middle of a dish, surrounded by liquid at the bottom that you drink through a straw. Also try the shochu and plum wine cocktail or a bottle of fine sake!
Suzuki, Satsuki, and Three Pillars are located at 114 W. 47th St. To make reservations at Suzuki, use Open Table, or call 212-278-0100. To book seats at Satsuki sushi bar, fill in this online form, or call 212-278-0047. For more information, visit suzukinyc.com.