Dive into a thrilling, mind-bending adventure at The Escape Game New York City! This new addition near Grand Central offers five unique escape rooms for your friends, your family, or your team. 
With 14 locations nationwide, The Escape Game has built a successful set of escape experiences with customized sets and exciting stories full of twists and turns. Have fun, use your brain, and work together as you follow clues to escape the room in 60 minutes. At the New York City location, you can escape one of the following five rooms: The Heist, Prison Break, Gold Rush, Playground, and Special Ops: Mysterious Market.


In The Heist, you and your friends will recover a stolen painting at an art museum. Prison Break, set in 1955, requires you to escape from a ruthless warden at a mysterious prison. Find a missing California prospector at the log cabin of Gold Rush, and design a final group project for school at the Playground. Special Ops: Mysterious Market turns you into a secret agent, exploring a marketplace full of secrets.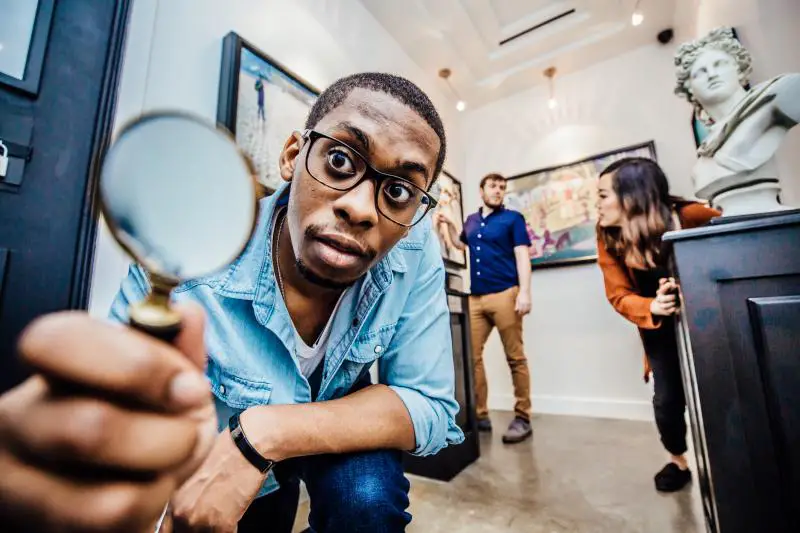 The Escape Game crafts its experiences with the guest first in mind. Each room's challenges require you to work as a group and bring out each person's skill set. You'll need analytical minds, imaginations, problem-solvers, communicators, and encouragers to solve the mystery. 
Each game is also given a difficulty rating out of ten. Playground, for example, is a 6/10 difficulty, while Prison Break is rated 9 out of 10. The Escape Game recommends its experiences for ages 13 and older.
Great for team-building-Escape Game's Special Ops: Mysterious Market.
The Escape Game also makes an ideal team-building activity for corporate groups. You'll use the strengths of each team member, learn about each other, and laugh along the way. If you'd like to book The Escape Game for a corporate event, you can even coordinate start times between rooms for a dose of competition. 
Book in advance for a single reservation, a small group, or the entire room. All experiences accommodate 8 guests maximum, except Playground, which has a 12-person capacity. If you'd like to book a large group for a party or corporate event, The Escape Game will gladly create an experience to suit everyone! Call The Escape Game at the number below for group reservations of 13 or more guests.
---
The Escape Game New York City is located at 295 Madison Ave. Call 917-970-1360 or visit theescapegame.com/newyorkcity to book your experience.