The Neustadt Collection of Tiffany Glass, located in Long Island City, Queens, seeks to preserve Louis C. Tiffany's contribution to American design and innovation. Tiffany's distinctive glass lamps and over 250,000 pieces of glass, collected at Neustadt, are open to the public for the first time ever! Twice a month, come experience an intimate, guided tour of the Tiffany Glass Archive, just a short ride from Grand Central.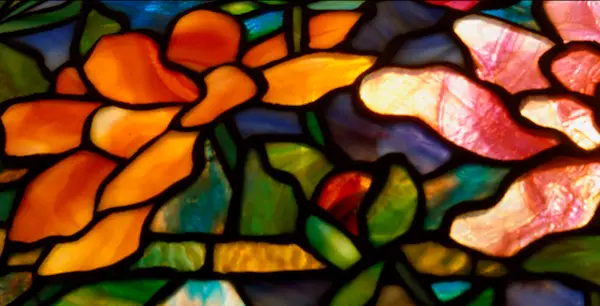 A floral pattern traditionally seen on Tiffany lamps. Photo: The Neustadt.
The Neustadt Collection also has a gallery of Tiffany glass at The Queens Museum. Right now, see Tiffany's Iridescence: Glass in Rainbow Hues in the museum, located just two miles from the former site of Tiffany Studios in Corona, Queens.


Louis Comfort Tiffany (1848-1933) was a pioneer of American artisanal design. Tiffany & Co., the world-renowned jeweller, was founded by his father Charles Lewis Tiffany. Louis Tiffany's company was responsible for a wide range of interior design elements during the Gilded Age and beyond, but it is known today for remarkable innovations in glass. Tiffany light fixtures and stained-glass windows adorned fine interiors such as the White House during the Arthur administration, Mark Twain's Connecticut residence, and churches across the nation.
Tiffany glass remains in the public consciousness today for its singular beauty. Tiffany and his staff sought to perfect techniques that created signature spots, splatters, drips, and swirls in the glass, as well as a shimmering iridescence that made his lamps, windows, and vases stand out all the more. The distinctive glass lampshades were composed of hundreds of tiny pieces of glass, crafted into mosaics picturing dragonflies, pond lilies, grapevines, and other lovely designs.
The Neustadt Collection in Long Island City, Queens, is the largest collection of Tiffany glass in the world. Egon and Hildegard Neustadt were an Austrian couple who immigrated to Queens in the early 20th century. Taking a shine to a Tiffany lamp in a secondhand shop, the couple bought the piece for just $12.50 in 1935, an era when Art Nouveau design like Tiffany's had fallen out of fashion. Over the next 50 years, the Neustadts amassed an enormous collection of Tiffany glass, including unused pieces of sheet glass and "glass jewels" from Tiffany Studios once the facility closed its doors.
More than 250,000 Tiffany glass pieces are on display in The Neustadt Collection. Instagram.
Now, you can explore the Neustadt Collection for yourself, even touching pieces of glass from Tiffany Studios. From December 2018 onward, Neustadt will open its doors twice a month for private tours for small groups. Up to 6 guests can experience the touch table of Tiffany glass, see antique light fixtures illuminated, and learn about Tiffany's innovative glass-making processes. Tours are $100 per guest. Reserve spots in advance on Eventbrite.
The Neustadt Collection also occupies a gallery at the Queens Museum. The exhibition Tiffany's Iridescence: Glass in Rainbow Hues is on view until October 6, 2019. Louis C. Tiffany went to great lengths to create opalescent pieces of glass for his designs, using chemical processes to achieve the shimmering effect he saw in the natural world on feathers, shells, and insects.
From Tiffany's Iridescence: Glass in Rainbow Hues at Queens Museum. Photo: Queens Museum.
"Tiffany's iridescent glass is a fusion of science and art," says Morgan Albahary, Assistant Curator at The Neustadt and curator of this exhibition. "It's easy to lose sight of the critical role chemistry played in its creation. As an organization devoted to exploring Tiffany's artistic processes and materials, we wanted to demystify how his iridescence was created and share the fascinating story behind these mesmerizing effects."
Not only did Louis Tiffany create vases, mosaics, and lighting pieces with his iridescent glass, but he also designed opal jewelry for his father's business at Tiffany & Co. Pieces of this jewelry will be on display at Tiffany's Iridescence, as well as art objects and a wide range of shimmering glass shards from the Neustadt Collection.
In 1897, a journalist described the discrete Tiffany Studios as a place "where no profane eye [was] allowed to penetrate." Now all eyes are welcome to view the processes of Tiffany Studios at Tiffany in Queens, a permanent exhibition that shares the Neustadt Gallery with Tiffany's Iridescence at Queens Museum.
On site at Tiffany Studios were glass furnaces, a bronze foundry, wood shop, studios, and workshops so that Tiffany oversaw all elements of production. A model and various video installations at Tiffany in Queens show how hundreds of small glass pieces are transformed into one of Tiffany's famous lampshades.
Tiffany's Iridescence: Glass in Rainbow Hues is on view now through October 2019 in The Neustadt Gallery at The Queens Museum, in concert with the ongoing exhibition Tiffany in Queens. The Queens Museum is open Wednesday through Sunday from 11am-5pm.
The Neustadt Collection of Tiffany Glass is located at 5-26 46th Avenue. Register for a guided tour of The Neustadt Collection at Eventbrite. Find more information about The Neustadt Collection at theneustadt.org. The Queens Museum is located at New York City Building in Flushing Meadows Corona Park. Call 718-592-9700 or visit queensmuseum.org for more information.