Another week brings some major stories—no in-person ball drop for New Year's, no Met Opera season—and also several opportunities for rebirth. Indoor dining is back today. New York's outdoor restaurant program will be made permanent and new rules will make cooler-weather dining easier. Reopenings continue, with tomorrow bringing us the return of the International Center of Photography's museum, the Jewish Museum, Color Factory, and the American Dream megamall. The Guggenheim comes back on Saturday. Boo at the Zoo returns to the Bronx Zoo on Thursday, and starting Saturday fall foliage cruises are back on Circle Line.

The city's daily coronavirus positive rate has ticked above 3%, although much of it can be sourced to 9 clusters across Brooklyn and Queens. It's a good reminder: we need to stay vigilant as the season shifts and patterns change. New York state is taking no chances, with international travelers from most nations now required to have 14-day quarantines. Arizona and Virginia are just off the quarantine list and Colorado has been added. New city efforts may help us stay one step ahead of the pandemic. NYC now has its own testing lab, which will drive down costs and response times, and a competition has been launched for designing a better at-home COVID test. Continuing innovation will get us out of this—read on for more links of interest.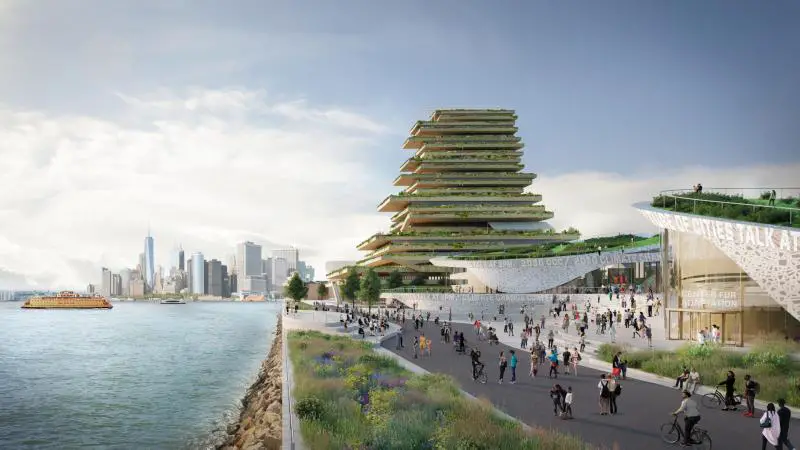 Rendering of Western Promenade – WXY architecture + urban design; Bloomimages.
NYC
Renderings revealed for a new climate research and educational complex on Governors Island (above).

Will yurts and heat lamps save NYC dining?

How NYC restaurants are preparing for the return of indoor dining.

Cake Boss's baking future in jeopardy after freak accident at home bowling alley.

HOTELS
Ian Schrager: coronavirus will not result in a "paradigm shift" in hospitality. 

Hotel profitability returns for much of the world, if not the U.S.

Negotiated room rates could drop 20-25% for U.S. hotels next year.

Room Mate Hotels providing free COVID testing for all guests.

Martinique New York on Broadway files for chapter 11 protection.

TRAVEL TRENDS
90% accurate results in 10 seconds: Finland to deploy coronavirus-sniffing dogs at Helsinki Airport.

Amazon launches virtual tour and activity program.
Tampa airport first in the U.S. to offer all passengers COVID testing.

WEBCAST
Tomorrow evening's "How I Miss Broadway" packs the high-wattage lineup of Audra McDonald, Danielle Brooks, Jessie Mueller, Neil Patrick Harris, and Hillary Clinton.

CLOSING TIME
Jazz haunt Jules Bistro shuts down after 27 years on St. Marks Place.

Amish Market in Tribeca—where pre-fame Cardi B cashiered—hangs it up after 21 years.

AKA Wall Street is gone for good.

Everything to Do NYC Facebook Group Post of the Week
City Guide's Facebook Group Everything to Do NYC continues to grow, adding over 100 members every week. The group shares insider info on what's going on in NYC, interacting with city visitors looking for recommendations. The group is active; this recent post has garnered 59 comments already:
Who has positive/uplifting news about recent experiences in the city?
Among the dispatches: the reopening of the Met, ARTECHOUSE, the Coney Island boardwalk, the Bronx Zoo, the Brooklyn Museum, Little Senegal in Harlem, the joy of MoMA without crowds, cheap hotel rooms, and a glass of champagne on the deck of Edge. You can check out the full response here. Other recent posts provide insight into what locals and visitors are thinking.
---
Want more on New York City tourism? Sign up for our free weekly Tourism Happenings newsletter. Just drop a line to ewolff@davlermedia.com.