Joe's Pub—a program of The Public Theater—will be hosting nightly performances April 18 through 28. Named for The Public's founder Joe Papp, the venue opened in 1998 and plays a vital role in The Public's mission of supporting young artists while providing established artists with an intimate space to perform and develop new work. With its intimate atmosphere and superior acoustics, Joe's Pub presents talent from all over the world.
The Schedule
April 18 The Public Theater and Onassis USA Present Xylouris White
Georgios Xylouris and Jim White and have been performing under the moniker Xylouris White for the last few years. Playing Cretan music of original and traditional composition, the band consists of Xylouris on Cretan laouto and vocals and White on drum kit. Renowned and loved by Cretans and Greeks at home and abroad, Xylouris has been playing professionally since age 12. Australian drummer White previously played with Dirty Three and Venom P Stinger. 7:30pm & 9:30pm, $20.
April 18 Rachael Sage and The Sequins: Pseudomyopia Album Release
Blurt described singer/songwriter, poet, and visual artist Rachael Sageas "the Carole King of her generation." Since founding her own label MPress Records, this multi-faceted talent has released an array of vibrant albums with poetic, image-rich lyrics. She has earned an international following for her sophisticated musicianship, soulful vocals, and improvisational audience interaction. Sage's new album Pseudomyopia is a cinematic, acoustic re-imagining of last year's critically acclaimed Myopia. Focusing on the concept of vision in all its many manifestations, Sage balances the political and the personal with depth and perspective. She explores topics from government surveillance to environmental protection, and female empowerment. Produced by Sage and Grammy winner Andy Zulla, Pseudomyopia was recently released by ILS/Caroline/Universal. Sage returns to Joe's Pub to celebrate with her longtime touring band The Sequins, featuring violinist Kelly Halloran (Tom Morello, Michael Franti); cellist Ward Williams (Sarah Bareilles, Howie Day); and drummer Andy Mac (Deni Bonet). There will be surprise guest appearances. 9:30pm, $15.
April 19 Carl Hancock Rux: Rux Revised
Twenty years ago, Carl Hancock Rux had the honor of being the first artist ever to perform at Joe's Pub—and to have later curated artists at Joe's including Toshi Reagon; Tamar-kali C Brown; Imani Uzuri; Queen Esther; Burnt Sugar; Helga Davis; Stephanie McKay; and others. To celebrate his inaugural show, Rux (always a collaborative performer) follows five studio albums with a live recording of a forthcoming EP Anima/Animus, which he describes as "classical electronic improvisational choral music." He daringly enlists an array of guest vocalists, and musicians including Grammy award winning drummer/multi-percusionist Will Calhoun; singer Ian Isiah (of Blood Orange fame), and violinist Daniel Bernard Roumain, among others. Special guests include Will Calhoun (electronic sampling; Korg Waverdrum, guitar pedals, and Mandala Drum); Ian Isaiah (vocals); Marcelle D. Lashley (vocals); James Brandon Lewis (sax); and Daniel Bernard Roumain (electronic violin, piano, and flute). 7pm, $20.
April 19 Pam Ann: Hi-Jack
Iconic international celebrity airhostess Pam Ann has certainly evolved since first leaving her hometown of Melbourne two decades ago. Pam—the alter-ego of Australian comedian-writer-producer Caroline Reid—has developed cult-status in America and abroad with her masterful portrayal of a brash international hostie. Her barbed wit has seen her fly many a risky route, negotiating the most politically incorrect paths with her blisteringly funny take on airlines and aircrew. Pam has a varied past of gigs—from crewing Elton John's private jet at his express request to sharing a stadium stage on a UK tour with Cher. 12am (midnight). $40.
April 20 Grace Kelly
As Grace Kelly defiantly reminds us on "The Other One," a standout number from her album Trying To Figure It Out, she's not looking to be like anyone else. "Got my own thing," she sings over the song's urban, trancelike groove. Although the singer and saxophone player has been acclaimed by critics and audiences alike as a jazz musician, the track's chorus, haunting keyboard hook, and brittle electro edge show an artist interested only in playing what she loves. At only 23 years old, the Massachusetts-born artist is a seven-time winner of the Downbeat critics poll (as a rising star in the alto sax category). She recorded her first album, Dreamingat 12. At 14, she received the first of her ASCAP Foundation awards for her composition "Every Road I Walked" and was invited to perform with the Boston Pops. For the occasion, she wrote her first full orchestral arrangement, adapting the award-winning piece. In 2009, Kelly guested with the Jazz at Lincoln Center Orchestra as part of the events surrounding Barack Obama's inauguration celebration at the request of the ensemble's director, Wynton Marsalis. 7pm, $35
April 20 Jeremy Dutcher
Performer, composer, activist, and musicologist. These roles are all infused into Jeremy Dutcher's art and way of life. His music transcends boundaries. It's unapologetically playful in its incorporation of classical influences, full of reverence for the traditional songs of his home, and teeming with the urgency of modern-day struggles of resistance. A member of Tobique First Nation in New Brunswick, the talent first did music studies in Halifax before landing an opportunity to work in the archives at the Canadian Museum of History, transcribing Wolastoq songs from 1907 wax cylinders. 9:30pm, $20
April 21 Joanna Wallfisch
Internationally acclaimed singer-songwriter and multi-instrumentalist Joanna Wallfisch celebrates the release of her fifth solo record, Far Away From Any Place Called Home—a song-cycle that tells a haunting and majestic story of her solo travels down the west coast of America by bicycle. The songs, woven seamlessly together with spoken word (inclusive of voice memos from the road and people she met) and a backdrop of stunning imagery and musical soundscapes, reflect on her profound encounters with humanity and nature. Wallfisch invites the listener to travel with her on a journey both existential and viscerally real. 7pm, $15.
April 21 Scream Along with Billy: The Decline and Fall of the Ramen Empire
To celebrate 10 years at Joe's Pub, this show will boast a roster of special guests and feature highlights from past shows—most of them being staged for the first time since the original concerts. 9:30pm, $15 Advance/$20 Door.
April 21 Jay Branna
A Texas native turned New Yorker, Jay Branna is an authentic, solo singer/songwriter who travels and writes from the heart. He's been playing his sweet, sad folk songs—tempered with a healthy dose of humor—worldwide since 2006. He's also appeared as an actor in John Cameron Mitchell's indie film Shortbus, in which his song "Soda Shop" was the highest selling on the film's soundtrack. Brannan has released a string of albums, all of which topped the iTunes Singer/Songwriter & Billboard Heatseekers charts: goddamned, produced by Will Golden (Meiko, Michelle Branch); In Living Cover, a collection of two originals and seven covers; Rob Me Blind, produced by the legendary David Kahne (Regina Spektor, The Bangles, and Paul McCartney); Around the World in 80 Jays, a collection of nine international cover songs spanning six languages; and, Always, Then, & Now, his latest full-length album of originals. 7pm, $2o.
April 22 Lea Anderson
Through her own rhythm and blues, Lea Anderson aims to create an intimate connection between herself and anyone who experiences her fluid soprano sound. Versatile, she can be acoustic, with a piano, supplemented with tracks, or with her four-piece band. Regardless, Anderson is always equipped with her flute, which was handed down to her by her mother. Her music is a timeless entity, which provides listeners with sounds enlaced with heartfelt melodies, strong vocals, and lyrics that narrate past heartbreaks, current happiness, self-love, and hopes for equality. 9:30pm, $15.
April 23 Max Vernon: Existential Life Crisis Lullaby
Described by The New Yorker as "equal parts Bohemia and Broadway," Max Vernon has emerged as a singular and eccentric voice in musical theatre. He was granted the Lucille Lortel Award for Best Musical and received 3 Drama-Desk Nominations, a Jonathan Larson Grant, and the Richard Rodgers award for his musicals The View UpStairs and KPOP, both of which had critically-acclaimed extended Off-Broadway runs last year. Following a sold-out debut at the Kennedy Center last year, he now holds court at Joe's Pub with his signature high spectacle, high fashion, and high belted F sharps. Featuring a cast of Broadway stars and Downtown divas, Existential Life Crisis Lullabyis a celebration of tattooed ladies, Korean popstars, 70's queer culture, the apocalypse, sentient robots, aging club kids, homicidal hipster cults, and ... love. Special guests include Andy Mientus; Frenchie Davis; Jo Lampert; Michael Longoria; Lauren Pritchard; Sophia Ramos; and Fancy Feast. 7pm, $20.
April 23 Bridget Everett & The Tender Moments
New York's downtown darling Bridget Everett and her band, The Tender Moments return to the stage. Armed with a bottle of chardonnay, Everett will croon her favorite love songs and share stories about the men that made her feel. 9:30pm. Additional dates, May 13, 19, 20, 21, $40.
April 25-April 27 ZviDance: On the Road Presented in Association with Dancenow's 2019 Dancemopolitan Featured Artists Series
On the Road, inspired by Jack Kerouac's novel of the same title, is a multimedia dance piece that contemplates the upheaval of the 1960's and that generation's notions of social rebellion. The road trip is a metaphor of an improvised life and having no ties to anything. Zvi Gotheiner's On the Road is a total celebration of individuality. Performed against the backdrop of Joshua Higgason's hypnotic video designs, On the Road is set to Jukka Rintamki's distinctive score. The video by Higgason was shot during a two-week road trip through the rust belt of America with four of ZviDance's dancers improvising movement. Choreography byGotheiner in collaboration with the dancers; music by Jukka Rintamki; video by Josh Higgason; and, performed by ZviDance. 7pm, $20 Advance/$25 Door.
April 25 Marie-Claire: From Deep River to Mood Indigo
Marie-Claire Giraud (vocals/songwriter) presents From Deep River to Mood Indigo, a collaborative production featuring Eli Yamin on piano, Bob Stewart(tuba/composer) and playwright, Francesca Cinelli as well as Curtis Stewart on violin, Tommy Campbell on drums, and Anthony Laciura who serves as Master Of Ceremony. The audience will travel on an epic journey through art written, composed, or inspired by Black culture. It runs the gamut from spirituals to opera to jazz and beyond. 9:30pm, $30.
April 27-28 Justin Sayre: Ravenswood Manor
Justin Sayre returns with its camp-horror-soap-opera, Ravenswood Manor. We return to the small New England town of Ravenswood, where frightening and unusual things are happening with more frequency. The movie-star, Bettina Doors, has returned to her childhood home, under mysterious circumstances and a veil. There's a werewolf on the loose and rumblings in the seedy homosexual underground, all while the country gets ready to elect a new president in the summer of 1979. The first installment covered the first six episodes, and Ravenswood Manor returns with the final six of season one. All will be revealed and recapped with Jeff Hiller, Jenn Harris, Rob Maitner, Nicole Spiezio, and Aaron Jackon. Directed by Ellie Heyman with music by Henry Koperski. Saturday night will present episodes 7 through 9; Sunday night, episodes 10 through 12. 9:3pm, $25
April 28 Arooj Aftab, Vijay Iyer, and Shazad Ismaily Trio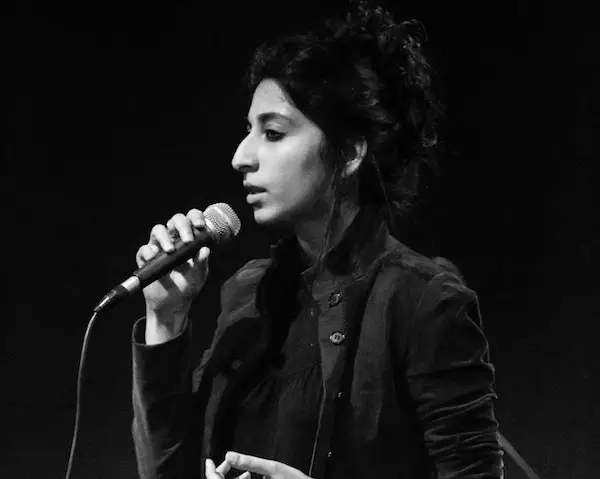 Arooj Aftab
Arooj Aftab is a neo-Sufi and minimalist composer/singer who gracefully experiments and bends the lines between ancient mystic poetry, South Asian classical, jazz, soul, and electronic dreamscape musics. In 2018, Aftab was named among NPR's 200 Greatest Songs by 21st Century Women, and The New York Times'25 Best Classical Songs of 2018. Aftab has opened for Mitski at the Brooklyn Steel, has performed at MoMa's Summer Series, and will be performing at the Brooklyn Museum's First Saturday in May.American jazz pianist, composer, bandleader, producer, electronic musician, and writer Vijay Iyeris a 2013 MacArthur Fellow. In 2014, he became a Franklin D. and Florence Rosenblatt Professor of the Arts at Harvard University. Shahzad Ismaily is a multi-instrumentalist composer, studio owner, and film scorer who has recorded and performed with an incredibly diverse assemblage of musicians, including Laurie Anderson and Lou Reed, Tom Waits, and Jolie Holland. 1pm, $20.
For tickets: joespub.com; 212-967-7555; or in person at The Public Theater Box Office, 425 Lafayette St.,(opens daily at 2 p.m.) Please note that there is a $12 food/two (2) drink minimum per person per show, unless otherwise noted.