Looking for Valentine's date ideas in NYC? The natural glamor of New York City lends itself to romance. We've got a bunch of great ideas, including Valentine's concerts, restaurants, and off-beat suggestions.
Valentine's Date Ideas NYC: Live Shows
Grammy winner Marc Cohn ("Walking in Memphis") can be found at City Winery New York City for two nights of The 10th Annual Marc Cohn Valentines Day Show with Shawn Colvin. Cohn's unique blend of rhythm and blues, soul, and gospel rings out on Monday, February 14th and Tuesday the 15th.
Comedian Tom Thakkar, as seen on "Comedy Central's Stand Up Presents," "This Week at the Comedy Cellar," "CONAN," and as the host of Comedy Central's "Stand Up with Tom Thakkar." 
For some Valentine's laughs, head to comedy legend Carolines on Broadway. This Times Square institution offers two sets of My Funny Valentine on the 14th, with a showcase of the city's best comics handpicked by Carolines on Broadway staff.
Valentine's Date Ideas NYC: Restaurants
Filet mignon at Benjamin.
Fine food and sophistication aplenty make it easy to have a special night out in NYC. From beautifully marbled cuts of dry-aged beef and succulent seafood to refined service and charm, Benjamin Prime in midtown is perfect for an intimate lunch or dinner. Their Valentine's prix fixe includes a champagne toast and an elaborate surf 'n' turf with USDA Prime filet mignon, lobster, shrimp, and king crab. Sibling spot Benjamin Steakhouse also has a holiday prix fixe, with rib eye, rack of lamb, and Chilean sea bass among the options. Also part of the Benjamin family is The Sea Fire Grill, serving succulent seafood options in a three-course prix fixe plus a vegetable side.
In Times Square, Bacall's Family Steakhouse brings '40s Hollywood vibes together with historic Big Apple trappings—nightly sing-alongs from Dani Luv add a healthy dose of New York energy. Havana Central goes upbeat in an atmosphere of classic Havana, with dishes like ropa vieja to match. For steaks and chops (Porterhouse, bone-in NY strip, filet mignon) and fresh seafood, Prime Catch NYC is your pick. A Restaurant Row fave, Jasmine's Caribbean Cuisine provides an escape from the city with savory dishes and fruit-filled cocktails. Look for a live DJ and special Valentine's entrees like blackened Chilean sea bass, jerk leg of lamb, and grilled steak 'n' lobster tail.
Nearby in Hell's Kitchen, authentic Mexican restaurant and cocktail bar Casa del Toro boasts imaginative cuisine to a vibrant setting. Redefining French dining with elegant style, Le Privé is the neighborhood bistro you'll never want to leave. They've got a special Valentine's prix fixe with filet mignon and roasted duck breast among the options.
Theater District landmark (it was Frank Sinatra's favorite!) Patsy's Italian Restaurant has been family-run since 1944. For a romantic night out, Executive Chef and Co-Owner Sal Scognamillo will serve up timeless Italian favorites. "A farmhouse in the middle of Manhattan," La Masseria presents classic dishes from the Puglia region of Italy, utilizing the freshest natural ingredients. (Sibling spot Masseria Dei Vini offers a similar mix of warmth and classic cuisine.) Famous for USDA prime-aged beef, fresh seafood, fine wine, and elegant desserts, Morton's is an ideal place for a memorable dinner. From Friday through Valentine's Day look for a three-course dinner highlighted by a Chateaubriand for Two, complemented by lobster pastas, salad or lobster bisque to start, and a choice of decadent desserts.
Cucina 8½ offers an elevated experience of rustic Italian in midtown. Chef John Villa's menu is inspired by New York and Italian culinary traditions, with many tableside presentations. On Valentine's Day Weekend and Valentine's Day itself look for the regular a la carte menu plus the option for a luxurious Truffle Menu.
On the Upper West Side, The Ribbon offers a quintessential New York dining experience with spit-roasted meats, famed fried chicken, and an elegant duck confit. At Sugar Bar, opened by legendary singing duo Nick Ashford & Valerie Simpson, you can dine down on Southern-accented American fare like pork chops, crispy chicken, and seafood stew.
Valentine's Date Ideas NYC: Broadway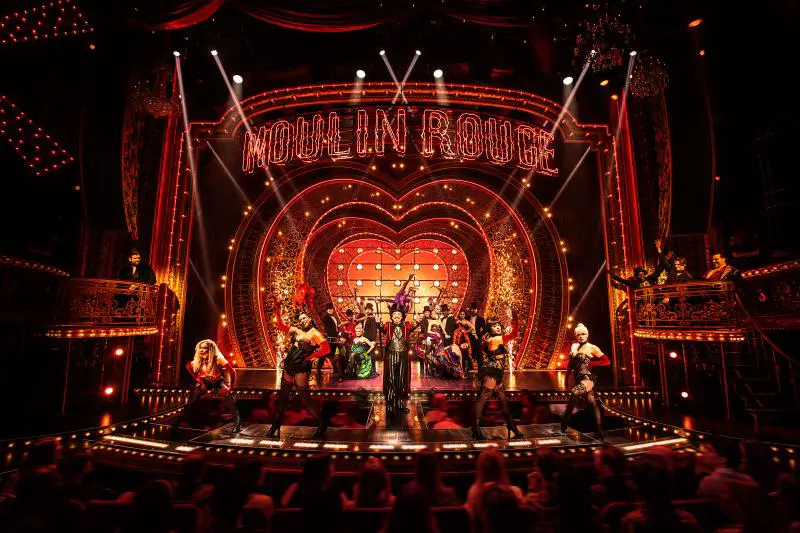 Moulin Rouge. Photo by Matthew Murphy.
For Valentine's on the Great White Way, here are our picks for romantic musicals: The Music Man. This classic is the talk of the town thanks to big buzz stars Hugh Jackman and Sutton Foster, whose characters—con-man Harold Hill and librarian Marian Paroo—fall happily ever after in love in small-town America. The Phantom of the Opera. Mystery and seduction around every gloriously gothic corner. Add in Andrew Lloyd Webber's iconic "Music of the Night" and it's no surprise this winner of 1988's Best Musical Tony is still with us. Hadestown. Two haunting love stories from Greek myth intertwine: young lovers Orpheus and Eurydice plus Hades, king of the Underworld and his earth-hungry queen, Persephone. Set in New Orleans and Hades' realm, color this one rapturous. Moulin Rouge! The Musical. Can-can dancers are out in full force for this brilliant stage adaptation of the Baz Lurhman/Nicole Kidman/Ewan McGregor film. An unforgettable jukebox score slides silkily into the show's passionate love story. —Griffin Miller
Valentine's Date Ideas NYC: Dinner Cruises
Valentine's is better on the water. For an unforgettable New York experience, join City Cruises for a holiday dinner cruise on the East and Hudson Rivers. From Friday, February 12th through Valentine's Day itself on Monday a range of packages is available, making it easy to customize the perfect outing with your sweetheart. Stunning views await from the glass-enclosed deck of the European-inspired Bateaux. You'll be served a plated meal in a festive atmosphere. Elegant Premier Dinner Cruises over Valentine's Day weekend will have you taking in the sights on the Hudson and East Rivers for three hours. Dinner cruises include cocktails, a live band with a female vocalist, and plated 3-course meals with freshly prepared salads, entrees, and desserts. Another possibility for great dining and views to match is on Spirit of New York. The Valentine's Day New York Signature Dinner Cruise is two and a half hours, with live DJ entertainment, dancing, cocktails, and a buffet dinner loaded up with fresh salads, entrees, and desserts. To make a special occasion even more special, City Cruises offers three ticket packages to choose from for their Valentine's dinner cruises. Silver comes with a rose and a glass of champagne/sparkling wine. Go for the Gold and you can add a guaranteed window table to the perks of a Silver package. Platinum goes all out, with a bottle of sparkling wine, a half dozen roses, a keepsake champagne flute, and a guaranteed window table. Toast to the most romantic day of the year with City Cruises! citycruises.com/newyork
Valentine's Date Ideas NYC: Museum of Ice Cream
Celebrate love in all forms with two-for-one tickets at the Museum of Ice Cream. Beginning Friday, February 11th through Valentine's Day itself, MOIC NYC will offer BOGO to explore 13 multi-sensory installations over three floors. The venue will be in the spirit of the season with treats like candy hearts, holiday sprinkles, and pink scoops, plus Valentine's Day trivia with Hershey's Kisses and engaging crafts. Visitors are encouraged to bring in old but functioning cell phones to be donated to the National Coalition Against Domestic Violence in exchange for a free scoop in the café. The Valentine's Day experience will be filled with interactive moments, from writing messages of love on postcards to tasting as many Valentine's Day treats as you'd like! Guests will also play Where Should We Begin—A Game of Stories by Esther Perel, designed to inspire playfulness, storytelling, and meaningful engagement. The MOIC Cafe will feature special cocktails and treats celebrating the holiday, including a Love Potion Cocktail and the Valentine's Day "Let's Not Split" banana milkshake.
Valentine's Date Ideas NYC: Shopping Outing
Every Sunday on the Upper West Side you can check out Grand Bazaar NYC, the city's largest curated market—and most distinctive! This Sunday is the Valentine's Sweetheart Pop-up, where you'll find Valentine sweets, hand-drawn cards, one-of-a-kind jewelry, hand-poured scented candles, and other treasures to make your sweetheart smile. Browse independent artists, designers, craft-makers, and antique and vintage dealers, plus tasty artisanal bites. 10am-5pm.
Valentine's Date Ideas NYC: A Valentine's Scare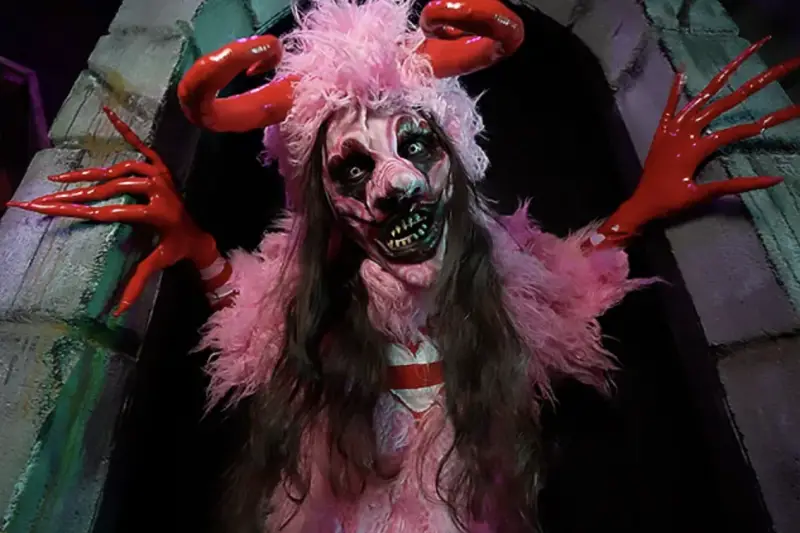 How about a scare for Valentine's? The Valentine Haunt runs Friday through Monday, with two levels of scare to choose from:  mild before 6:30pm and intense after 7pm. The latter features live actors, while the mild relies on animation and special effects. Multiple packages are available, starting with basic entry and working up to a three-course dinner and haunted house combination. At the jekyll and hyde club in Greenwich Village.
Valentine's Date Ideas NYC: Love at the Center
Rockefeller Center is again offering heart-warming activations and giveaways, as well as limited-edition items and edible treats, throughout February as part of Love at the Center. On Valentine's Day, famed botanical artist Lewis Miller will return with a new iteration of his Flower Flash, decorating a 23-foot, 14,000-pound backhoe on Rockefeller Plaza with an overflow of exquisite flowers. The festivities will continue with a surprise from chocolatier Raaka on the Plaza, and themed activations by Tiffany & Co., including an on-site floral giveaway and the illumination of Rockefeller Center in "Tiffany blue." Additionally, in partnership with The Salvation Army, the Center will present the Love Beyond Valentine's Day interactive experience, inspiring guests to perform acts of love for their community.
Valentine's Date Ideas NYC: The Institute of Culinary Education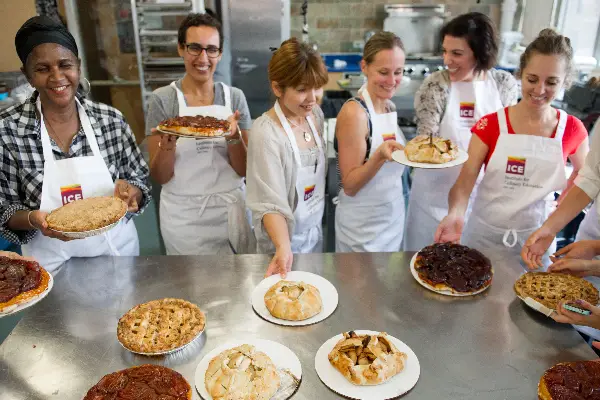 For an offbeat date or the chance to expand your horizons, look to the recreational classes offered by the Institute of Culinary Education downtown. Classes are taught by professional chef-instructors who are experts on the topics at hand. Next Monday is a Valentine's Day Champagne Gala, with sparkling wine tastings and a buffet of classic luxury food to finish. The full calendar of recreational classes is here.
Valentine's Date Ideas NYC: Walking Tour
Central Park is one of the city's most romantic stretches. This Saturday the 12th and Monday the 14th get the most out of it with the "Sweetheart Stroll Tour." Along the way there will be opportunities to enjoy a hot drink and grab the perfect memento photograph.
Valentine's Date Ideas NYC: Love in Times Square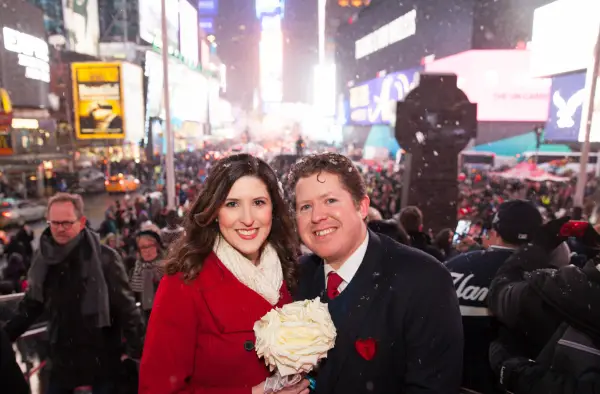 Photo: Amy Hart for Times Square Alliance.
This Valentine's Day, the Times Square Alliance will host a celebration of love and romance at a large vow renewal ceremony on the iconic Red Steps in Times Square on Monday, February 14th, at 6pm. The ceremony is free and open to people of all ages, genders, religions, races, and backgrounds. Kicking off the ceremony will be a comic from Carolines on Broadway's February 14 My Funny Valentine shows and 5 lucky winners will receive vouchers for a pair of tickets to future shows. As the vow renewal concludes, official Times Square confetti will flutter around the participants. Register here.
 
As the lovebirds renew their vows, they will overlook the winner of this year's 14th annual Love in Times Square Design Competition: "Bloom" by Habitat Workshop.  From afar, Bloom will resemble a pavilion — a circular roof supported by a series of interlocked red and white PVC pipes. From above, it blooms from the center with an arrangement of pixelated hearts. And from below, it becomes a buoyant cloudscape where the pipes rise overhead as vaulted portals allowing light to peek through from all directions.