10 Great Restaurants to Try In and Around Grand Central
February 16, 2018 - by Merrill Lee Girardeau
Grand Central Terminal is a bundle of contradictions. It's a tourist attraction that's also one of the busiest train stations in the world. Hundreds of thousands of people hurry back and forth to catch their trains, while the rest stand perfectly still, heads tilted to the twinkling constellations on the ceiling. Sure, this causes plenty of commuter-tourist collisions, but it's also why it can be difficult to find a restful eatery in the area that also serves quality food. We've rounded up the best spots in and around Grand Central, whether you're a stalwart, workaday New Yorker or a newbie stargazer—or somewhere in between.
Best Restaurants Near Grand Central: The Sea Fire Grill
Impeccable seafood is all yours at The Sea Fire Grill. From the scallops to grilled octopus to the halibut to the sea bass to lobster mac 'n cheese, every bite is fresh and flavorful. Non-seafood offerings like bone-in ribeye and rack of Colorado lamb are equally high-quality dishes to enjoy with coworkers before your commute or on a date. If you can fit in dessert, try the creme brulee. 158 E. 48th St., 212-935-3785, theseafiregrill.com
Best Restaurants Near Grand Central: Darbar Fine Indian Cuisine
Some of the best Indian food around Grand Central can be found on East 46th and Lexington at Darbar. Let the courteous wait staff point serve you some of the best lamb rogan josh and chicken tikka masala you've ever tasted. A house specialty you can't miss is the reshmi kebab, which is succulent grilled chicken served over rice. Don't skimp on the naan, either! 152 E. 46th St, 212-681-4500, darbarny.com
Best Restaurants Near Grand Central: Xi'an Famous Foods
Locals love Xi'an Famous Foods for two reasons: ubiquity and low prices. But this popular chain isn't only a cheap convenience; the food is fantastic. Come for hand-ripped noodles with a pleasantly chewy texture, whether in the lamb cumin soup or stir-fried cold skin noodles. Note that Xi'an is best suited for a quick meal or take-out, as seating is very limited. 24 W. 45th St., xianfoods.com
Best Restaurants Near Grand Central: Morton's The Steakhouse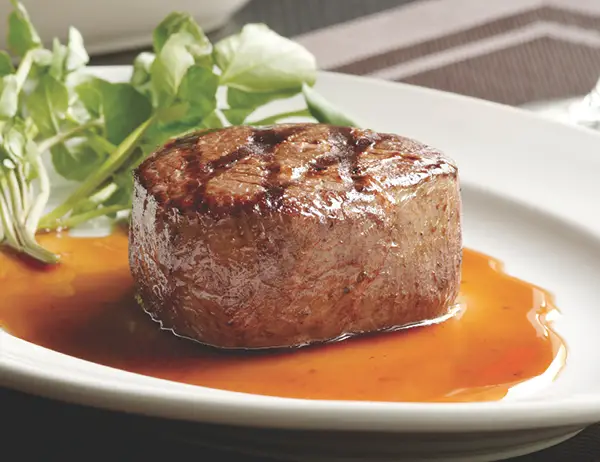 Morton's The Steakhouse on 45th Street and 5th Avenue specializes in delicious preparations of USDA Prime, dry-aged steaks. Two all-around winners are the fall-apart filet mignon and the hearty Chicago-style bone-in ribeye. These are expertly paired with sides like bacon macaroni and cheese, pan-fried potatoes Lyonnaise, and Chicago-style horseradish mashed potatoes. Morton's accommodates business meetings, dates, and private parties with spot-on service and catering. 551 Fifth Ave., 212-972-3315, mortons.com
Best Restaurants Near Grand Central: Aburiya Kinnosuke
An assuming restaurant on 45th Street, Aburiya Kinnosuke lies in wait for true fans of Japanese Izakaya cooking. Come take a break at this peaceful dining room and relish the homemade tofu, silk-smooth sashimi, wagyu beef, and sauteed noodle. Plus the ultimate essential: plum wine. 213 E. 45th St., 212-867-5454, aburiyakinnosuke.com
Best Restaurants Near Grand Central: La Palapa at UrbanSpace Vanderbilt
UrbanSpace Vanderbilt is the brand-new food court one block north of Grand Central. It's extremely busy during lunch hours Monday through Friday—and for good reason. It's like all the best food trucks gathered in one spot, an impression bolstered by the limited seating at communal picnic tables in the middle of the space. You'll find some of the city's best homegrown eateries there, from Delaney's Chicken to Dough to Maiden Lane to Roberta's pizza. If we have to choose, we'll go tacos every time. East Village treasure La Palapa has a counter in UrbanSpace, with a selection of tacos for breakfast, lunch, and dinner. Vanderbilt Ave. & E. 45th St., urbanspacenyc.com
Best Restaurants Near Grand Central: Grand Central Oyster Bar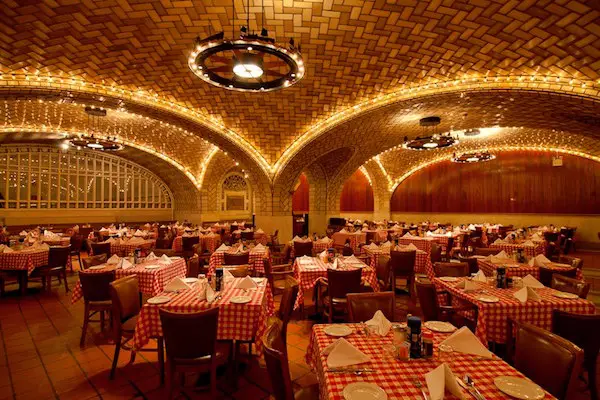 The Grand Central Oyster Bar with its vaulted ceilings and low lighting has been there since 1913. In addition to being filmed and photographed endlessly, this lovely dining room serves a bevy of fresh oysters (broken down on the menu by region) and other dynamite seafood dishes. Come for discounted oysters and drinks at happy hour, 4:30-7pm Monday through Wednesday and 1-5pm Saturday. 89 E. 42nd St., 212-490-6650, oysterbarny.com
Best Restaurants Near Grand Central: Empire Steak House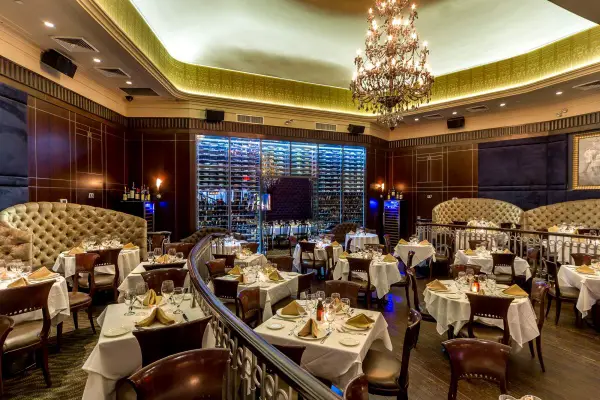 Built by a trio of brothers who learned their trade at the legendary Peter Luger Steakhouse, Empire Steak House shows off the finest cuts of steaks, the freshest seafood, and a premium selection of wine. The Midtown East location reflects the elegant 1920s opera house that once filled the space, conveniently close to Grand Central. 151 E. 50th St., 212-582-6900, empiresteakhousenyc.com
Best Restaurants Near Grand Central: Benjamin Steakhouse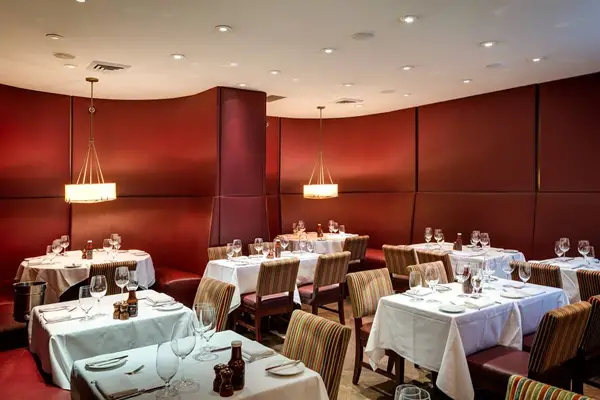 A fine steakhouse on East 41st, Benjamin Steakhouse is a perfect option for breakfast, lunch, and dinner. Their dry-aged steaks, from ribeye to filet mignon to veal chop, pair perfectly with a glass of wine and a side of mashed potatoes. Their seafood options also deserve a taste, from the lobster bisque to the baked clams. Whether enjoying a martini after work or a business breakfast, be sure to order the sumptuous Canadian bacon to share (or not!). 52 E. 41st St., 212-297-9177, benjaminsteakhouse.com
Best Restaurants Near Grand Central: Benjamin Steakhouse Prime

A sister restaurant to Benjamin Steakhouse, Benjamin Steakhouse Prime is a more intimate iteration with food that's equally as tasty—particularly the steak. Go for the strip loin tartare, American Ultra Wagyu New York Strip as your main, lobster mac 'n cheese, and pecan pie with ice cream. 23 E. 40th St., 212-338-0818, benjaminsteakhouse.com

Looking for Free Group Planning Services?
Get free advice on planning your group's trip to New York.
RESTAURANTS

Multi-concept restaurant offering modern Japanese cuisine, a...

THEATER

In a heartbeat, 38 planes with 6,579 passengers were strand...

SHOPPING

The sweetest experience in Times Square!...

SIGHTSEEING

The only provider of ferry transportation to the Statue of L...