Where to Eat Near the Javits Center
February 27, 2019 - by Merrill Lee Girardeau
If you have a work conference coming up in New York, chances are it'll be at the Javits Center. Located at West 34th and 11th Avenue, this convention center hosts gigantic events like New York Comic Con, industry trade shows, and graduations. Javits is, however, sequestered on the edge of Midtown West, penned in by the Lincoln Tunnel, Port Authority, West Side Highway, and parking lots. Sure, there's a food court inside, but if you want a true break from your event, take a walk to Hell's Kitchen or Chelsea for some great eats. We've rounded up 11 of them, arranged from closest to farthest from the Javits Center.
Photo: Javits Center Facebook
Korilla BBQ
You won't have to walk far for some very good New York street food. Rave-worthy taco truck Korilla BBQ, serving Korean-Mexican fusion, has set up a permanent shop in the food court at Javits on Level 1. If you have back-to-back appointments and only a few minutes to spare, spend them on one of Korilla's burritos, rice bowls, or salads. Extra kimchi and korilla sauce recommended. Level 1 at The Javits Center, 655 W. 34th St., korillabbq.com
Porchlight
You can't go wrong with a Danny Meyer restaurant. The New York restaurateur behind Shake Shack and Union Square Cafe has established this Southern-inspired bar and restaurant on 11th Avenue at West 28th. Porchlight specializes in a surprisingly long slate of craft cocktails like the Tommy Pickles ("This Rugrat's more amazing than Reptar on ice," says the menu). The food's not bad either, with Southern snacks like hush puppies and larger plates like the bison burger. There's also a game room in the back for added fun. In keeping with Meyer's approach to hospitality, Porchlight is a non-tipping restaurant. 271 11th Ave., 212-981-6188, porchlightbar.com
Tavola
Tavola brings quaint neighborhood vibes to an area that's pretty low on charm. This Italian bistro is an intimate space on Ninth Avenue, just a 10-minute walk from Javits. Tavola is nice enough for dinner, but not so nice that you can't sneak in and out for lunch. Come here for a wood oven-fired Neapolitan pizza and a glass of wine after (or during) your day of shop talk. Unlike other Italian spots in the city, Tavola is unique for its very good gluten-free pasta. 488 Ninth Ave., 212-273-1181, tavolahellskitchen.com
Gotham West Market
Located on 11th Avenue at West 44th Street, the sleek Gotham West Market is an ultra-west-sider's dream come true. This new food hall contains six counters manned by six amazing vendors. There's Italian at dell'anima, seafood at Seamore's, pizza at Corner Slice, Shanghai street food at Jianbing Company, ramen at Ivan Ramen, and ice cream at Ample Hills Creamery. There are communal tables in the center of the space so that you and your conference friends can choose different options and still eat together. 600 11th Ave., 212-582-7940, gothamwestmarket.com
The Marshal
The Marshal serves excellent farm-to-table cuisine from a cozy dining room on Tenth Avenue. If sustainability and seasonality are important to you—or if you like your food prepared in a wood-fired oven—this place is a must-try. Don't skip the local beverages like Oh Bee-Have, made with Catskills honey and rye. Other standouts include apple and sunchoke salad with bee pollen and the signature wood oven-roasted meatloaf with local bleu cheese. The Marshal is also a great weekend brunch pick if you're staying nearby. 628 Tenth Ave., 212-582-6300, the-marshal.com
Pio Pio 8
Pio Pio specializes in Peruvian food, meaning it's all about the chicken. Order the Matador combo for the table, plus some pisco cocktails and sangria at this lively spot on 10th Avenue. The Matador gives you all the goods you need: a whole rotisserie chicken, Pio Pio's special green sauce, avocado salad, fries, and plantains. When you leave, you'll know why the restaurant's nickname is casa alegre, the cheerful house. 604 Tenth Ave, 212-459-2929; piopio.com
Tabata Ramen
Tabata serves 13 different kinds of ramen at its small shop on 40th Street and Ninth Avenue. This is a great place to dash for lunch and people-watch busy New Yorkers on their lunch hour. Sit at the long counter and enjoy your bowl of noodles with flavorful broth. There's an additional location on Eighth Avenue and 38th Street. Tabata: 540 Ninth Ave., 212-290-7691; Tabata 2: 557 Eighth Ave.; 212-465-2418, tabatanewyork.com
Underwest Donuts
This pick is for the culinary adventurers, and/or those willing to walk a bit for legendary donuts. Underwest Donuts is located inside a car wash (!) along the West Side Highway, an unlikely venue for gourmet sweets. The donuts come in flavors like espresso bean, maple waffle, and the Carwash (vanilla lavender). If you trek all the way here, be a pal and bring a box back with you to Javits. 638 W. 47th St., 212-317-2359, underwestdonuts.com
Esca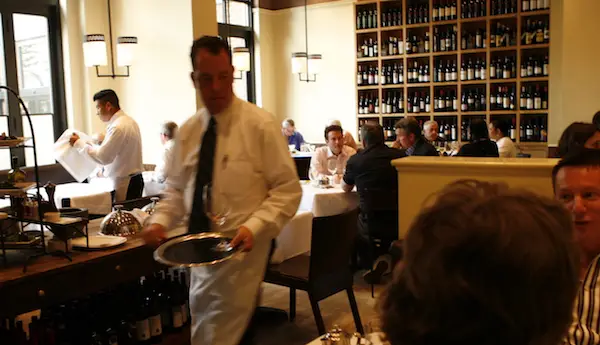 An upscale choice on 43rd Street, Esca serves Italian seafood dishes from chef Dave Pasternack. The New York Times called the chef a "fish whisperer" for his magic with a wide array of crudo, seafood pastas, and mains like salt-crusted branzino. From 4:30-5:45pm, take advantage of Esca's pre-theater menu of 3 courses for $59. 402 W. 43rd St., 212-564-7272, esca-nyc.com
Heartland Brewery
Beer and a burger? Heartland Brewery is your spot. A bit of a stroll further uptown, this is a solid pick if you're planning a night out in midtown after you eat. The service is quick and courteous, the beer excellent, and there are plenty of TVs if you're looking to catch a game. 127 W. 43rd Street, 646-366-0235, heartlandbrewery.com
Txikito
Meander into Chelsea for an inspired meal at Txikito (chi-KEE-to). This slightly upscale Basque restaurant serves seafood-forward tapas and other specialties from this unique region in Spain. You'll find inventive, restrained dishes like deviled crab and more straightforward bar fare like fries with spicy cod roe-infused mayo. FYI: the owners Alex Raij and Eder Montero have another fantastic Basque restaurant, El Quinto Pino, right around the corner. 240 Ninth Ave., 212-242-4730, txikitonyc.com
Looking for Free Group Planning Services?
Get free advice on planning your group's trip to New York.
RESTAURANTS

Multi-concept restaurant offering modern Japanese cuisine, a...

THEATER

In a heartbeat, 38 planes with 6,579 passengers were strand...

SHOPPING

DataVision is redefining retail with their new, fully intera...

SIGHTSEEING

Sweeping, unobstructed, open-air views of NYC from the top o...