Seasonal Holiday Bars in NYC
November 27, 2018 - by Merrill Lee Girardeau
Put a little jingle in your nightlife this holiday season, with five seasonally themed pop-up bars you should visit in New York City, from floor to ceiling decorations in Rolf's, ski lodge rooftop vibes at Mr. Purple on the LES, this year's Miracle on 9th Street bar in the East Village, and more.
Holiday Pop-Ups Bars in NYC: Rolf's

Gramercy's most beloved Christmas tradition is the decor at Rolf's, a German restaurant on Third Avenue with legendary holiday decor. Each holiday season, Rolf's explodes with ornaments and twinkle lights covering the walls and ceilings. They take the holidays seriously here, and so do the patrons who wait hours to get in. We recommend coming on weekdays rather than at night so that you can enjoy your imported German beer and schnitzel without having to wait in the cold for them first. 281 Third Ave., 212-473-8718, rolfsnyc.com
Holiday Pop-Ups Bars in NYC: The VNYL's Winter Wonderland
Multi-purpose space The VNYL provides coffee, cocktails, food, records, gallery space, and event space on its three floors in the East Village. Winter white will cover the main floor like snow, complete with twinkling LED stars. This winter forest vibe will provide perfect ambiance for a night out, and you can expect yummy seasonal cocktails at the bar. The VNYL also serves creative cuisine like Flamin Hot Mac 'n' Cheese Bites and sweet potato beignets with fig cream cheese. 100 Third Ave., 212-633-2000, thevnyl.com
Holiday Pop-Ups Bars in NYC: Miracle on 9th Street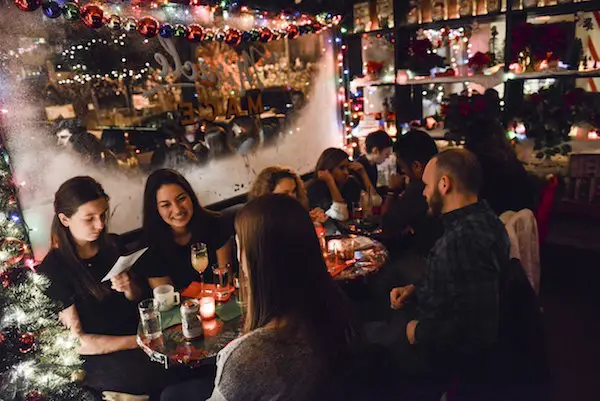 Liz Barclay
Christmas descends on the East Village bar MACE every year, turning it into Miracle on 9th Street. This pop-up tradition, now in its fourth year, has expanded to bars throughout the world. Over-the-top decor and Santa Claus cocktails make for a winning visit during the holidays. Think eggnog, Christmapolitans, and a Run Run Rudolph. That's tequila, coffee liqueur, iced hot chocolate, and Mexican spices. Nostalgic ambiance and creative booze make this bar irresistibly Instagrammable. 649 E. 9th St., miraclepopup.com, macenewyork.com
Holiday Pop-Ups Bars in NYC: Winter Room at The Roof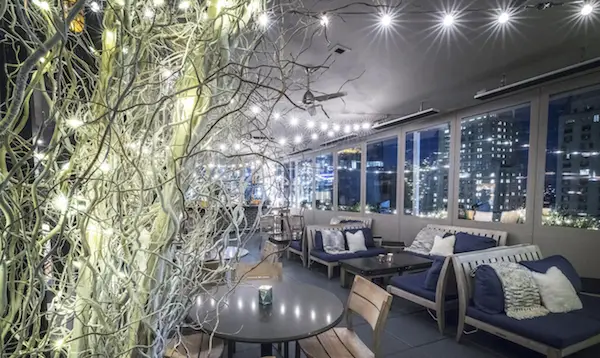 It'll get a little frosty at this rooftop bar for the holiday season. The Winter Room at The Roof will be white and sparkly, with winter branches and floral arrangements adding festive atmosphere. The lounge areas will be incredibly cozy, with pillows and blankets and Belvedere-spiked hot chocolate. There will also be hot toddies and fondue on offer as well. Best of all, the snow-topped trees of Central Park will be visible from the heated terrace of The Roof. 124 W 57th St., 212-707-8008, viceroyhotelsandresorts.com
Holiday Pop-Up Bars in NYC: Trademark Taste & Grind
For the next few months, Trademark Taste + Grind in Midtown West will be transformed into a bright white wonderland with their Winter Pit Stop pop-up. Walk through an arch of twinkling lights into a cozy coffee bar brimming with festive decorations and libations. Stop by to defrost with one of four signature cocktails, like their "Trademark Eggnog," Mexican hot chocolate spiked with Ilegal mezcal, bourbon hot apple cider, or the rum maple cookie old fashioned, made with cookie-infused rum. 38 W. 36th St., 646-858-2320, trademarknyc.com
Holiday Pop-Ups Bars in NYC: The Lodge at Gallow Green
Another rooftop worth visiting this Christmas is The Lodge at Gallow Green. You'll get pillows, blankets, books, and wintry booze at this cabin-like space in Chelsea. If last year is any indication, there will be a fire, a cozy armchair, and a bed for you to get warm. 542 W. 27th St., 212-564-1662, mckittrickhotel.com
Holiday Pop-Up Bars in NYC: Clicquot Chalet at Mr. Purple
The popular LES rooftop bar Mr. Purple will be transformed into a funky apres-ski lodge in the sky. Think vivid purple deer heads, digital fireplaces, and plenty of blankets for bundling. And we haven't even gotten to the sparkling Clicquot Chalet yet! Step outside onto the terrace and guests will find a larger-than-life snow globe space decked-out in Veuve Clicquot themed ski lodge decor, complete with its very own champagne bar. Enjoy a number of festive cocktails on the specialty pop-up menu, including seasonal hot sips and specialty Veuve Clicquot champagne cocktails, plus plenty of chocolate and cheese fondue to warm your soul. 180 Orchard St., 15th Floor, 212-237-1790, mrpurplenyc.com
Looking for Free Group Planning Services?
Get free advice on planning your group's trip to New York.
RESTAURANTS

Multi-concept restaurant offering modern Japanese cuisine, a...

THEATER

In a heartbeat, 38 planes with 6,579 passengers were strand...

SHOPPING

An array of quality branded merchandise showcasing HBO's® aw...

SIGHTSEEING

Rosé Mansion is back for another summer residency in NYC aft...