Buon Appetito! The Best Wood-Fired Pizza Places in NYC
January 30, 2018 - by Regina Molaro
New York City is home to some of the best pizza. Varieties range and chefs get creative with the toppings they choose—almond cream cheese and truffles, for example. Many Manhattan pizza hotspots boast wood-fired ovens, which use wood fuel for cooking. These offer quicker cooking times, which creates lighter, crispier crusts. Even heat distribution means very piece is as good as the last, and the wood delivers a smoky flavor. Top that!
Arturo's Coal Oven Restaurant and Pizzeria
This traditional-style Greenwich Village pizzeria, which traces its history back to the '50s, is famous for its coal-oven-fired pizzas. The pizza menu offers everything from more traditional pies such as mozzarella, bacon, meatballs, eggplant, or mushrooms to more specialty pizzas such as the Arturo's Fiesta, which is topped with sausage, mushrooms, peppers, and onions. Live jazz adds ambiance to this classic, casual eatery. 212-677-3820, 106 W. Houston St., places.singleplatform.com
Capizzi
Hell's Kitchen is home to Capizzi—the pizza and wine bar that proprietor Joseph Calcagno named after the small town in Italy that was once home to his mother and grandparents. As a child, Calcagno worked alongside his dad and grandfather in their pizza shops and gardens. It was those experiences that cultivated his passion for food. Capizzi's pizzas are made with San Marzano tomatoes, mozzarella, extra virgin olive oil, and fresh spices. They're then baked in wood fired oven, and are served well done and lightly charred. A wide range of toppings are offered including whole roasted garlic, carmelized onions, pancetta, prosciutto di parma, and more. Specialty pizzas are also offered. Try the Messina, which is made with San Marzano tomatoes, sliced eggplant, onions, and olives and is topped with shredded ricotta salata cheese. 212-695-6900, 547 Ninth Ave., capizzinyc.com
Marta
Located at The Redbury New York hotel, Marta was inspired by the rustic tradition of Roman pizzerias—those local places that serve thin, crackly-crusted pizzas. The open kitchen has two wood-burning ovens and an open-fire grill. The culinary talents at Marta offer fresh takes on classic pizzas, as well as original inventions showcasing seasonal and local ingredients. The menu offers Pizze Rosse (red) and Pizze Bianche (white). Standouts include the tartufo nero—mozzarella, fontina, cremini mushrooms, and perigord black truffles. 212-651-3800, 29 E. 29th St., martamanhattan.com
PN Wood-Fired Pizza
The unique pizza offerings at PN Wood-Fired Pizza (PN stands for Pecore Nere, which translates to Black Sheep) have been regarded as "some of the best in town" by some Manhattan's news outlets. Beyond the topnotch ingredients—most of which are imported from Italy—PN offers a choice of 14 organic specialty flours that aren't refined, are higher in fiber, lower in carbs, and aren't enriched or bromated. Recent additions to the pizza menu include the vegan option—vegaccina, which is flavored with Kite Hill almond cream cheese, rainbow cherry tomatoes, house-made vegan spinach pesto, vegan parmesan cheese, extra virgin olive oil, and salt. There's also the marguez, which has harissa sauce, mozzarella, marguez lamb sausage, broccolini, and cilantro. Much more than a pizza destination, PN offers a wider menu of small bites such as truffle meatballs, as well as salads, soups, pastas, mussels, burgers, and more. 212-964-4834, 2 W. 28th St., pnpizzanyc.com
Sotto 13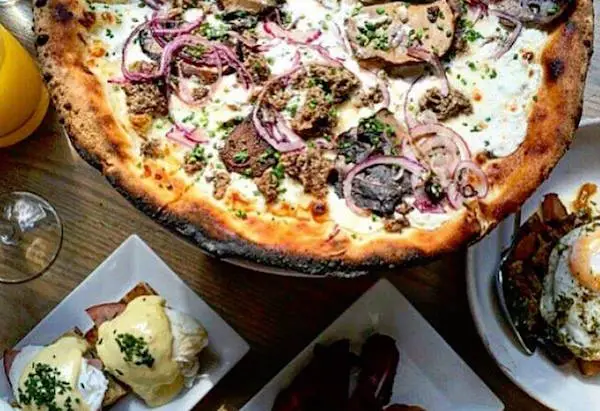 Housed in a historic brownstone in the charming West Village neighborhood, Sotto 13 offers wood fired pizza, fresh pasta, meat, fish, and sides. Its pizza menu tantalizes with options such as the margarita (mozzarella, basil, and olive oil); pepperoni picante (straciatella, jalapeño, and tomato), and the monte cristo (smoked gouda, Canadian bacon, grilled pineapple, and black pepper syrup). Sotto 13 also offers the shroom (mushroom duxelle, mozzarella, ricotta, and truffle oil); prosciutto di parma (tomato, arugula, and parmigiana-reggiano); caprese (grape tomatoes, red onions, mozzarella, and pesto); and pizza del giorno—the chef's daily special. 212-647-1001, 140 W. 13th St., sotto13.com
Looking for Free Group Planning Services?
Get free advice on planning your group's trip to New York.
RESTAURANTS

Beloved midtown spot takes inspiration from local tradition,...

THEATER

In a heartbeat, 38 planes with 6,579 passengers were strand...

SHOPPING

A premier destination for family entertainment....

SIGHTSEEING

Manhattan's premier all-glass, European-inspired dining crui...