Looking for a stylish meal near Bloomingdale's? Look no further than the new Zavo. This Mediterranean-accented New American restaurant, bar, and lounge brings sumptuous seafood together with high-end cocktails (Pear Mule, anyone?). At Zavo, you'll find an architecturally ambitious space, with dramatic lines and vantages. Finishes are luxurious: opulent leather, Italian marble, and crystal chandeliers. You'll also find performances with acrobats, fire-eaters, and burlesque on select nights in the upstairs lounge. Whether you're eating, drinking, watching a show, or a little of all three, you'll have a magical evening at Zavo.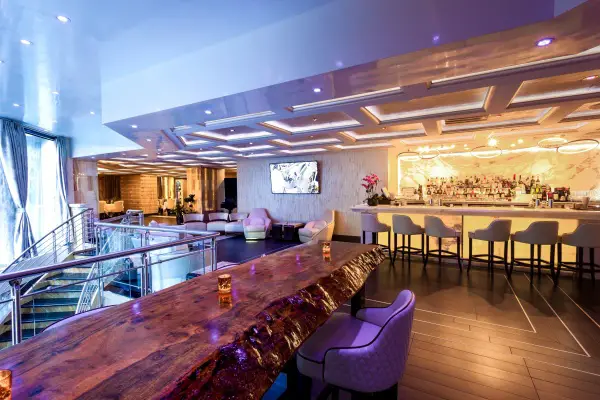 STARTERS. Zavo serves a Mediterranean-inflected menu full of fresh seafood and New American favorites. That means you can get your fix of kale Caesar salad and chargrilled octopus, along with Mediterranean mezze like hummus, tzatziki, and baba ganoush. The extensive appetizer menu is ideal for bar snacks or a tapas-style experience where you share. Don't miss the surf 'n' turf kebab: shrimp, scallops, and filet mignon with wild rice pilaf.


ENTREES. Standouts include a seafood risotto with basil pesto, garlic prawns, mussels, razor clams, and white wine. The simple Mediterranean sea bass is lovely, as are the seared scallops with Keluga caviar on top. Carnivores can find a porterhouse and rib-eye on the "From the Land" menu, as well as brick chicken and rack of lamb. Vegans and vegetarians aren't forgotten, with the likes of cauliflower steak, capellini, and basil risotto.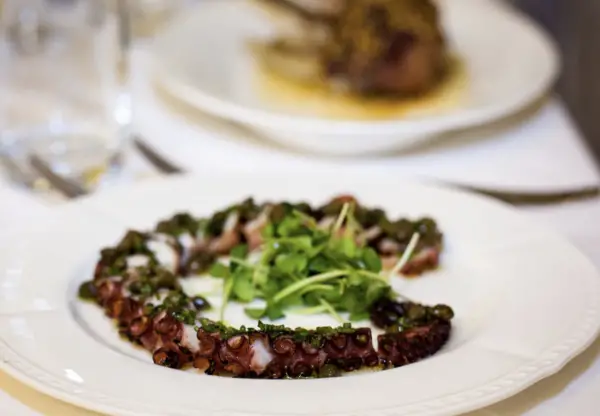 PRIX FIXE. Whether you're touring the Upper East Side or finishing a morning of shopping at Bloomingdale's, you've got to check out Zavo's prix fixe lunch. Three courses are only $27.50! You'll have a hard time choosing between the tuna tartare, crab cake, and chargrilled octopus for the first course. As a main, we'd go for the black sea bass with brown butter and citrus. The rack of lamb with sauteed kale and couscous is another winner. Your third course is dessert—"Death by Chocolate" cake should not be refused. (The same prix fixe menu is available for $47 for dinner, Monday through Friday from 4:30 to 10:30pm.) Need a tasty meal before your Broadway show? Fresh endive salad, lobster bisque, 28-day dry-aged filet mignon with red wine cherry reduction, and king salmon with asparagus and orange-fennel emulsion are among the pre-theater prix fixe options.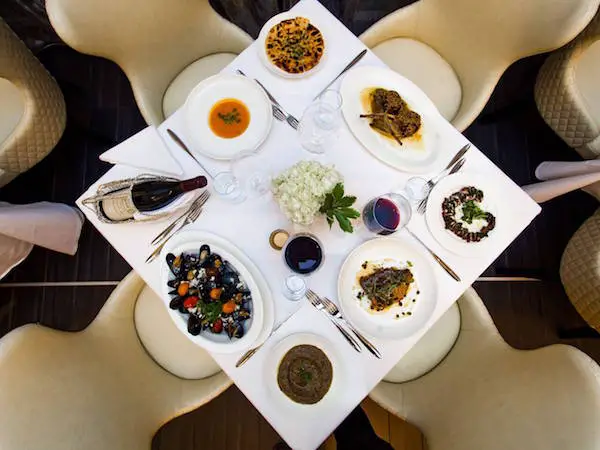 WEEKEND BRUNCH. Come to ZAVO on Saturday or Sunday for eggs Benedict and cocktails! Those with a sweet tooth can savor Greek yogurt and quinoa granola or lemon ricotta pancakes. Avocado fans, rejoice! You can have avocado toast or an avocado bowl with quinoa, egg, and kale. Try smoked salmon, either benedict-style or in an omelette. Served from noon to 4:30pm.
PRIVATE PARTIES. Looking to host a birthday, reunion, business dinner, or rehearsal dinner in style? Consider one of Zavo's private rooms for your event! The Deja Vu room accommodates 20-40 seated diners in a cream-colored space with upholstered chairs, elliptical chandelier, and wine cooler. The Rendezvous room also seats 20-40 and can be booked along with Deja Vu to host a party of 60, as the two rooms are separated by sliding door. The Crystal Room, with a massive chandelier as the focal point, has lovely views out the windows and can seat 40-75 guests. This room can also be booked in tandem with one or both other rooms. If you have a party size of 200 seated to 400 standing guests, you can book Zavo's entire space. All rooms have sound and projection systems for your event.  
ENTERTAINMENT. You'll find performances with acrobats, fire-eaters, and burlesque for Venetian Mystery Night on Saturday nights in the upstairs lounge. Friday nights look for 1,001 Nights: Middle Eastern Fantasy, an adaptation of the Arabian fairy tales complete with sword swallowers, magic, and belly dancers. There are also Carnival Nights, 50 Shades of Zavo once a month, daytime club party brunches, and jazz brunches with quartets, playing live on the outside terrace.
---
1011 Third Ave., btw. 60th & 61st Sts., 212-753-5500, zavonyc.com