CBD (aka cannabidiol), a chemical that doesn't make you high, is legal in NYC. Found in marijuana and hemp plants, it is the current darling of the wellness bunch. Some claim it helps with sleep, anxiety, and mood management. New York and anxiety are twinned; for those seeking a little inner peace, read on.
Click on a category below to jump to that section:
What You Need to Know About CBD
The world of alternative and natural medicines and therapies has experienced a considerable rise in recent years. Much of it is because of the Farm Bill's introduction, which provided legal backup for CBD's many benefits. Even though the President signed the Bill in 2018, legalizing hemp trade and consumption throughout the nation, some states have been skeptical about the decision. This does not mean that they have been against the recent bill. It merely implies that specific regulatory bodies have their ways of interpretation.
The Farm Bill states that a legal CBD product should contain no more than 0.3% of THC. Anything beyond this limit will be federally illegal. However, states like New York have recently passed new laws on CBD consumption. But, before taking a step forth, let's get to know CBD closely.
r.classen / shutterstock.com
CBD is one of the cannabinoids and a chemical byproduct of industrial hemp. Unlike THC, another primary compound of the cannabis plant, CBD does not induce mind-altering effects or a high. Moreover, the natural substance has many therapeutic and healing properties, which can alleviate health conditions like pain, depression, stress, etc. Back in the day, when people used to confuse CBD with marijuana, not many studies were available to back its healing effects. However, today, researchers and scientists have regularly conducted animal and human studies to measure the supplement's effects.
Consequently, several industries have come forward to invest in such a potential medicine. And, in such a competitive market, CBD products do not disappoint. There is something for everyone, from oil, edible gummies, and cbdfx vape products to soaps, bath bombs, topicals, and tinctures.
Is CBD Legal in New York?
As already discussed, the Farm Bill was a significant step in legalizing CBD's use in the United States. Since it was made legal throughout the country, New York was no different. Nikolas Komyati, who heads the cannabis group at Amery & Ross, has stated that New York maintains and adheres to the legal status of CBD—except for some exceptions. Under the 2018's Farm Bill, people cannot only buy the product online but also ship it, as per the US Hemp Roundtable's General Counsel, Jonathan Miller.
Furthermore, some individuals raise more questions against the regulation of CBD in the market. Their arguments clearly state, even though CBD with 0.3% of THC is legal, who knows how the substance gets extracted in the first place. That is because the product does not fall under any government entity.
As soon as various CBD products hit the market, several users showed interest in the supplement. Such a situation spurred the interest of the FDA. As a result, the Food and Drug Administration held a vital hearing on May 31. There were updated guidelines issued by the U.S. Patent and Trademark Office on how the agency will handle the trademarks for CBD and hemp products and services.
Moreover, the regulatory body explained that products having a legal THC percentage could make the trademark listing. However, that wasn't the case with food, dietary supplements, beverages, and pet treats. Such products will fall under the knife of the FDA since they are not technically approved yet.
CBD-Infused Food & Drinks in NYC
Adding cannabidiol to drinks or food at the point of sale in New York City is illegal. In July 2019, the Health Department stated that people should discard or return all the CBD products to their respective suppliers.Though in 2020, the NY Health Department came out with new guidelines for selling CBD-infused food and drinks in NYC. The rules state that: "All cannabinoid hemp products distributed or offered for retail sale in New York State shall…be prepackaged and not added to food or any other consumable products at the point of sale."
Where to Purchase CBD Products in New York City?
One can purchase CBD salves, tinctures, balms, and lotions from regular pharmacists, CBD storefronts, specialty stores, and vape outlets. Another option of purchasing CBD is through online stores. Users can read consumer reviews and buy such products from an array of online retailers.
Where to Buy CBD Oil and More in NYC
Finding CBD products in New York has never been easier. CBD oil may treat anxiety, depression, insomnia, inflammation, chronic pain, and seizures. Various stores sell CBD products with necessary precautions. 


1. Natural Releaf
This store sells fascinating variants of CBD products assorted with its different concentration levels. Its CBD oil has got good reviews from first-time buyers.
470 Third Ave., Murray Hill • 212-683-2812
247 E. 77th St., Upper East Side • 646-838-5248
2. Natural Xtract
This store sells organic and non-GMO CBD products. Its full-spectrum CBD oil is highly effective and comes in 250mg, 500mg, 1000mg, and 2000mg sizes. Not just oils, they also offer vape liquids, tinctures, and other edible varieties.
205 W. 20th St., Chelsea • 646-481-2406
3. Hemp Garden
Hemp Garden sells one of the best quality CBD oils in the city. It has a friendly staff that assists you with making the best purchase.
158 Orchard St., Lower East Side • 315-400-3444
4. Hemped NYC
Hemped NYC offers a wide variety of CBD edibles and topicals. Their Broad Spectrum CBD oil contains the essence of various cannabinoids without any traces of THC. All the products at Hemped NYC are sourced from 100% organic and GMO-free hemp plants. 
247 Bleecker St., Greenwich Village • 844-443-6733
199 Orchard St., Lower East Side • 844-443-6733
2196 Flatbush Ave., Marine Park, Brooklyn • 844-443-6733
5. Your CBD Store
From topical creams to vaping juices, this store offers organic hemp-derived CBD products. They do not just sell CBD oil, but other edibles like tinctures, gummies, and even pet treats as well. It makes it a good choice if you want to purchase CBD both for yourself and your faithful companion.
195 Fifth Ave., Park Slope, Brooklyn • 929-295-0031
The store has a product testing facility that allows you to sample what you want to buy. They even offer informational sessions that educate people more about the consumption of cannabidiol. Their Come Back Daily CBD oil 1500mg is a full-spectrum oil enhanced with mint flavor.
516 E. 11th St., East Village • 212-601-2752
7. MedMen NYC
This store sells a diverse range of CBD products like vapes, oils, edibles, and more. The staff is polite and friendly and will help you choose the best option for your condition. Beyond CBD, the store has numerous other medicinal herbs available to patients at reasonable prices.
433 Fifth Ave., Midtown • 646-846 5551
8. 7 Leaf Clover Hemp
It sells a wide range of CBD-infused products from oils to capsules and many more. Their CBD oil is hemp-derived and organically processed. It comes in delicious flavors and varying potency to match the requirement of the consumer.
100 N. 3rd St., Williamsburg, Brooklyn • 347-294-0820
9. The Alchemist's Kitchen
Connecting with the power of plants is at the "root" of The Alchemist's Kitchen, part of Evolver, a hub for the global transformational community. The NYC flagship includes an herbal counter and a botanical dispensary and it sells seasonal elixirs. Drop in to talk to an expert herbalist or attend one of many events and social gatherings. 
119 Crosby St., Soho • 518-625-3477
10. High Vibe
A tiny space packed with offerings, High Vibe has been providing raw, vegan, and gluten-free foods, plus whole food supplements, vitamins, and natural beauty items since 1993. Owner Robert Dagger knows the drill on detoxing, cleansing, and dealing with drops of various concentrations, explaining that his company aims to educate people on the best, safest way to use their products. 
138 E. 3rd St., Lower East Side • 212-777-6645
11. The 420, A CBD Store
Luxe is the premise at The 420, A CBD Store. 420 features premium, hand-selected products from top CBD and emerging brands set amidst mid-century modern furniture, antiques, custom- designed fixtures, and other beautiful things. A wide range of goods includes medicinal tinctures, topical pain relief, and beauty, sex, and pet products. Dogs are welcome as are credit cards.
7 Prince St., Nolita • 646-429-9021
12. Higher Standards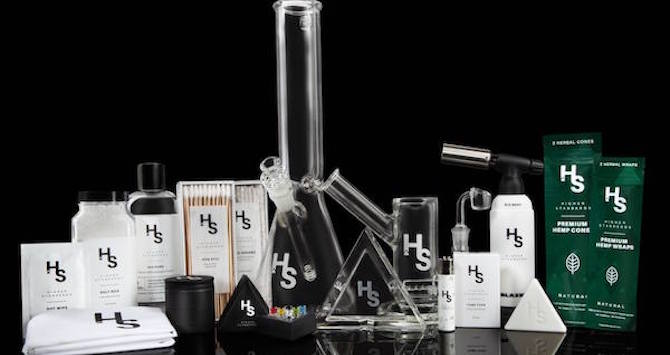 Appealing to those who view cannabis as part of the good life, Higher Standards in Chelsea Market is a "concept store." Here you can pick up hoodies, T-shirts, baseball caps, and other logoed merch; premium glass filter tips; a silicone ice mold; Jonathan Adler trays, and, of course, tools of the CBD trade like hemp wraps. The Santa Cruz shredder is $80 and is scientifically optimized to get your herb to just the right texture; everything has a high gloss. It's not drugs folks, it's lifestyle. 
75 Ninth Ave., Chelsea • 212-472-0760
The Best CBD Gummies to Buy Online
This is for all the gummy lovers. Are you feeling adventurous? Some people say that fruit snacks are better than gummies, but fruit snacks do not have enough sugar for our sweet tooth! They lack flavor too. For more zing, we look to CBD (cannabidiol) gummies. Here are the 11 best CBD gummies you can find online.
1. CBDfx Gummies
Flavors: turmeric & spirulina, melatonin, apple cider vinegar, and many more
Cruelty-Free • 60 Day Guarantee • Made in USA • Vegan
CBDfx offers antioxidant gummies made of different flavors like turmeric or apple cider vinegar to give users a superfood boost. The main advantage of these gummies is that they are vegan and made with natural ingredients. You would be surprised to believe that no artificial sweeteners, GMOs, or any other filler ingredients have been used to make them. The CBD is derived from hemp plants and is grown organically by amazing farmers in the US. Overall, it provides optimum wellness benefits which align with beneficial compounds. There are also gummies to help you get a restful night's sleep.
2. Sunday Scaries
Flavors: multi-colored, multi-flavored
Vitamins B12 & D3 • Clinical Score: 99% • Vegan options
The gummies look like gummy bears, and there are many original flavors formulated with coconut oil and other artificial flavors. Moreover, it also contains vitamin B-12 which offers a calming effect to the body. The brand suggests taking two or three gummies per day. If you prefer gelatin-free gummies, you can also find one from the pick, made with corn syrup or modified food starch, and enjoy the gummies discreetly anywhere in NYC.
3. Plain Jane
Flavors: mixed berry
Zero THC • natural flavoring • Hemp-derived CBD
Plain Jane CBD gummies have low potency of CBD, which means that even though you consume a lot, there will be no negative impacts. The mixed berry flavor is light, and the texture is pleasant to consume. When you consume it, you can feel the effects of relaxation without any signs of intoxication. 
4. FAB CBD
Flavors: many fruit-flavored
Non-GMO • Fat-free and dairy-free • THC-free
CBD Sleep gummies from FAB CBD are an excellent option for people looking for the best gummy out there. Since it does not contain artificial sweeteners, gluten, or dairy, it is a fabulous product. It is also THC-free, making it even more ideal as an anytime CBD treat. Research has also pointed out that the correct quantity improves the quality of your sleep. Since the gummies are made from CBD isolate oil, it works as a fantastic dietary supplement on the go.
5. Charlotte's Web CBD Gummies
Flavors: raspberry, raspberry lime, lemon berry, lemon lime, ginger, mango peach
Contains flavonoids • USA grown hemp • Made with natural ingredients
Charlotte's web CBD gummies are formulated with natural ingredients and contain full-spectrum hemp extract. The flavors are distinct and usually taken from fruits and vegetables. It has a different range of gummies for sleep, recovery, and calm blends. The sleep CBD gummies help with insomnia as it contains melatonin and the calm blend helps with stress and anxiety. Enjoy your pick!
6. Joy Organics CBD Gummies
Flavors: strawberry lemonade, green apple
Cruelty-free • Carbon neutral shipping • 0.0%THC
Joy Organics has become famous for its cube-shaped gummies, containing the goodness of organic ingredients. That is because it is tasty, pleasant, and fun to take at any time and suitable for anyone living in NYC. Each of the products contains 10mg of CBD with other clean ingredients like organic cane sugar. Overall, it is a dietary supplement that helps people relax and unwind from the stresses life throws.
7. Pure Relief CBD Gummy Bears
Flavors: natural flavors like strawberry, lemon, orange and raspberry
Promotes physical and mental wellness • Long-lasting relief
Pure relief CBD gummy bears offer an exciting combination of fruits and herbal flavors infused with CBD. The lemon flavor is the best one that brings a good stroke of zesty taste and provides a balance between tart and sweet. Each gummy is entirely vegan and is very soft with the right consistency. Soon after taking the gummies, you will feel a mental relaxation and reduction in anxiety, especially if you are working in a fast-paced job in New York.
8. Verma Farms
Flavors: blueberry wave, Maui melon, peachy pau
CO2 Extraction • No pesticides • Ethically sourced
Verma Farms is one of the most popular brands offering CBD gummies in NYC. Verma Farms continues to bring out new products that are absolutely front runners. From performance gummies to recovery gummies, everything they make has an element of surprise in it.
9. cbdMD Premium Gummies
Flavors: range of tasty fruit flavors
Made with USA-grown hemp • Sophisticated extraction methods
Quality and innovation seem to be the main things that cbdMD premium gummies focus on to offer the highest quality gummies. With state-of-the-art techniques, you get to taste the most flavorsome and convenient gummy ever.
10. PlusCBD Oil Gummies
Flavors: cherry mango, citrus peach, sour watermelon, peach, raspberry, strawberry lemonade
CBD from agricultural hemp • no artificial sweeteners • no gluten
People love Plus CBD oil gummies for their taste, quality, and health benefits. It does not just contain hemp extract, and it also includes many organic ingredients. In addition, it is packed with fatty acids, which makes it even healthier.
11. Green Gorilla Organic CBD Gorilla Gummies
Flavor: wildberry, strawberry, and gorilla berry
Plant-based • Nut and soy-free
One thing that attracts visitors to this brand is its exceptional flavor pairing, and the fact that it does not contain THC adds to it. The recommended dosage is 2-4 gummies per day as a relaxing snack.
—Crystal Willson and Sierra Herscovitch contributed to this article.