A New Dimension in Yoga: Circus Silks and Aerial Yoga NYC
August 11, 2017 - by Regina Molaro
Whether you just want a fun workout or to train to look like a Cirque du Soleil performer, Manhattan offers lots of fitness and dance studios that teach both aerial yoga and circus silks. Aerial yoga fuses traditional yoga, pilates, and dance with the use of a hammock. It differs from aerial silks (also referred to as aerial contortion, ribbons, or tissues)—a fitness or performance in which artists perform aerial acrobatics while hanging from a fabric. With so many options to choose from, there's no excuse. Let yourself go and soar to new heights!
Aerial Arts NYC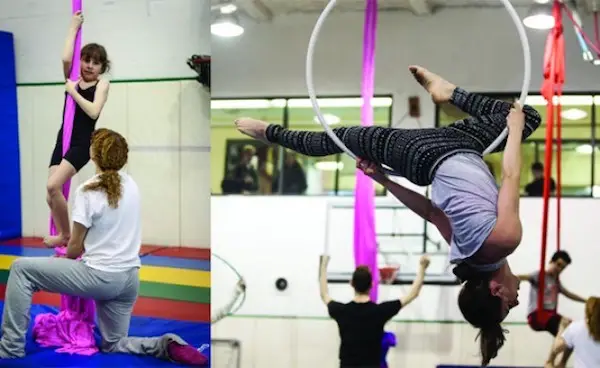 Learn to gracefully twist like an acrobat or soar through the air with the expert staff at Aerial Arts NYC. Many of its instructors have performed with internationally renowned troupes such as Cirque du Soleil. Some even dazzled audiences on Broadway. Aerial Arts NYC—a Midtown center offers aerial circus, silks, and more. Both adults and children are invited to participate in these fun, energizing classes, which take place on the ground and in the air. All skill levels are welcome. Ground classes include contortion and handstands, partner and group acrobatics, and other classes that promote stretch, flexibility, and acrobatics. 235 E. 49th St., 917-408-3576, aerialartsnyc.com
AntiGravity Fitness
Acrobat and choreographer Christopher Harrison is the visionary behind AntiGravity LAB—an AntiGravity fitness yoga studio in the midtown area. Dedicated to airful exploration and experimentation, the studio invites beginners as well as more advanced levels to move outside of their comfort zones. Beginners can opt for the Fundamentals class—an introductory course, which includes fun inversions and suspended stretching. Once they've grasped the basics, they can dare to explore the practice of aerial yoga. This class involves swinging, soaring, and hanging upside down in the hammock. Harrison has produced and created more than 400 entertainment productions with clients that range from Broadway to the Olympics. Imagine what these classes can do for you. 265 W. 37th St., Ste. 1100, 212-279-0790, antigravityfitness.com
Body & Pole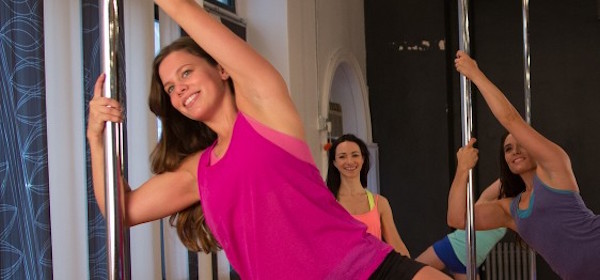 Beyond flexibility training and cross-trainng, Body & Pole offers an artistic Aerial Fabric class. Also known as aerial silks, tissu, or aerial tissue, this invigorating class provides a graceful means of expression while getting a great workout—toning up and shedding calories. Fitness enthusiasts will climb and wrap their bodies in the flowing silks as they experience a new sense of freedom of movement. 115 W. 27th St., 212-334-6900, bodyandpole.com
Om Factory
Take flight! Manhattan's studio, Om Factory, offers aerial yoga and circus classes in two locations—Union Square and the Fashion District. Amateurs can aspire to one day attend the Aerial Circus class by taking some intro classes. Those who are hesitant to embark on the silks journey can opt for the conditioning classes. Here, strength and technique are gained through ongoing practice. The Circus Conditioning class enables students of all levels to build the foundation for hand balancing, tumbling, and aerial arts. Other classes include aerial yoga, aerial circus, vinyasa yoga, yoga tuneup, and more. The Aerial Silks 101 classes prepare students for all other levels of silks by teaching them the basics. This includes conditioning their muscles and creating foot locks, so they can climb the fabrics. 265 W. 37th St., 212-616-8662; 873 Broadway, #202, 212-353-3500, omfactorynyc.com
Sacred Sounds Yoga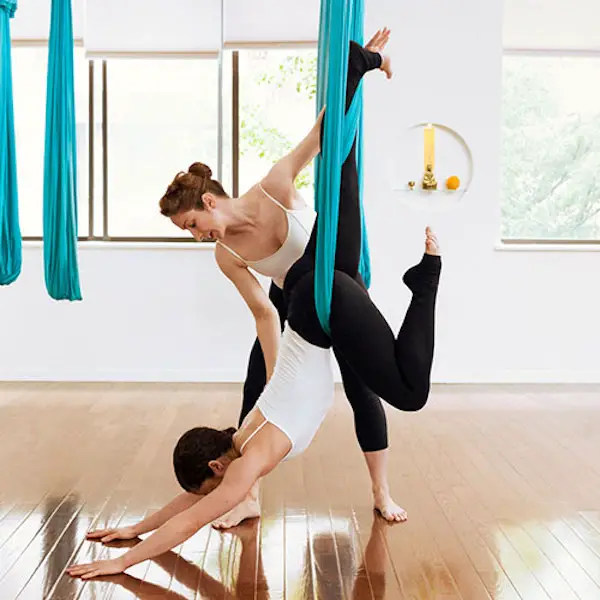 This Greenwich Village yoga studio offers many different types of yoga classes, including Unnata aerial yoga. Unnata, the Sanskrit word for "elevated," refers to elevation in spirit and also in being physically elevated. Using a yoga hammock, students work with gravity to explore, refine, and advance traditional yoga postures in the air and on the ground. 163 Bleecker St., 212-533-9642, sacredsoundsyoga.com
Looking for Free Group Planning Services?
Get free advice on planning your group's trip to New York.
RESTAURANTS

Multi-concept restaurant offering modern Japanese cuisine, a...

THEATER

Kander and Ebb's "musical vaudeville" in which Roxie Hart ga...

SHOPPING

The sweetest experience in Times Square!...

SIGHTSEEING

Spirit Cruises is New York City's most vibrant and entertain...