I know Valentine's Day is long gone, but my jaded New York heart still swells when I think about the revival of playwright David Ives' All in the Timing. You see, this particular collection of six one-act comedies was my intro to Mr. Ives' smart, literate and awesomely loopy style, and I fell hard. It was 1993 when the show premiered -- at Primary Stages, which is also responsible for this new mounting -- so the current production is clearly a well-timed (yes, I know, the title!) celebration of the show's 20th anniversary.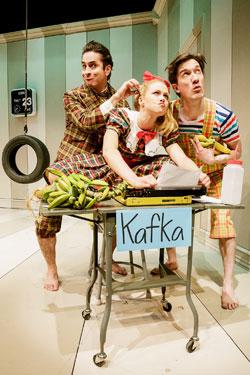 Primary Stages founder and executive producer Casey Childs recalls, "All in the Timing was an important play both for David Ives' writing career and for the life of Primary Stages. It began at our first home on West 45th Street and has now received thousands of productions all over the world. We are delighted to be presenting this 20th Anniversary production."
The show's performers are called upon to play a medley of characters that run the theatrical-sociological-intellectual gamut. We're talking Kafka, Milton, and Swift; a handful of normal-seeming folk prone to tossing normalcy to the wolves; Phillip Glass; and Mr. & Mrs. Trotsky.
Cast members include Naked Angels' stalwart Eric Clem; Carson Elrod of Broadway's Peter and the Starcatcher; Jenn Harris (whose Clarice Starling in Silence! The Musical set the fearless bar somewhere in the stratosphere); and Broadway vets Liv Rooth and Matthew Saldivar.
In short, this show should be on your short list as it's shrewd, precocious, beyond smart, and hilarious. Very hilarious. Veraciously hilarious. Plus, you owe it to yourself… as a belated Valentine.
Through April 14 at Primary Stages at 59E59 Theaters, 59 E. 59th St. Tickets available at 212-279-4200, primarystages.org, or in person at the 59E59 Theaters box office. Photos © 2013 James Leynse.