For those that crave insider info on NYC's greatest entertainment and sport venues, its thriving financial sector, hot food spots and movie locations, here is a guide to some of the best insider tours. 
FAMOUS VENUES/BACKSTAGE/SPORTS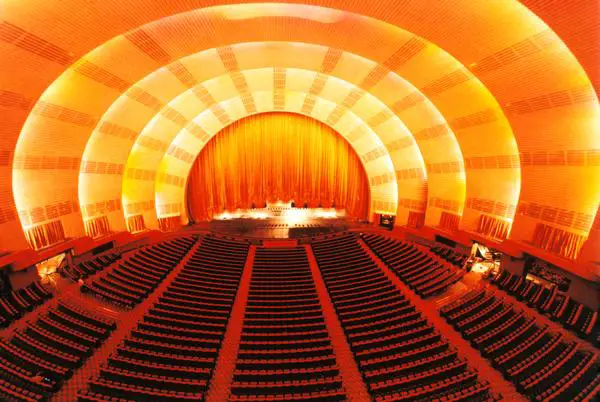 Radio City's Stage Door Tour takes you behind the scenes of this national landmark.
Radio City Stage Door Tour-Some brief history. When the stock market crashed in 1929, John D. Rockefeller decided to build an entire complex of buildings so spectacular that they would attract commercial tenants even in a depressed NYC flooded with vacant rental space. Initially to be called The International Music Hall, one of his first tenants was the Radio Corporation of America, thus inspiring the name change.
The Hall initially opened in 1932 but was not fully completed until 1940. It has a seating capacity of just under 6,000. Quite a diverse list of performers have appeared there, from Frank Sinatra, Ella Fitzgerald and Liberace, to a-ha, Iron Maiden, Jack White, and The Cure. It is also home of the family favorite production, the Radio City Christmas Spectacular, starring New York City Rockettes, viewed by more than a million visitors, annually.
The Rockettes star in Radio City's annual show, Radio City Christmas Spectacular.
Radio City's Stage Door Tour is open seven days a week, with tours running every half hour between 10am-5pm. The one-hour tour leads guests through a beautiful Art Deco interior, where they'll learn secrets about the Great Stage, and walk through the lavish apartment of "Roxy" Rothafel, known as The Roxy Suite. They'll also meet one of the Rockettes. **Just newly added to the tour are two stops-the Costume Shop & Large Rehearsal Hall. Use the code GUIDE to get $3 of a tour ticket. For reservations, visit stagedoortour.com.


Madison Square Garden All Access Tour-Madison Square Garden has been an integral part of New York City's entertainment and sports scene (it serves as home base to the New Rangers, New York Liberty and the New York Knicks) for more than 130 years, regarded by many as the apex of arenas. In Oct. 2013, MSG completed a three year, $1 billion dollar head to toe renovation.
In addition to hosting many musical events, MSG is home to the New York Rangers.
MSG's 75 minute, All Access Tour is offered daily, from 10:30am-3pm. Visitors will go behind the scenes, to where the world's greatest entertainers prepare to take to the stage. This includes viewing of several new exhibits throughout the arena that commemorate some of the most unforgettable moments in the The Garden's history. For more information, visit thegarden.com.
Yankee Stadium Tours-The home of the 27-time World Series champions the New York Yankees, Yankee Stadium a fantastic destination for all ages. Monument Park visitors will see legendary Yankees' monuments, plaques, and retired numbers. During The Classic Tour, which lasts approximately an hour, catch a glimpse of World Series trophies, rings, and baseball artifacts in the Yankees Museum Presented by Bank of America. Combine a tour with lunch at the Hard Rock Café, by purchasing a lunch voucher with a tour ticket online. For hardcore fans, there is also the Hands on History Tour and a Pregame Tour. Click here for a $2 coupon off a tour. For more information, visit yankeestadium.com/tours
FINANCIAL/NYC HISTORY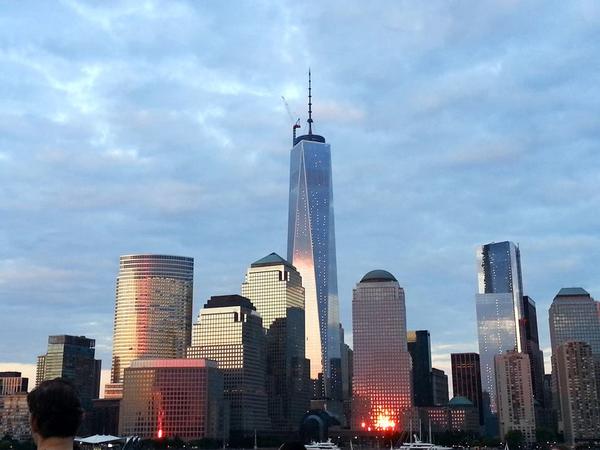 Wall Street Walks-The nexus of NYC's financial goings is, and always has been, Wall Street. Who better than a local stockbroker, to guide you and give you the inside track? Annaline Dinkelmann, who worked at Morgan Stanley, founded Wall Street Walks in 2007, NYC's first walking tour company focusing on Lower Manhattan and its financial history. Other mortgage brokers also work with Wall Street Walks and give tours. For the past four years, Wall Street Walks has received a Certificate of Excellence from TripAdvisor.
Wall Street Walks offers several basic categories of tours: History of Wall Street and Ground Zero; an American History Tour; Downtown New York Ghost Tours; Alexander Hamilton Tour (first secretary of Treasury); and Special Wall Street Tours- this last one is an umbrella category for several special themed private tours that can be requested (including Panics Crashes and the Financial Crisis; Women of Wall Street ; and a Scoundrels Tour.) Book a tour through City Guide and save $5. Coupon Code: CITY. For more information visit wallstreetwalks.com.
FILM/FOODIES
A Slice of Brooklyn-Film buffs who want to revisit locations of classics such as Moonstruck, Dog Day Afternoon, Sophie's Choice, As Good As It Gets and other films, would be wise to book a ticket for A Slice of Brooklyn Tours. The company, founded in 2005 by travel lover and Brooklyn native Tony Muia, received a 2014 TripAdvisor Certificate of Excellence.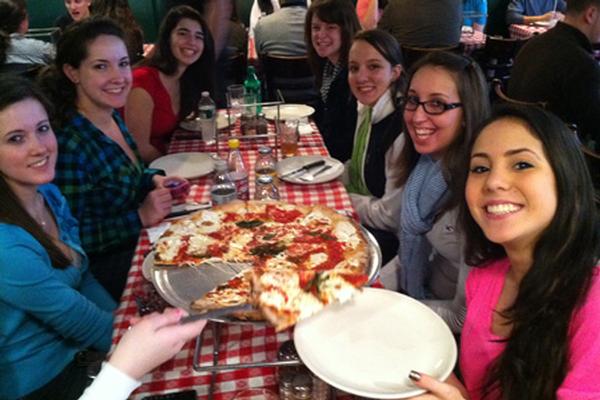 No waiting for a spot at Grimaldi's during A Slice of Brooklyn Pizza Tour.
There are three tours to choose from-the Neighborhood Tour (that includes visits to the above film locations and also lunch at world renowned Junior's); the Pizza Tour, that includes pizza at Grimaldi's by Brooklyn Bridge (no waiting in line!); and during the holidays, the Christmas Lights Tour, are a must, exploring the elaborate lights of Dyker Heights. All of the tours conveniently depart from Union Square. Click here for a $5 coupon off the A Slice of Brooklyn Pizza Tour. For more information, visit asliceofbrooklyn.com.
On Location Tours-On Location Tours creates tours that allow people to shop, eat, drink, and dance at the sites they've seen on both the big and small screens. Their New York TV and Movie Tour visits more than 40 TV and movie sites. There's also the Central Park Movie Tour, that will visit locations such as Serendipity and The Avengers.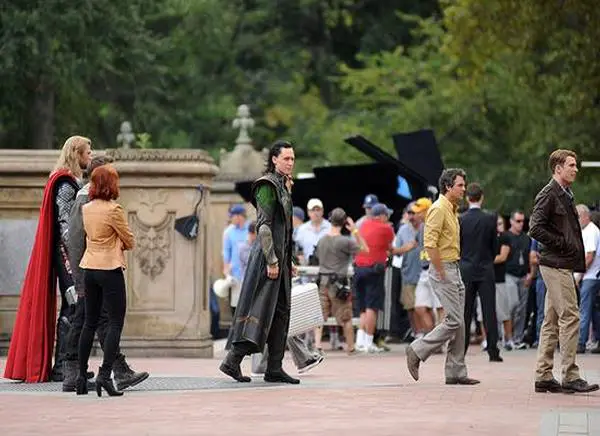 A scene from The Avengers (2012), in Bethesda Terrace, Central Park
The Sex and the City Hotspots Tour takes you to dozens of shops, restaurants, bars and neighborhoods the characters visited. The Sopranos Sites Tour visits sites used for filming, including the Bada Bing and the Pizzaland store, where visitors can sit at the actual booth where Tony Soprano sat in the series' final scene. New, for fans that can't get enough gossip, take a ride on the TMZ Celebrity Tour. For more information, visit onlocationtours.com
Like a Local Tours -Their tours give visitors the opportunity to partake in 2.5-3 hr, curated, guided walking tours of New York City and Brooklyn.
Enjoy local brews and the Brooklyn waterfront with Like a Local Tours.
There are three tours to choose from: Flatiron Food & History Tour-This includes six gourmet tastings at Eataly, Beecher's Cheese, Union Square Farmer's Market, Breads Bakery, plus an exceptionally tasty burger at Schnippers! Then, there's Sunday Funday-From the Williamsburg waterfront with stunning NYC views, to Brewer's Row, to spectacular street art, this tour has it all! Williamsburg Bites-Some of the stops include sweets at Momofuku Milk Bar, bagel, cragel and cream cheese tasting at The Bagel Store, ice cream at Odd Fellows, chicken at Pies N Thighs, Best Pizza, Mast Brothers Chocolate and Handsome Dan's candy store. Use code CITY20 to receive 20% off a tour. For more information, visit likealocaltours.com
OUTDOORSY TYPES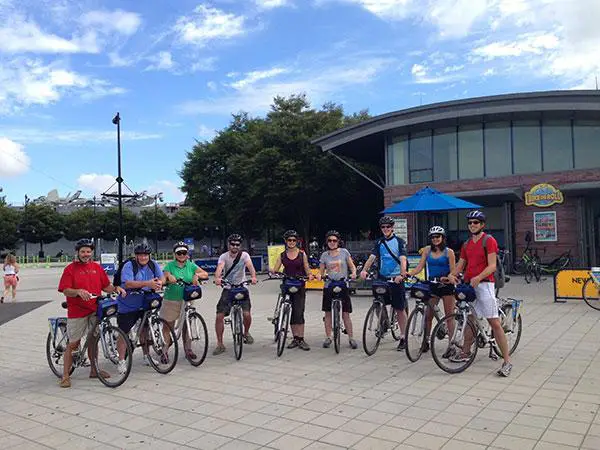 Bike & Roll NYC-Whether you want to roam NYC streets on your own, or participate in a guided tour of some of the city's greatest sites-Central Park, Brooklyn Bridge, Prospect Park, check out Bike & Roll. Bike and Roll's My Way Pass ($54 adults/$36 kids) gives riders access to multiple spots to pick up and drop off a bike. There is hop on, hop off riding; a return trip scenic boat ride with New York Water Taxi; discounts to NYC restaurants, museums and attractions. They also offer separately a variety of sightseeing tours through these and other popular sightseeing spots. Click here for a coupon to receive up to $10 off a tour or rental. For more information, visit bikeandroll.com
OUTLET SHOPPING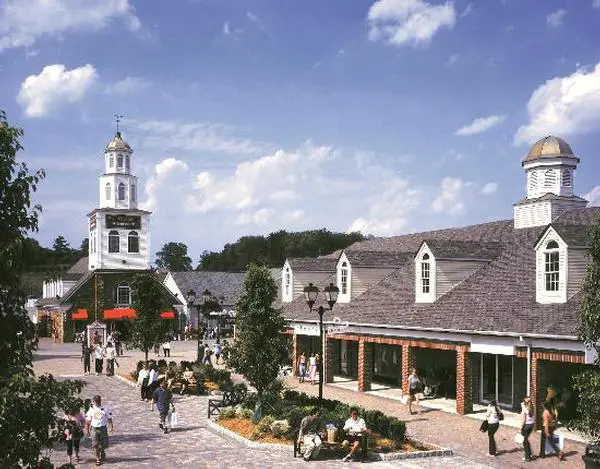 Gray Line /Woodbury Commont Outlet-Everyone loves to hit Fifth Avenue for shopping, but might not be a fan of its prices. For shoppers still seeking brand name merchandise without breaking the bank, would be wise to take Gray Line's bus out to Woodbury Commons Outlet. The enjoyable day trip destination features more than 220 shops, including Coach, Fendi, Armani, Ralph Lauren, Prada and many others. The bus leaves daily from Port Authority. Tickets include a VIP book. For more information, visit newyorksightseeing.com.