March is most definitely making a bravura entrance with new season previews popping up like crocuses up and down the Great White Way. The much-anticipated lineup is nothing short of a marvel, boasting multiple first-ever revivals, one-person shows, mega musicals, and original plays—as well as a supersized array of illustrious Brits and Hollywood celebs dominating Broadway's marquee landscape.
Add to this the star reunions—both onstage and in popular after-show hangouts—and you can lay claim to being onboard NYC theatre's hottest months of the year (snow notwithstanding).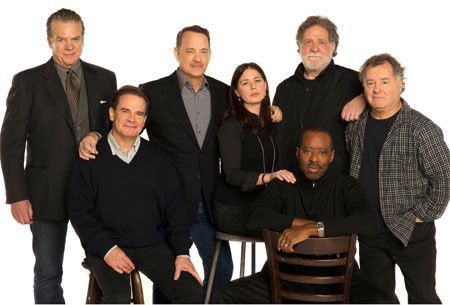 The cast of Lucky Guy: Christopher McDonald, Peter Scolari, Tom Hanks, Maura Tierney, Courtney B. Vance, Richard Masur, and Peter Gerety.
For instance, previews begin on March 1st for Lucky Guy, a play by Nora Ephron about tabloid columnist Mike McAlary that marks the Broadway debut of two-time Oscar winner Tom Hanks—who shares the stage with his 1980s Bosom Buddies costar, Peter Scolari. Meanwhile, Holland Taylor, who played their boss on the erstwhile TV sitcom (and can currently be seen on Two and a Half Men), is starring in the one-woman show Ann (about Texas Governor Ann Richards) uptown at Lincoln Center's Vivian Beaumont Theatre. And if that's not enough TV stardust for one paragraph, how about the rest of the Lucky Guy cast: Maura Tierney (NewsRadio), Richard Masur (One Day at a Time), and two-time Tony nominee Courtney B. Vance (Law & Order: Criminal Intent).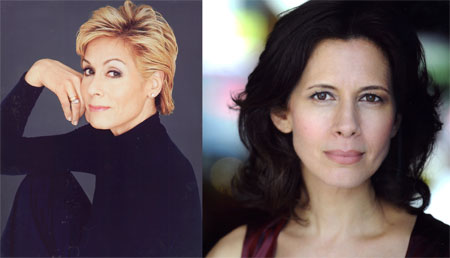 Judith Light; Jessica Hecht
And while we're roiling the TV waters, why not tap into other current Broadway stars with notable small screen cred? Starring in the new drama The Assembled Parties (previewing 3/19) are Judith Light (last year's Tony recipient for Best Supporting Actress in a Play, whose breakthrough came when Who's the Boss? debuted in 1984) and Tony nominee Jessica Hecht, who had a recurring role on Friends and Breaking Bad. (FYI: Light is currently a regular on TNT's Dallas.)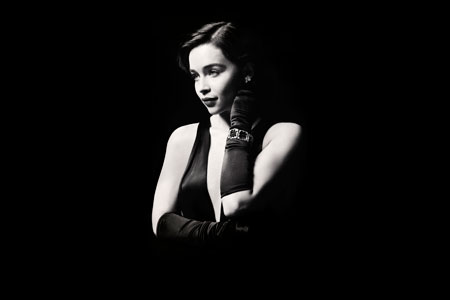 Emilia Clark; Photo: Jason Bell
Meanwhile, the highly anticipated revival of Clifford Odets' The Big Knife (previewing 3/22) stars Tony nominee Bobby Cannavale (Boardwalk Empire) and Richard Kind (Spin City); Breakfast at Tiffany's (previewing 3/4) stars Emilia Clarke (Game of Thrones) and George Wendt (Cheers); Orphans (previewing 3/19) features Alec Baldwin (30 Rock) and Ben Foster; and The Trip to Bountiful's (previewing 3/31) cast includes Vanessa Williams (Ugly Betty) as well as Oscar winner Cuba Gooding, Jr. and legendary actress Cicely Tyson. Finally, Frasier's David Hyde Pierce (another Tony winner) stars alongside Sigourney Weaver in the Christopher Durang-meets-Anton Chekhov comedy, Vanya and Sonia and Masha and Spike (previewing 3/5).
Bridging the TV gap as we move on to the U.K. contingent is Tony winner Alan Cumming, who is an Emmy-nominated regular on The Good Wife. The Scottish actor is bringing his acclaimed one-man Macbeth to Broadway starting April 7th—seven days after Fiona Shaw (known for playing Harry Potter's unsympathetic Aunt Petunia on the big screen) begins previews for her own solo show, The Testament of Mary, set after the Crucifixion. Oh yes, Shaw too has a U.S. television presence: as Marnie Stonebrook in season four of HBO's True Blood.